Teezo Touchdown Is Taking Things Seriously
This story appears in Justsmile Issue 3, Reflections are Protections.
Photography Julius Frazer
Styling Brandon Tan
Text Christine Ochefu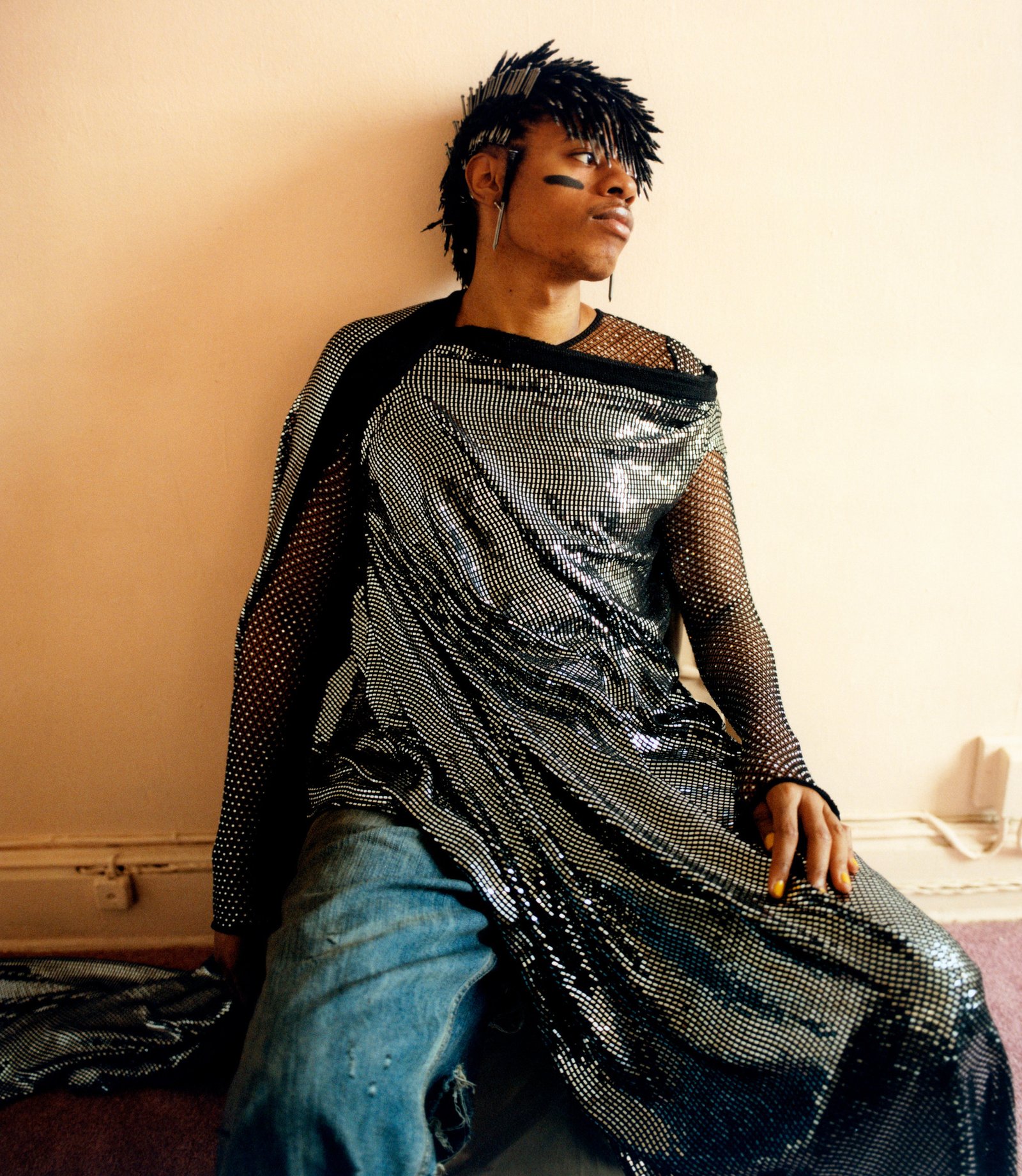 'Really early on when people were like "laughing emoji" or something like that, it used to get to me,' shares Teezo Touchdown. 'Like wait a minute … they think that I'm joking.'


Teezo Touchdown knows he is a polarizing figure. He straddles creative brilliance with the zaniest of cultural and visual references; hair full of craft nails (literal pounds of the stuff atop his head), a series of alter egos and characters, music videos all filmed in front of the same garage and an overall countercultural ethos that's oftentimes too much for some. For every fan, there's been those quick to deride; Pitchfork dubbed him an 'insufferable fashion rapper.' He's gone viral, whilst others pored over whether his music was, well, a joke. But all becomes clear in conversation with him. One thing Teezo is not? Taking things unseriously.


Calling from Culver City, California, while working on his debut album, he is upbeat and friendly, often taking time to think in deep thought, or making quips about his hotel room. One thing he's not feeling, is restless – it's golden for his creative process, he says. 'I love this,' he gushes, pensive and engaged. 'The album is complete so now I have this freedom to explore, find new influences. I've never experienced this feeling before.'


Teezo's sound is a smorgasbord of genres, a rap-emo-rock-trap-pop mix with the addition of almost everything in-between. Alongside his growing fanbase, he has ensnared the attention of many other industry auteurs – fellow creatives who similarly welcome the weird among the quotidian. The past few years have seen him provide standout features among the likes of Lil Yachty and Rico Nasty, all gravelly notes and harmonies; while his commanding presence on 'RUNITUP' – 'I'm running like I'm not tryna catch a whippin' – sees him running bars alongside Tyler, The Creator, earning him a spot on his 'Call Me If You Get Lost' tour.
Throughout the call, Teezo speaks and raps with a youthful lilt, shaped by a tiny hometown of Beaumont, Texas – a place with a population of just over 100,000. It's not known for birthing superstars, but that never stopped him. 'I knew that I was destined for something,' he says. 'But I didn't know what it would look like.' Now finalizing his long-awaited official debut, 'How Do You Sleep At Night?', it's becoming clearer, his work to date manifesting in the form of an album which he says compiles 'All of the lives I've lived, the options that I've had, the different jobs I've had. All to say that everything that I do, it's a thread that ended up here,' a brilliant time capsule memo of Teezo, up until today.


It's in no way one single genre; the project is as far-reaching as it is expansive. Songs like 'Mood Swings' serve as Teezo's version of cookie-cutter upbeat pop, complete with funked-out 80s arena guitar riff and comical wordplay. Whilst, 'Sweet' featuring Fousheé is near enough mainstream chill-out R&B-pop, that it could easily be a soundtrack to this Summer.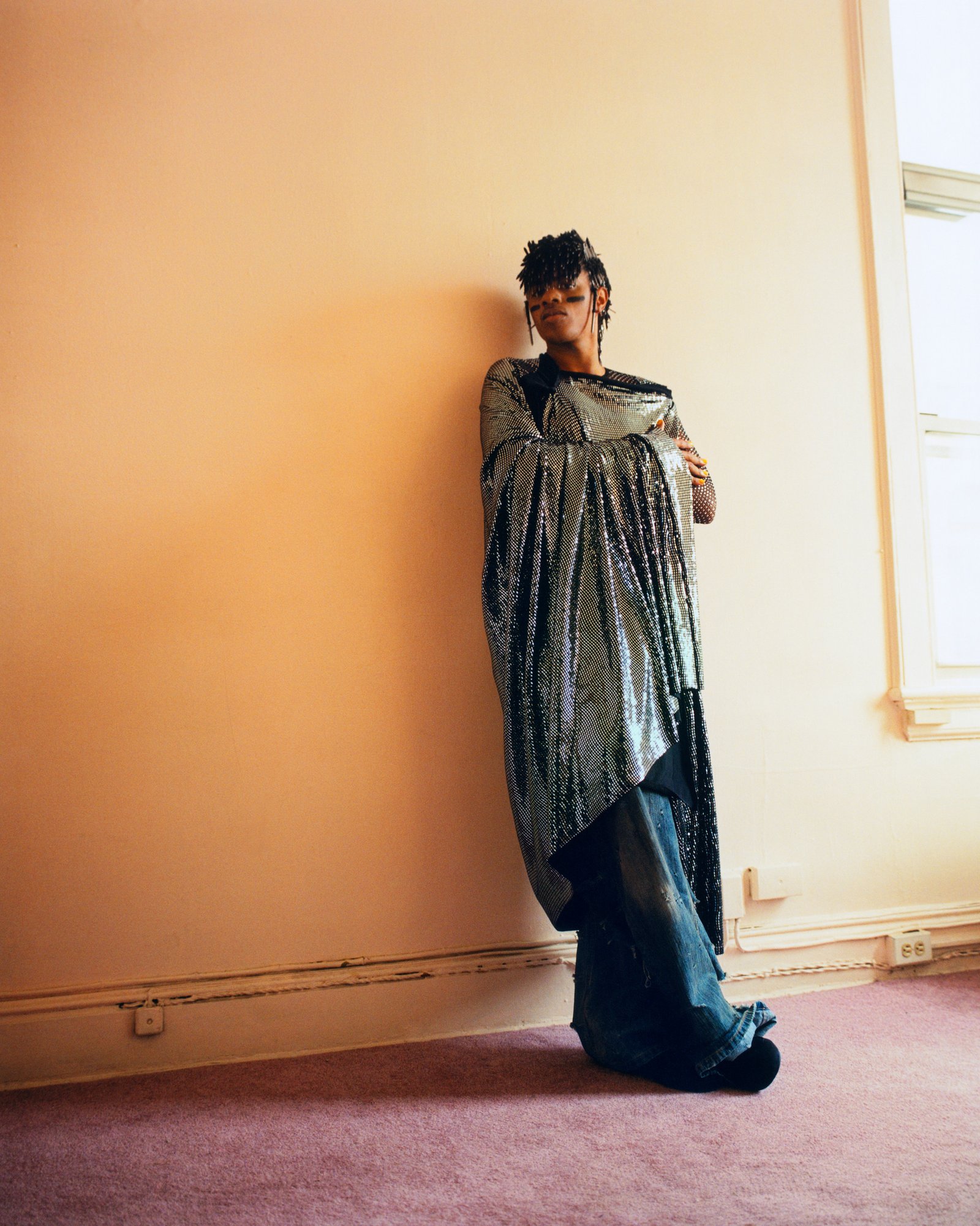 An encyclopedia of cultural and musical references, Teezo details some of the inspirations behind his music, riffing off names and references across music, art and film at spitfire pace. Giving props to favorites including: Link, Lil' Flip, Phil Lynott, Prince, Rick James and Robert Townsend – he quotes Quincy Jones word for word and brightens when talking about the creative process, inspired in part by work with collaborators like Kerwin Frost, Tyler Cole and Isaiah Rusk of Fade Em All.


A testament to his melting pot of influences, the artist draws from books, media, comedy and films, watching the latter with the sound off (when in the studio) – titles like Hollywood Shuffle, Robert Townsend's 1987 satirical comedy on Blackness in Hollywood and popular media. The scene Attack of the Street Pimps, with its jittering, zombified characters influenced his movements, intonations and shooting style on songs like his 2020 breakthrough track 'SUCKA!'. 'I watch a lot of stand-up. I feel like my humor slips through due to an unintentional wit, just because of my love for comedy and love for timing,' he says. 'I'm very proud of my penmanship. It's funny we keep going back to the comedy aspect of it, but I find this genius in comedians. Like how Jim Carrey can do this hilarious Riddler, but also do a darker film as well.'


Teezo's look similarly draws from unlikely sources, mixing the keen dress sense of his mother with fashion figureheads Pharrell and Billionaire Boys Club, L.A. Dirt culture, even local fads in Beaumont – where people would wear pajama pants, white tees and fitted hats. 'In 2016 I made a conscious effort of "if you want to pursue this music then you can't look like anyone, you can't sound like anyone,"' Teezo says. 'I made a conscious effort to unplug from what the world was watching and listening to and look inward, just figure out what do I want to do? And that's a trial-and-error thing.' He's since been a muse for the likes of Marc Jacobs, Alyx, Telfar and Moncler Genius, creating an accompanying track alongside his collaboration for the latter. 'I'm always in disbelief every time this has happened, but I'm super thankful,' Teezo says earnestly. 'With these people who cosign me, I take that literally. Like if you go cosign for an apartment or a car, that person's credit has to be good. So for the people that are shining a light on me, I want to make sure that I do things with them as right as I can.'
While Teezo's artistry may be off-kilter (for some), he doesn't want to be misunderstood. It's important to stand out, he acknowledges, but often his choices come from a need to be innovative with little resources. The garage backdropping his music videos? Not having a studio to shoot in. The nails? Wanting to reinvent his look and making-do with what he had. 'It's me literally looking at my own backyard, looking around the house and just seeing what I can use not having anything,' he explains. For example, with his hair: his dad was a maintenance man, so he used the spare tools lying around to adorn his clothing and hair.
'My dad being a maintenance man, we have tools around the house. At first I started putting nails on my boots, then the brim of our hats. And I had hair, so I put it in my hair.'
As he has evolved as an artist, so has his visual identity, best encapsulated by the visuals released in this era. Upgrading from his makeshift garage backdrop, his music videos have progressed into animated, larger than life productions that serve like deliciously meta mini-films. '5 O' Clock' takes the viewer on a rollercoaster dash through a day in Teezo's life, from the moment he rises from bed adorned with glitter, grills and ruffles, to rolling round in SUV's and filming his own documentary. The track 'Rock Paper Strippers' is turned into a live WWE-esque tournament whilst 'Familiarity' is a black-and-white mockumentary. Characteristically playful, he experiments with easter eggs via post-it-notes on social media that invite his fanbase into his world – sometimes literally appearing in his videos. For him, this creativity is born out of necessity. 'I've been blessed enough to go to really nice studios, and I've also recorded where it's just a speaker and a table. If you give the artist everything, that's where the creative dies. Putting that limit on yourself is where you're able to really expand.'
This ascent feels like it's been a long time coming. Born in Beaumont, Texas as Aaron Lashane Thomas, his hometown is often considered an in-between city, lying in the shadow of its bigger counterparts like Houston, Austin and Dallas. Despite this, Teezo has long regarded it as special, describing the regional character influenced by neighboring communities – the chopped-n-screwed culture that trickled down from Houston, bounce music from the Louisiana border – that create a literal 'gumbo' of music influences. 'I was a believer that we had to leave to make something happen,' he says. 'It wasn't until I came back in 2019 where I was like, "Okay, there's no other place like this." I need to shine light and rep the Beaumont flag, and let everyone know that this is very tangible.'


As a child Teezo was somewhat closed off, spending most of his time in his room, working on music. He was something of an unsung child prodigy; as early as fourth grade he'd learnt how to DJ, following in the footsteps of his father – a big musical influence for him as a child. He'd take in a wide range of musical influences and styles; 50 Cent, T-Pain, DJ Screw being amongst his favorites – even learning how to chop and screw and writing papers on the subject for class. He'd spend time downloading the Billboard Hot 100 every weekend, learning about what made music fit inside the mainstream, as well as different tonal styles: 'DJing definitely plays a huge part in my pen and the music that I make,' he says. 'I basically had this case study every weekend of seeing what music people dance to, what makes them walk away from the dance floor, or this is eating music – stuff like that.'


It was those early gigs that gave him his thirst for artistry, naturally progressing into rap and singing. Though his dad encouraged him in his creative passions, even building him a studio during middle school, he wasn't sure how much the adults around him understood his craft. 'Music and the DJ thing, I don't know how serious it was looked at,' he recalls. 'My parents, maybe they felt like it was something I would grow out of. But here I am today.'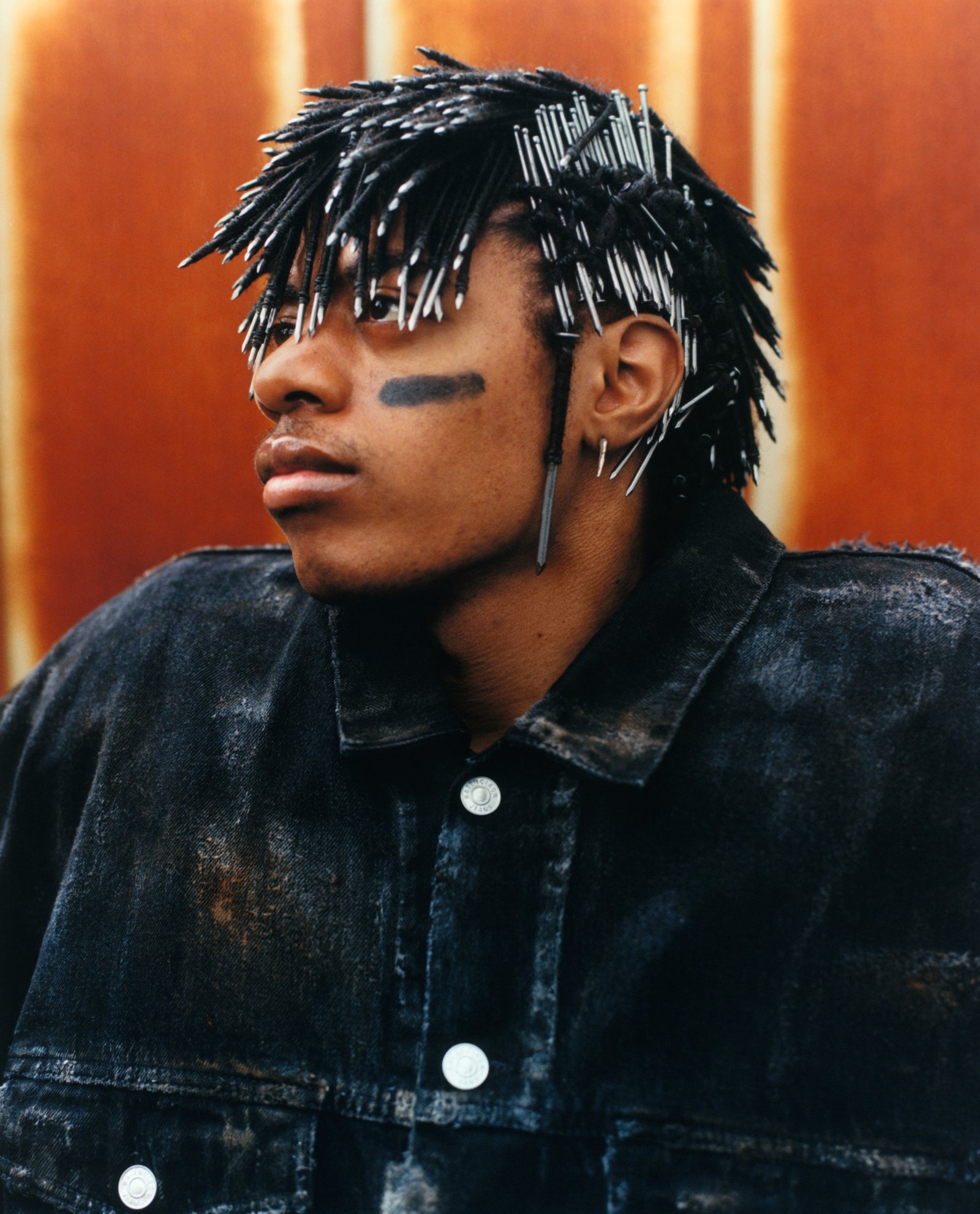 Other iterations before Teezo Touchdown arrived – King Lashane, Teezo Suave – and the artist was a part of the collective CVKE Supply, dropping tracks on YouTube. The 'Touchdown' moniker came in his senior year of high school, inspired by a footballer friend's highlight tape. He'd worked countless jobs on the side to pay his way; at a laundromat, Tinseltown Theater, call center, restaurants, gas stations, all whilst putting hours in the studio to the point that he would rarely see his dad. 'He thought I was over there selling drugs or something! But nah, I was grinding for this music thing and just truly believing that something was going to happen.' As time passed, things hadn't progressed, or maybe not in the major way they needed to. His dad eventually gave him an ultimatum about his career. 'He came into the room and very movie-esque, put the chair down,' he says. 'He was like, "You figured out what you gon' do? Because usually if it doesn't happen for people around this time, it usually doesn't happen." And like a few months later, he's coming home from work. I'm like "Dad ... I'm about to go to the airport, Trippie Redd is bringing me to L.A."'
'(My dad) came into the room and very movie-esque, put the chair down ... He was like, "you figured out what you gon' do?" Because usually if it doesn't happen for people around this time, it usually doesn't happen.'
On 6 March 2020, he notes 'turning pro', signing to RCA Records. Collaborating with Trippie would be an early note in a series of prominent co-signs for his work, and July that year saw the release of breakout tracks including 'Strong Friend', 'Careful' and 'SUCKA!' with Fred Flippstone. By the end of that month, Tyler, The Creator had been in contact about collaborating. The rise was strikingly fast, summarized by the reaction of his dad at the time. 'I remember him sitting down and being like, "Man, it's all happening so fast." Blowing up in a way many didn't think was possible, he cites a healthy relationship with God as a Christian, alongside an inspiring commitment to himself and his career. I don't take credit for any of this,' he says humbly. 'I think that I'm being blessed every day. You want to know how I keep getting these looks? I have a very good heavenly Father. I asked God to allow me to be the biggest billboard that I can be for him. I just want to spread the word that this is where it comes from.'
As Teezo delivers 'How Do You Sleep At Night?', he hopes audiences listen beyond the surface, taking the time out for new music drops, attaching memories to where they first heard them and who they were with. Listeners would do well to heed his suggestions; it's an album that shows him as multifaceted, and though he has instinctual comedic sensibilities – his role in the Telfar commercial easily should have him pinned for a movie – every raised eyebrow should come alongside real examination, and this debut should encourage us to listen beyond the artist we think we're seeing. 'I'm a student of the game,' he says. 'I read a lot of books; I watch a lot of interviews. I'm having a blast, but I take it so serious. Doing my research, you've got artists like Prince – at the time they really leaned on the comedy aspect of what they did. But I want them to know that this artistry is for real.'


When it comes to the future, he is not dogmatic. For him, the pendulum swing of reactions boils down to the task of being an entertainer – you can't choose how your art is received. 'If you can make people do one of the big emotions, you know, laugh, cry, I think just embrace it,' he says. 'I'm putting a smile on their face. As far as them thinking it's a joke? I hope it's a good joke.'
Photography Julius Frazer
Styling Brandon Tan
Text Christine Ochefu
Hair Monique Avant
Set design Peter Christian
Lighting technician Kyle May
Photography assistance Nuvany David 
Styling assistance Kaia Carioli 
Post-Production Ink
Editor-in-Chief Kevin Hunter
Creative Director Bryce Thomas
PUBLISHED: August 21st 2023