Rick Owens Lets the Fog Roll in for SS22
"Fogachine" touches on beloved Rick Owens staples and stuns audiences with one of his lightest, breeziest collections yet.
By Dora Boras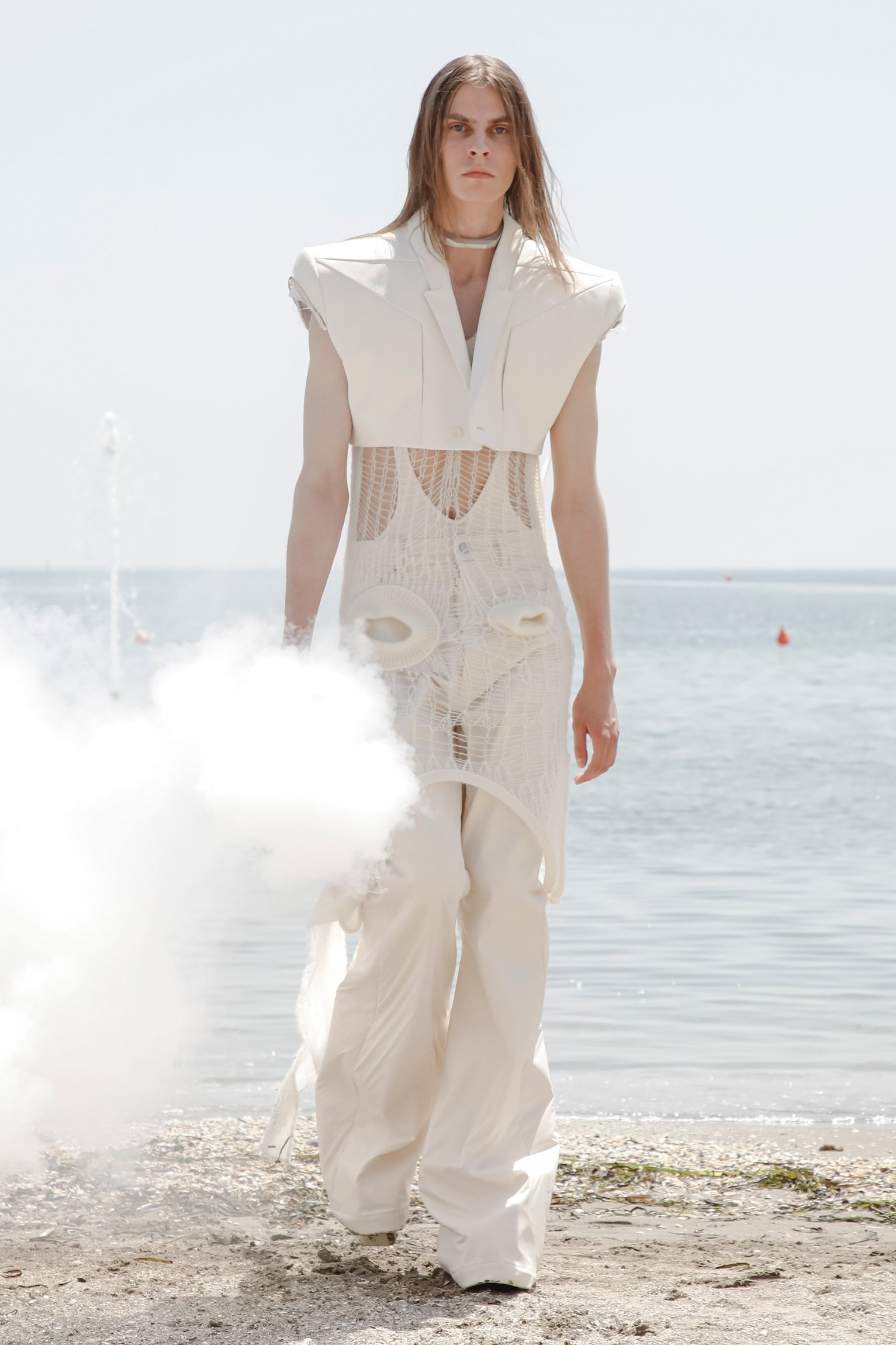 Rick Owens returns this season with his staple cerebral approach to masculine bravado. The collection, titled "Fogachine," was inspired by stadium concert theatrics, stemming from his well-known love of monstrous now-classic rock bands and their operatic on-stage costumes. Silhouettes exhaled vapor emitted from non-toxic fog machines, pocketed in special pouches to store the devices. As Owens eagerly prepares for the return of much-missed in-person shows and concerts, the designer uses fog and blocky, obscuring layers to play with ambiguity.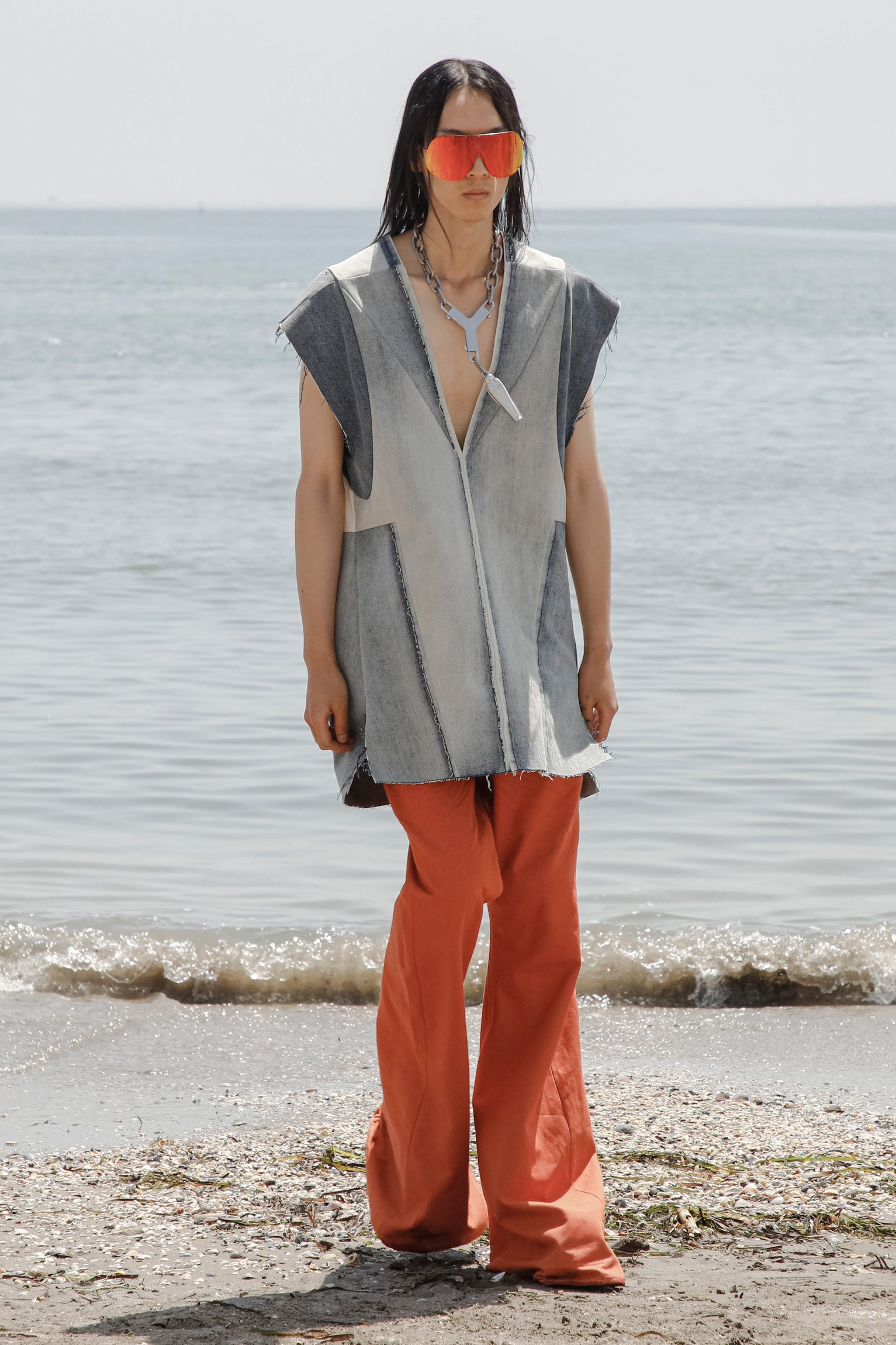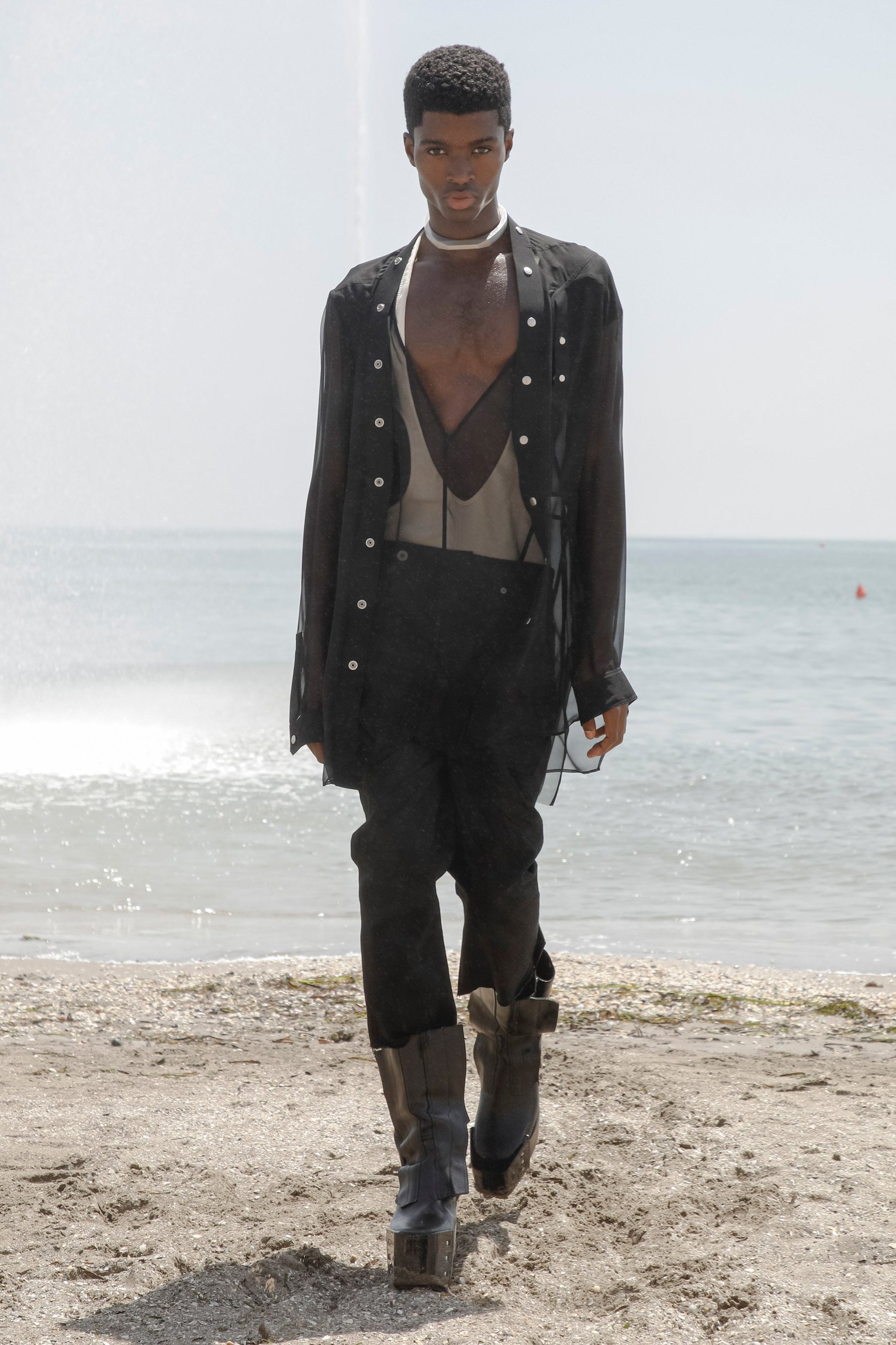 The show had a simple palette of white, cream, orange, an industrious concrete gray, plus the metallic glint of Owens' well-loved reflective sunglasses. With its seaside setting, taking place not far from Owens' Italian dwelling in Venice, the show took on a softer, hopeful tone than its previous dystopian installments. Sheer, knitted tops were strewn across the body with a slinky, cobweb texture. Trousers are slung low on the hip, pooling material at the ankle, bunching over a new white variation of the Kiss boot. Broad, padded shoulders filled out suit jacket-style vests to knee-length or cropped just above the first rib. Bomber jackets were offered in classic slim cuts or reimagined entirely with angular buttresses at the shoulders. Tunics appeared in smoky black mesh or as an overlay of grey slabs with raw hems. Several of Owens' most recognizable items, such as athletic-inspired shorts and classic long shirts, were featured throughout.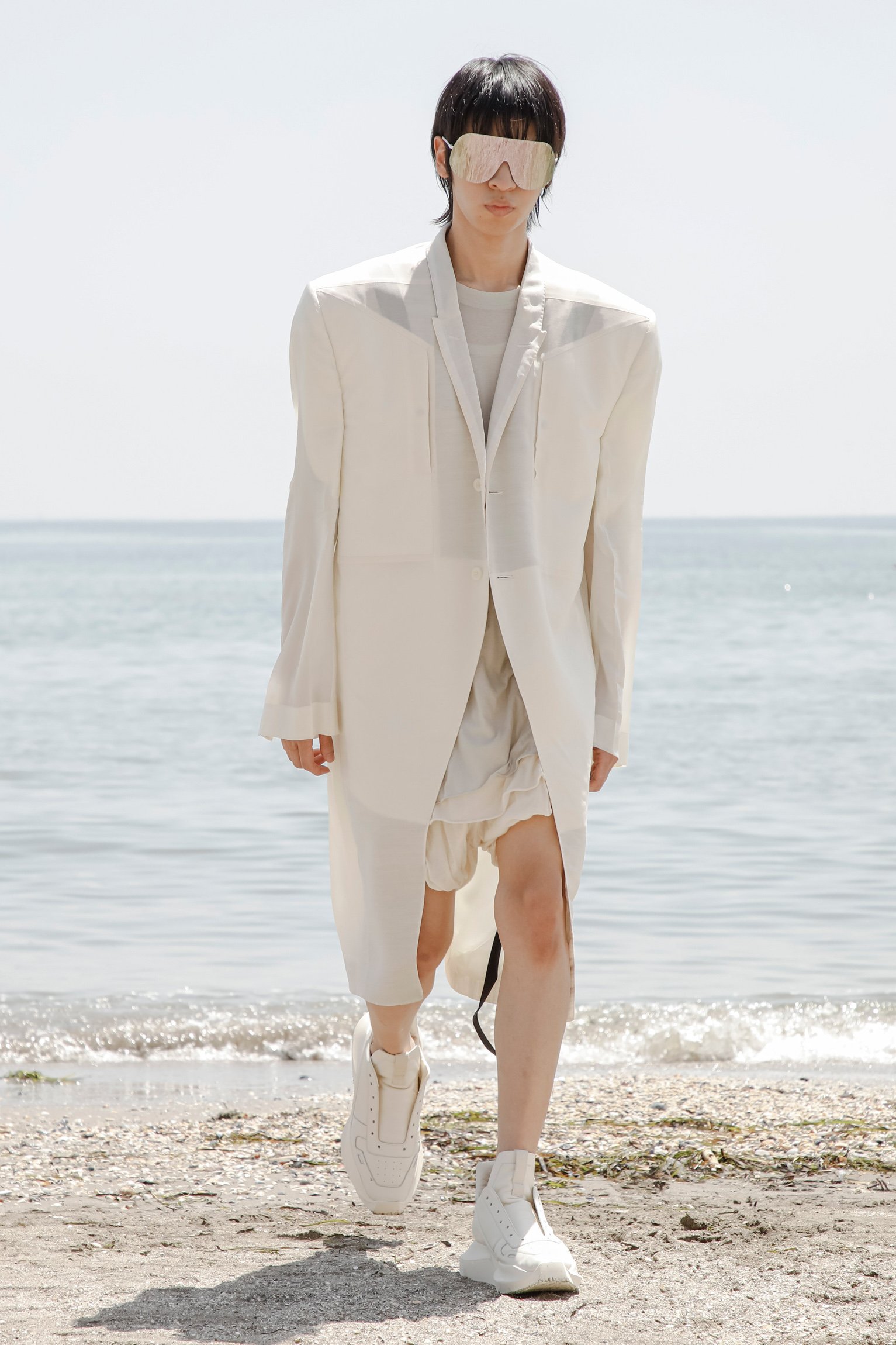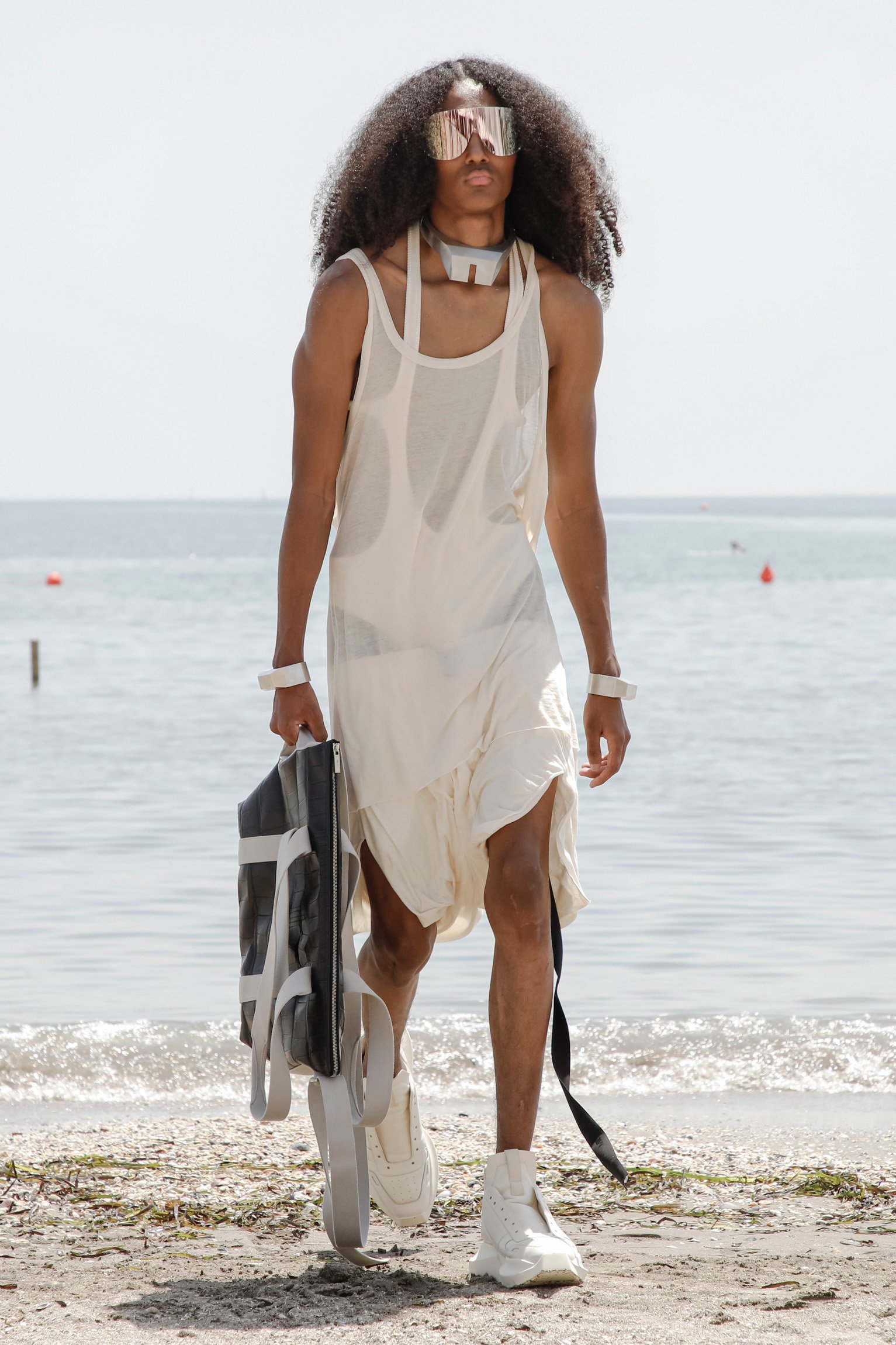 Blocky stone necklaces were slung around necks to a shamanic, ritualistic effect. Bodysuits clung with suspenders like wrestling singlets, and zippered sports jackets were introduced to a new kind of quilting that took on the scaly appearance of an armadillo's armor. Gossamer plumage and snakeskin added a lush atmosphere of ferocity. Bell-bottomed trousers obscured platforms, while shorts revealed a new burnt orange cropped Chelsea boot for the summer season. Slinky, leather opera gloves made an appearance, bunching at the elbow. A sheer cape accessorized with chunky steel-like bangles on each wrist continued the subtle, pagan theme. Asymmetric hems trailed the sand behind oblique footprints, and zippered trousers revealed parachuting layers.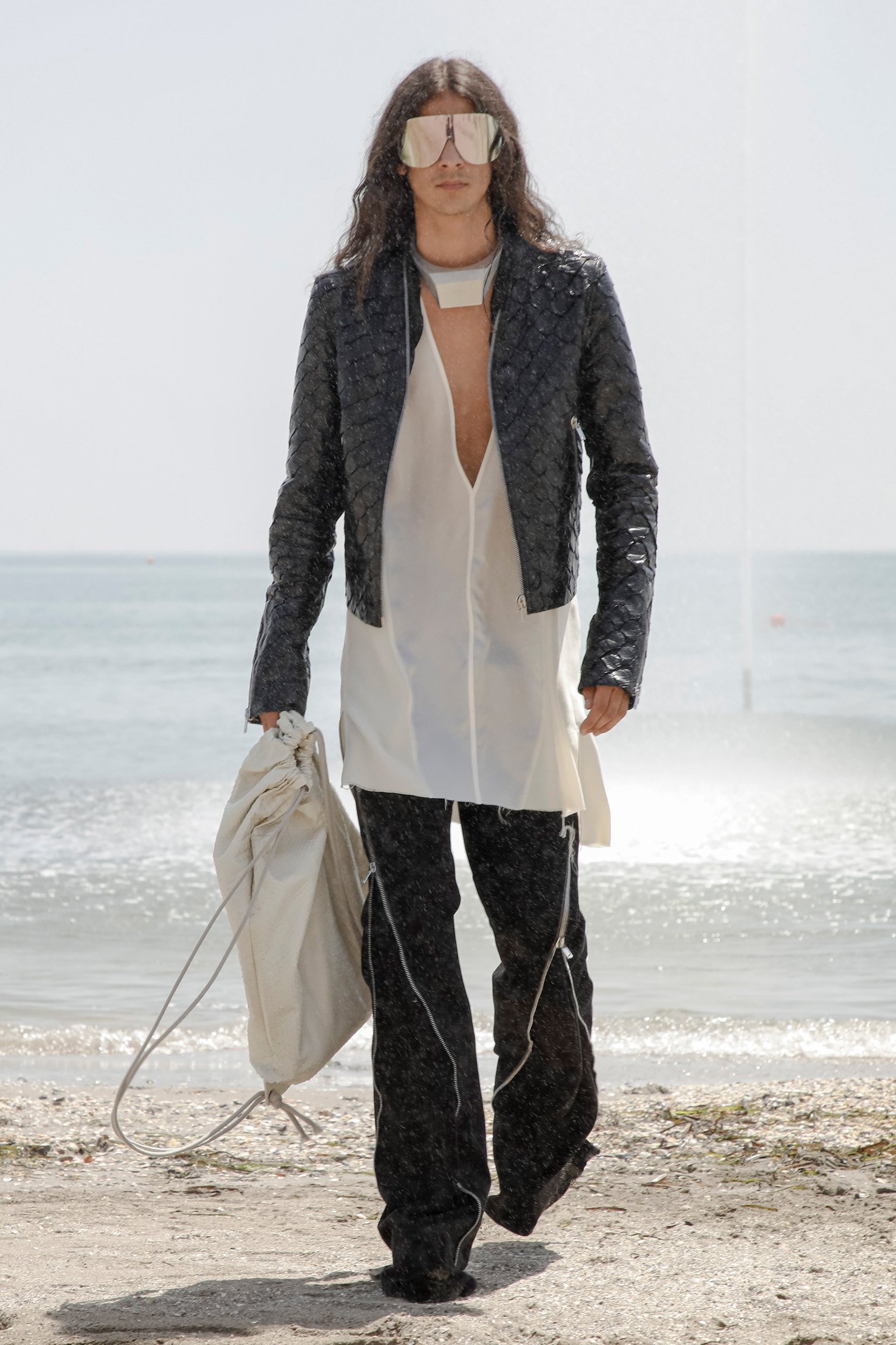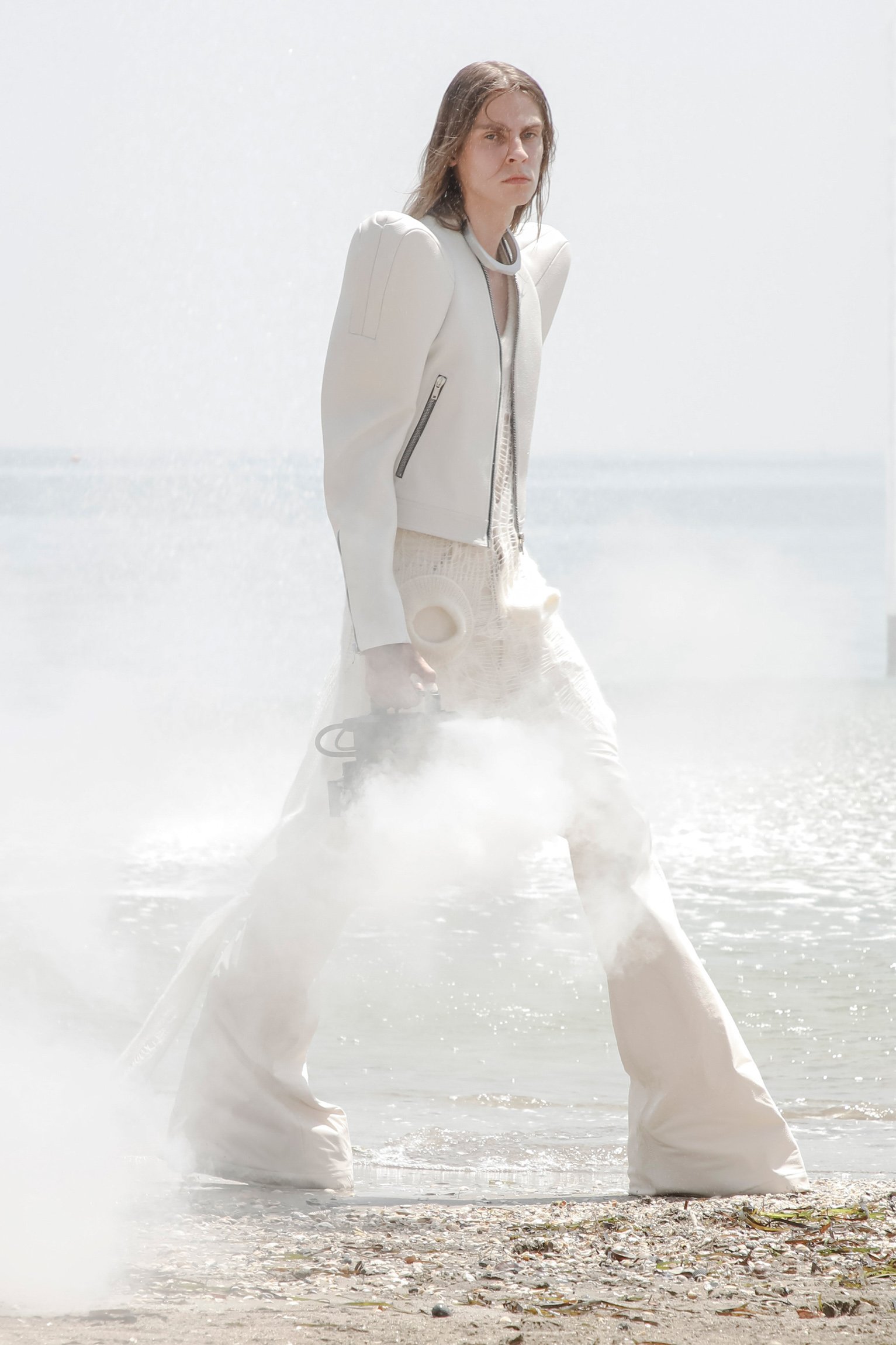 Owens' vision for the summer is diaphanous and avant-garde but never idiosyncratic. Silhouettes enjoy an ominous but alluring cohesion, playing with shape and size while referencing its own seriousness, now pruned for the summer season. Owens expertly engages the tension between mystery and repose as the summer ushers in a light-hearted denouement to a trying year.
TEXT: DORA BORAS
IMAGES: COURTESY OF Rick Owens
PUBLISHED: JUNE 25TH, 2021