Marco McKinnis welcomes his first child and reflects on faith, creativity, and inspiration
Just before newly becoming a father, we caught up with the Virginia-born, L.A.-based R&B artist to hear about his year of transition and growth. McKinnis opens up about becoming a husband, moving closer to the natural environment, and his biggest musical project yet, one for the people.
Made in partnership with Burberry. This story originally appears in Justsmile Issue 2, Together in the Fold.
Photography Barrington Darius
Styling Tamia Mathis
Text Jonathan Jayasinghe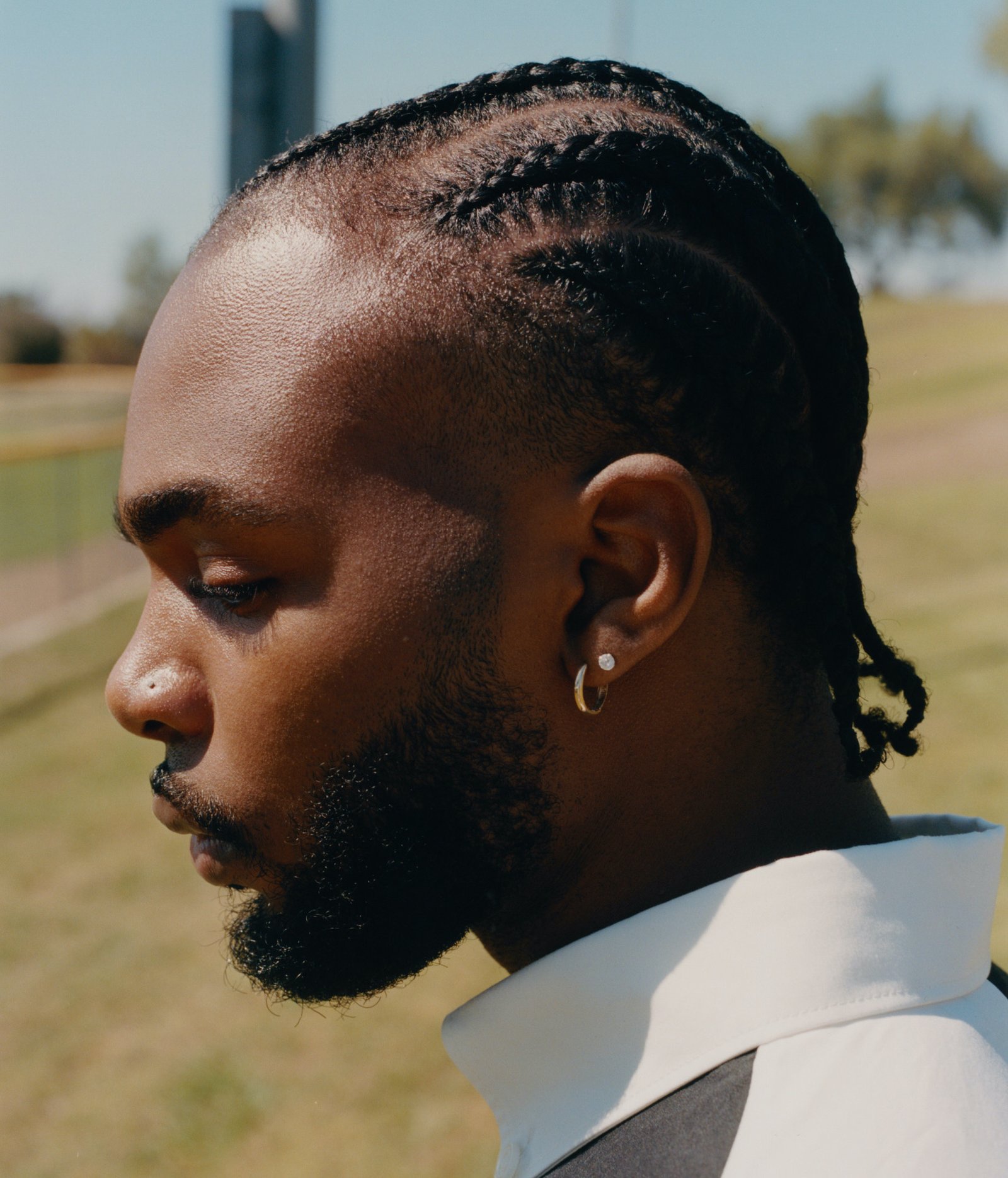 The Virginia-born, L.A.-based R&B artist Marco McKinnis has always felt beyond his years. You hear it in his music, often described as a bridge between the soul and R&B of years past and present. You feel it in his demeanor, which is enthusiastic and refreshingly assured. And you see it in his worldview, which is sensitive, generous and above all, guided by his faith in God.


With two standout EPs under his belt (2018's 'Underground' and 2019's 'E'Merse') and a slew of features for the likes of Rex Orange County and DJDS, McKinnis finds himself in a year of extraordinary transition and growth, as he prepares for the release of his third EP and the birth of his first child. It's amidst this moment of transition and growth that we had the opportunity to catch up with him and reflect on faith, creativity and the inspirations that are guiding his work and life.
Jonathan Jayasinghe: Hey man! Where are you at right now, you're in L.A. right?


Marco McKinnis: Yeah, I'm in the Woodland Hills area.


JJ: Oh word, I grew up in the Valley! How do you like it?


MM: I like it. It's hot and it's bright. And for us, expecting a baby, it feels really homey. It feels like a place to raise a family.


JJ: What type of role does location or space play in your work? Does L.A. have an impact on your creative process?


MM: It does. The natural environment, even when I was in Virginia, inspired my creativity a lot.


The natural environment of L.A. really does something to me. I'm a strong believer in God and I'm really inspired by just looking at His creation. Going on hikes, watching a sunset, being in nature, it's all part of my process.


Earlier on I lived in K-Town and Downtown, which was cool, but it felt a little cluttered, you know. But coming out to the Valley area, it helps my mind be a little more open. I have more space to think, more room to breathe. And I can connect more with God out here because there's not a lot going on to distract me.


MM: I'm learning more and more about how important community is and how to cultivate those relationships more. I've been understanding the importance of it, because we're not meant to do this life alone. It's important to me, because I believe that you're shaped by the people that are around you.


As far as communities that I'm a part of, I'm connected with a lot of different communities here, whether the art scene, the music scene, the fashion scene. Also I'm a Christian, so I'm heavily connected to my church and the people there.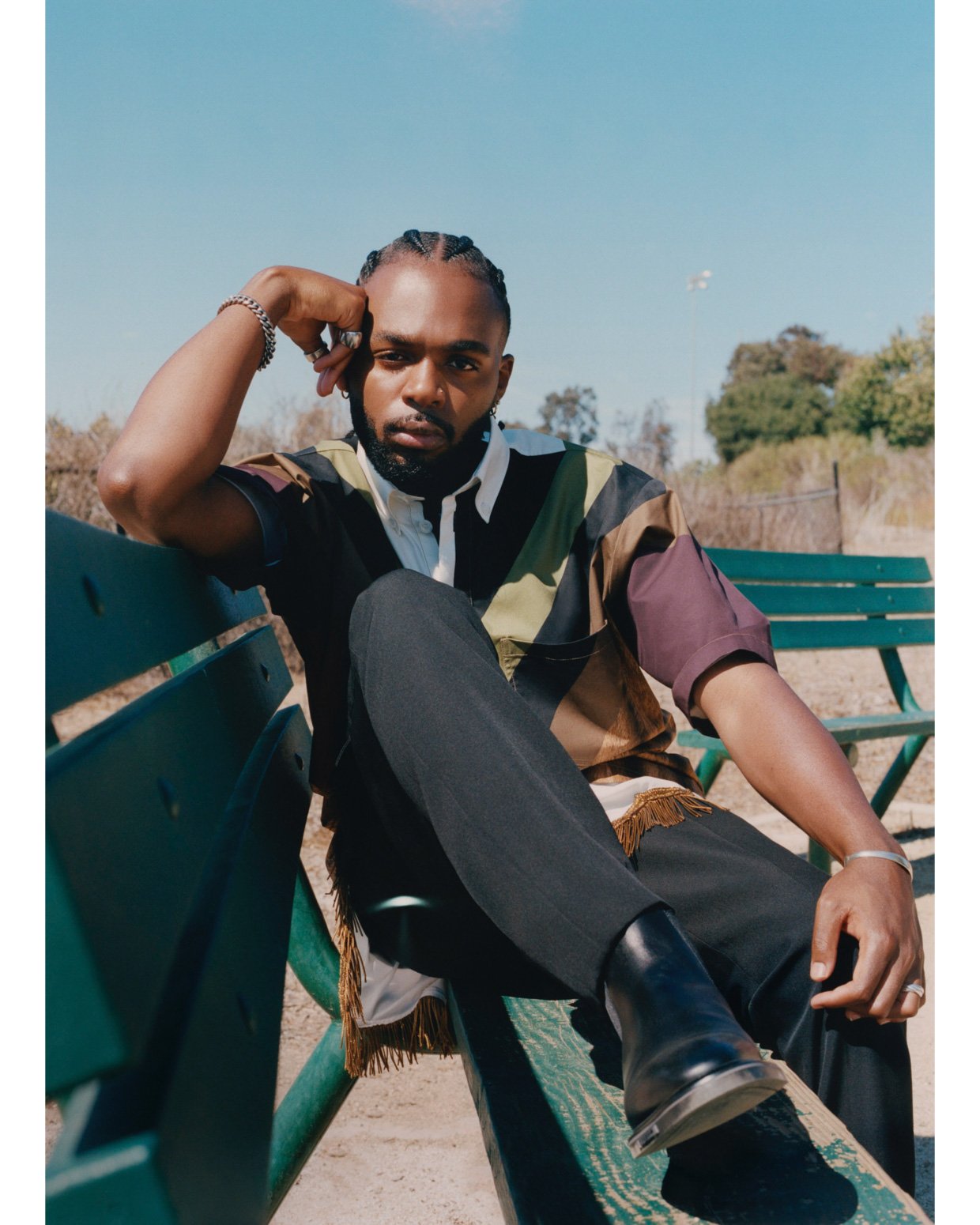 JJ: Tell me about the role that your faith plays in your life.


MM: Man, my faith is so important to me. My family and my parents really raised us to stay in faith, and be guided by faith. Even as a kid, I felt like I was guided by visions, that I feel came from God. It's been something that I've always come back to. It's something that I lost sight of at different times, going through different things or being involved with different people.


Last October, up until March of this year, was a crazy time for me. I've been working on this next project that's coming out, and it's going to be the biggest project that I've done. I see it as the launch-pad for the journey that I believe God has put me on. But while making the project, I really went through a lot of turbulence with my faith. But as I started to finish the project, things started to connect for me and I realized that God had been speaking to me through the entire process, the entire time.


JJ: I know that gospel music was a big part of your life growing up. Could you talk about some of your early musical inspirations or memories?


MM: I heard gospel music for a good part of my childhood and almost no 'secular music.' That's all I really heard that my parents played around the house. But as I got older, you know, I was able to get a hold of other things. Early on, my dad did introduce me to Michael Jackson's music. Mike was really inspirational to me. His dancing, his singing, his compassion for the world, that was really inspiring to me. But as I started reading more and creating music, I was inspired by a lot of different people. I remember when Drake dropped 'Marvins Room' that was when I was like 'I really want to make music for real for real.'


I was listening to a lot of Michael, a lot of Chris Brown, a lot of Anthony Hamilton, Ne-Yo, The Weeknd. In terms of timeline, it's kind of all over the place. But this is the music that was inspiring me when I was really starting to get into music. A little later I got into Prince, and I was like, 'Oh snap like this is different.' And then Lauryn Hill and the Fugees, a lot of 90's rap for a while. I started getting into R&B and soul like Marvin Gaye, Otis Redding, Al Green. Something about that stuff really resonated with me, and I felt spiritually connected to it somehow. I'd listen to those records and feel like I might have that in me too.
"I felt like I was going to scrap this project and not drop it ... But I played it for some homies, and my homie was like, 'Nah, bro, you gotta show where you were at, at this time, you know?' "
JJ: You talked about the project that you're currently working on, and it being a milestone project for you. What's that process been like?


MM: This EP man, I talked about becoming a father up there. I talked about the relationship between me and my wife. The first song on the project opens up with encouragement from God and it ends with my daughter and my wife, it ends with a letter to them.


This project is definitely for the people. I really wanted to make it sound and feel big, like the sort of thing that can play in a stadium. There was actually some time where I felt like I was going to scrap this project and not drop it, because I had started to move on to other music and other ideas. But I played it for some homies and my homie was like, 'Nah, bro, you gotta show where you were at, at this time, you know?' And I just had to remember those times when I was creating it and being so hyped. Sometimes that happens where I have a song, I loved at first but later I'm not as excited about it. But then other people might hear it and it's new to them, and it reminds me of what I loved about it in the first place.


JJ: How do you approach collaboration in your process?


MM: With this project, it was me and my guy Jimmy producing, which was great. I was struggling at first because I was getting tracks from different producers and I was looking for the sounds that I was hearing in my head. I wanted more control of the production process, and I'm learning that now.


My team had actually set me up with Jimmy as the engineer for the project and I didn't know him prior. So, I was working with beat packs for a few months, and getting a little frustrated that I had to fit myself into the tracks when what I was really looking for was much different. Then someone on the team told me that Jimmy's a producer, and he played me his stuff and I was like 'Bro ...' This man was sitting in the room with me the whole time and I had no idea! So, we started creating stuff together and things just flowed organically from there. That collaborative process helped me to express a lot of ideas that I hadn't been able to before.


JJ: It sounds like a lot of growth happening for you on this project.


MM: Yeah also I wrote like 97% of it. There's one song I had a writer come in on, he really helped me out, I love that song. But everything else was written by me, which feels great. I used to have a lot of insecurity about writing. But with this project, I really was like 'God, I'm relying on your spirit to write through me, you know, and whatever comes out, that's what comes out.'


I'm excited for what this project is about to do. And I'm just going to continue to just go up and up and let God take me where He's taking me. It's definitely something different from what you guys have heard from me. You may have heard elements of it from me before, but it's at a whole other level.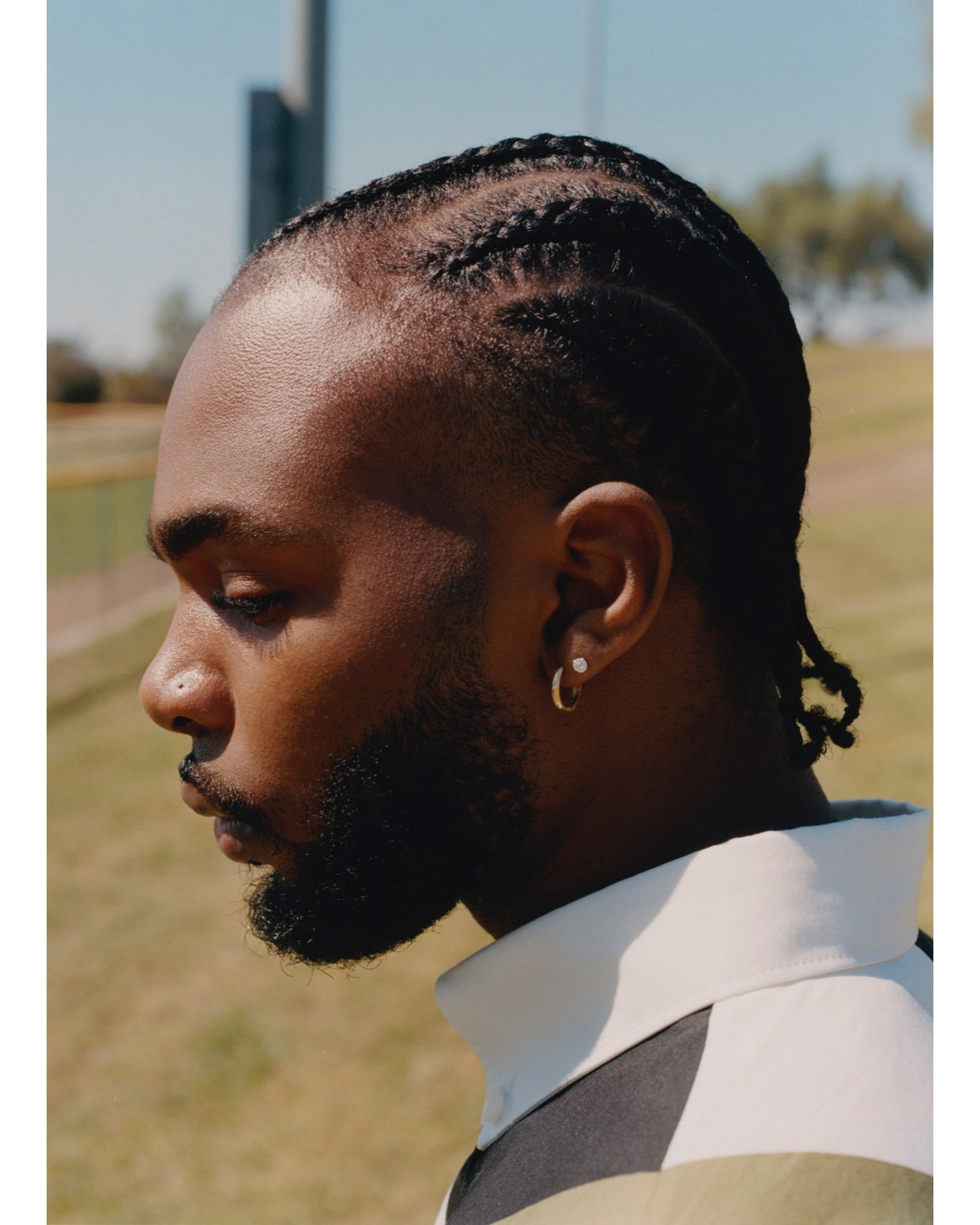 JJ: As your journey as an artist continues, you and your wife are starting a new journey, as parents. What does that feel like, and how is it impacting your worldview or creative process?


MM: Man even becoming a husband is different. Being a husband, you can't be a boy. God has really been grooming me as a man, and teaching me what it means to provide for a family and put your family first. It's something I'm learning every day. But it means so much to me, bro, because I'm so glad I chose this path. I've been on other paths, and I found them draining. I knew since I was a kid, that I would get married before my boys and start having kids before my boys. I just knew that was something that would happen for me. And when I got out to L.A. I kind of forgot about that. But then when I met my girl, I was like 'Oh this is the path you're supposed to be on.'


Even with this baby and things that are happening right now, I'm excited. She's already doing things to my heart; she's already got me wrapped around her finger. And I'm excited because she's a part of the future. She's the next generation and we're creating her world. And we want to be a pretty big family, we want to have five kids. We want them to be very instrumental in wherever God finds a calling for them.


JJ: It's a beautiful time for you, an exciting time, a moment of transition. It sounds like a good place to be.


MM: Thank you so much man. I really appreciate it for real. We ain't perfect, but everything I do is for the glory of Him. That's who I am and who I've always been. And now is just about continuing to dive deeper into that.
Hair Tiago Goya at Forward Artists
Make-up Sara Tagaloa
Photography assistance Nick Rufo
Styling assistance Emma Spencer and Bre Townsend
Hair assistance Christopher Miles
Make-up assistance Anna Kato
Production Jennifer Pio
Production assistance Gage Crismond
Post-Production Ink
Text Jonathan Jayasinghe
PUBLISHED: NOVEMBER 17TH, 2021