Virgil Abloh's Louis Vuitton is a Rodeo of Color, Shape and Electricity
Virgil Abloh takes Paris Fashion Week by storm with fan favorites taken to new heights. Samurais, ravers, petticoats, classic tracksuits and the hottest AF1s on the planet prove that Abloh is not stepping off the gas anytime soon.
By Dora Boras
Virgil Abloh's latest collection for Louis Vuitton menswear is in full swing, featuring some of the most covetable luggage accessories in LV's classic monogram print to date. Backpacks, toy bears, toiletry cases, weekend bags, pockets, pouches and clutches are sure to make the hearts of collectors soar around the globe - but this is only the beginning of Abloh's electrifying show.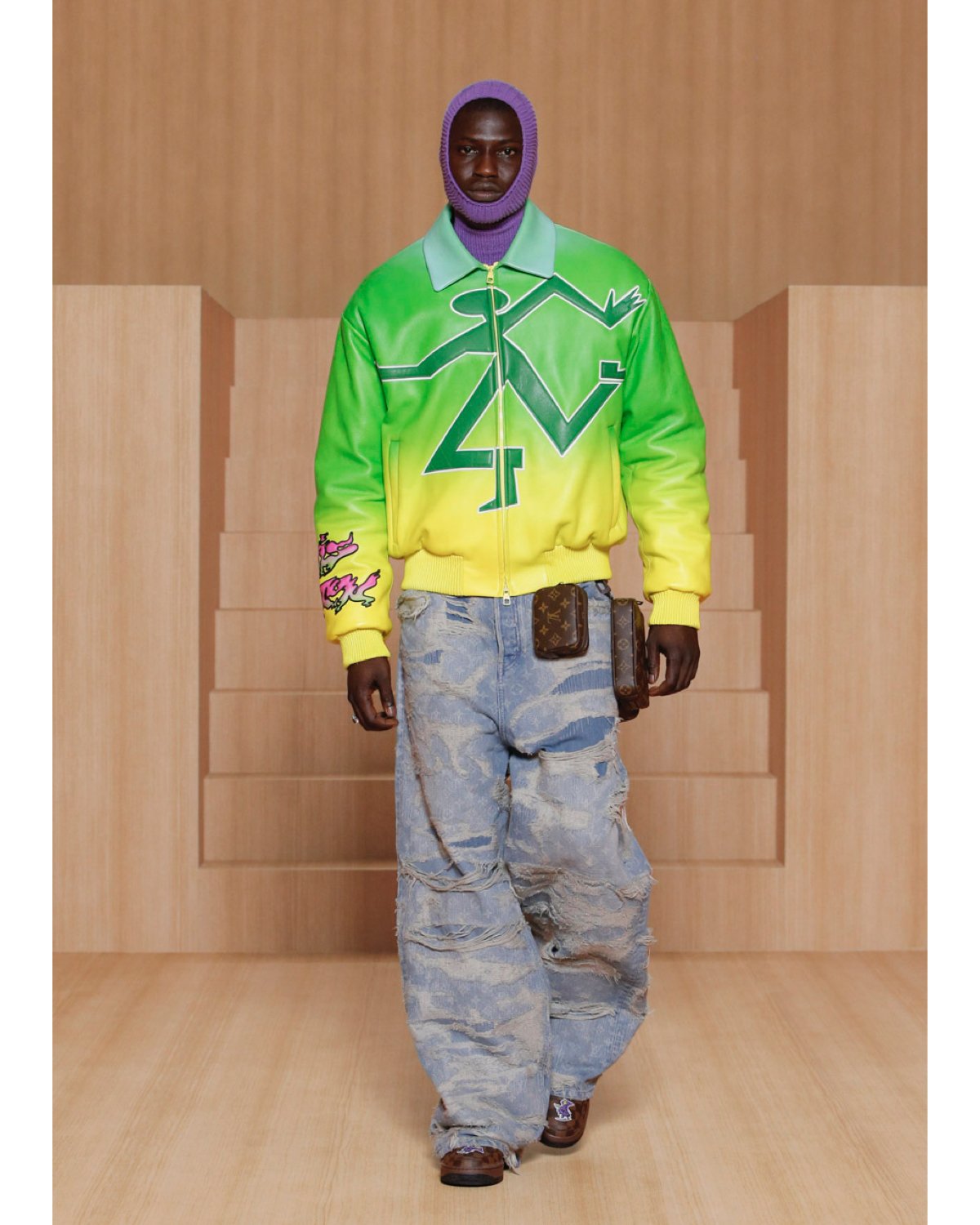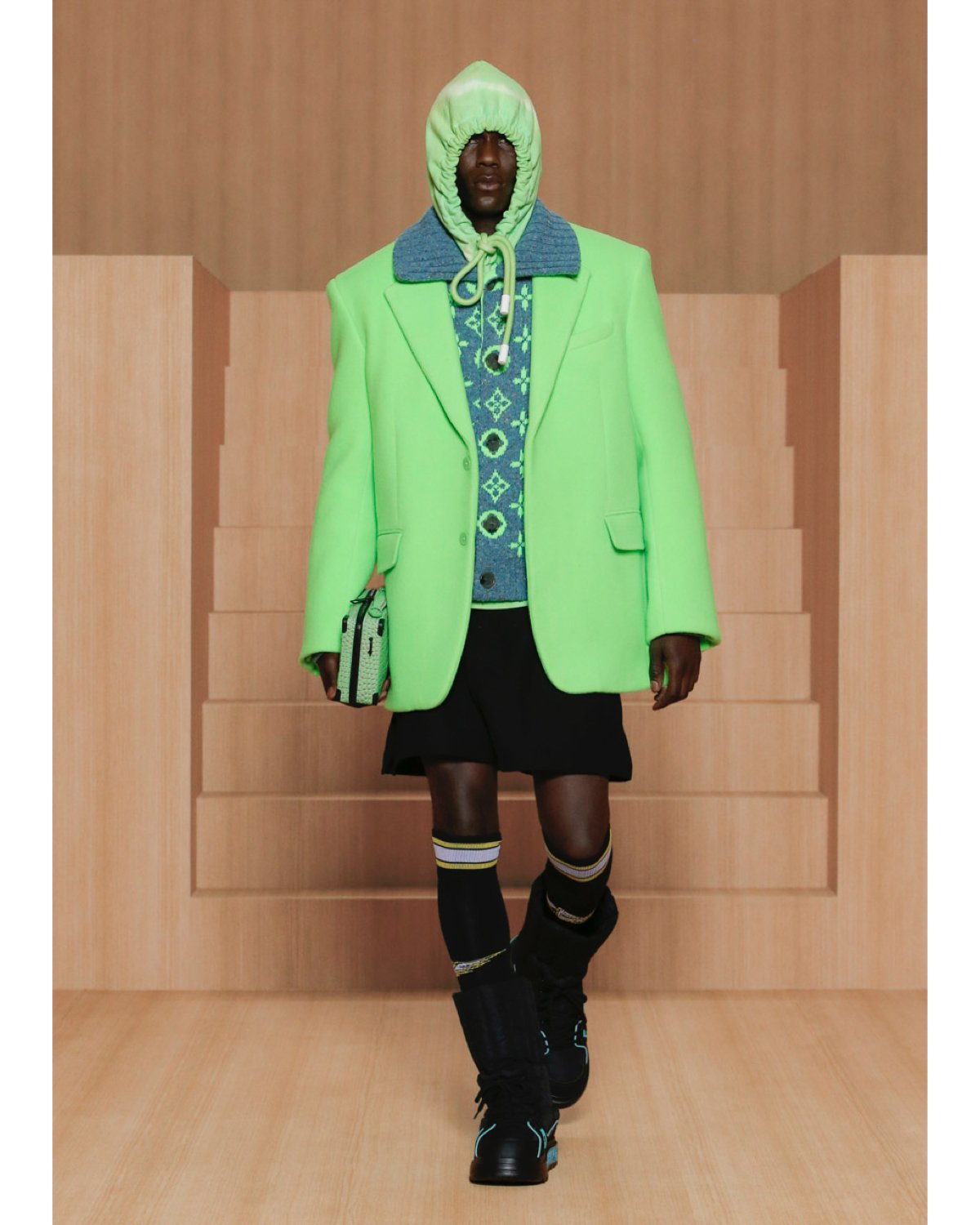 This season, the designer plays with vibrant neon gradients on jackets, bags, mini trunks and furs. LV's famous monogrammed denim makes a comeback in slouchier styles, shredded and baggy, some adorned with a bright pink graffiti tag across the lap. Tailoring is given the same rainbow treatment, reaching its peak with a glossy, short suit inspired by Y2K-era rave flyers. A lustrous, silky suit with an embroidered nature print closes out the show. Faces are obscured by checkered balaclavas, hoodie drawstrings pulled taut, massive ear muffs or crushed top hats. Plaid and checkerboard make a regular appearance throughout, chicly paired with a matching beret or sweeping the floor in drapey lengths.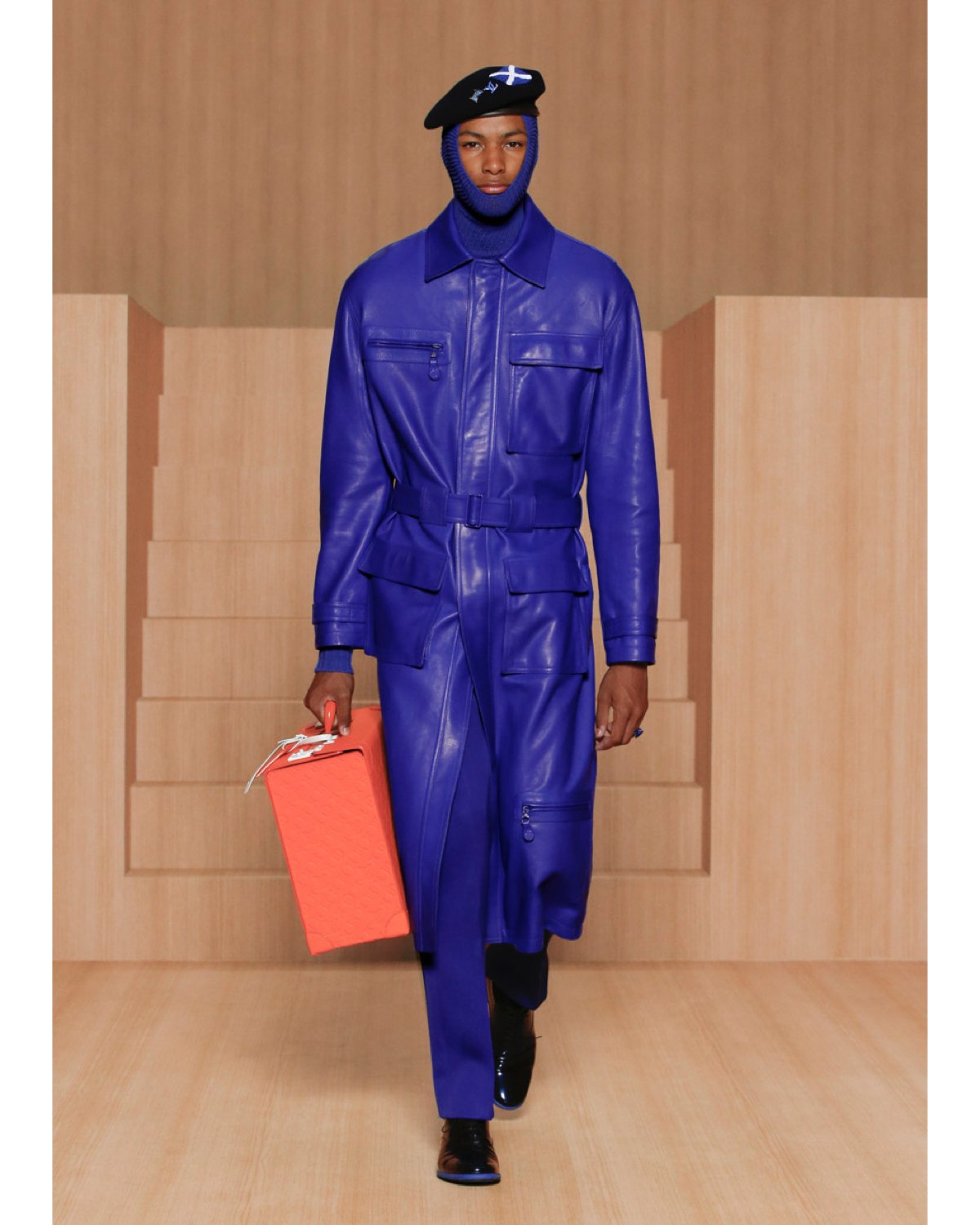 The variety of textures, colors and silhouettes across the collection is stunning. Monochromatic suiting dazzles the eye in rich cobalt blue, meanwhile neutral beiges and blacks are punctuated with bursts of neon detailing, becoming a signature of Abloh's Louis Vuitton. An illusory black suit plays with shape as white spray-paint mist accentuates the figure. Hockey gloves and a knitted jersey fit for the world's most luxurious arena are a motif throughout. The sportswear inspiration is carried through with cricket-style padded shinguards and knee-length soccer socks. Plush furs are given a dynamic shape with dayglo dying. A trucker jacket and matching trousers reimagined in silver foil call back to the silver space-age metallics of Abloh's first collection for the legacy brand. A scalloped trench coat and floral motifs translate feminine concepts to add depth and intrigue to menswear.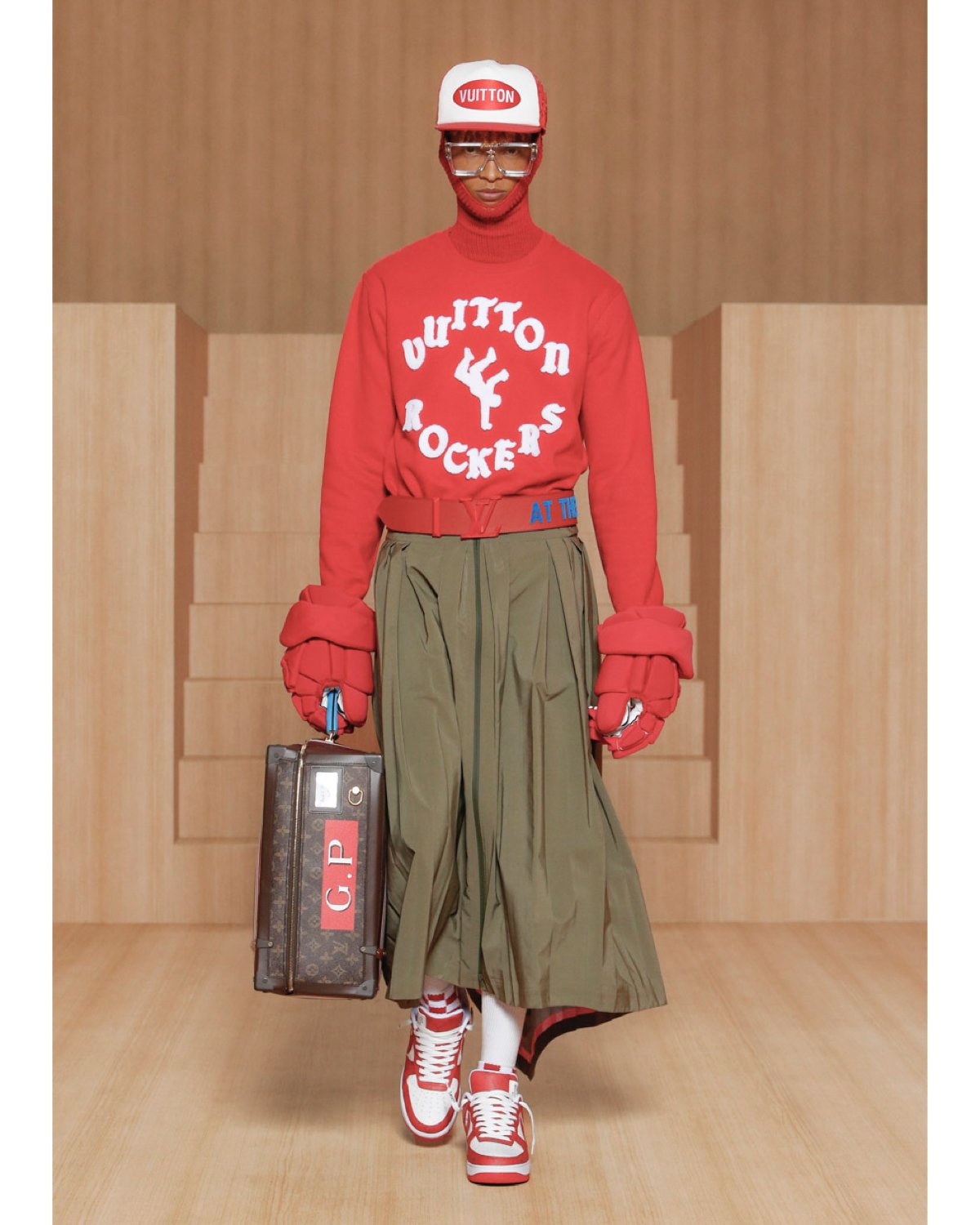 It's clear that Abloh's attention to accessories and leather goods aptly captures the imagination of his loyal clientele. In a move that can single-handedly stop the sneaker hype world from turning on its axis, Abloh slyly debuts an array of new styles of Nike Air Force 1s in collaboration with the famed French house, in both Mids and Lows. Available in damier and LV monogram with a variety of add-ons such as doubled tongues, new colorways, metallic foils, textures and prints, the collaboration is a ground-breaking launch for fans even beyond the sneaker world. This season, Abloh effortlessly connects ideas across the spectrum of subcultures, picturing a fantastical landscape in gorgeous harmony.
TEXT: DORA BORAS
IMAGES: COURTESY OF Louis Vuitton
PUBLISHED: JUNE 25TH, 2021