At Paris Fashion Week, JW Anderson Plays Pretend
For the Spring Summer 2022 season, JW Anderson brings his namesake label to playground. Fresh fruit prints and tromp d'ceil knits take centre stage for summer.
By Dora Boras
JW Anderson is creating his own coming-of-age ritual with a collection of playful and bold prints on angular, blousy silhouettes. For his namesake collection, the highly conceptual designer creates a playful interpretation of kitsch and bad taste gone good. Presented entirely though school portrait card frames shot by Juergen Teller, the collection explores a juvenile world with childlike wonder.
Featuring a predominant motif of gargantuan strawberries and flowers on nylon playsuits, Anderson calls back to the early days of quarantine lockdown, reimagined with less unease but more opportunity. A puffy, rectangular top belted to the waist calls back to one of the pandemic's first and perhaps most bizarre viral trends, the #QuarantinePillowChallenge which saw users turn pillows into dresses. This cheerful flirtation with dressing and form that can only happen in the privacy of the domestic space is what Anderson aims to explore.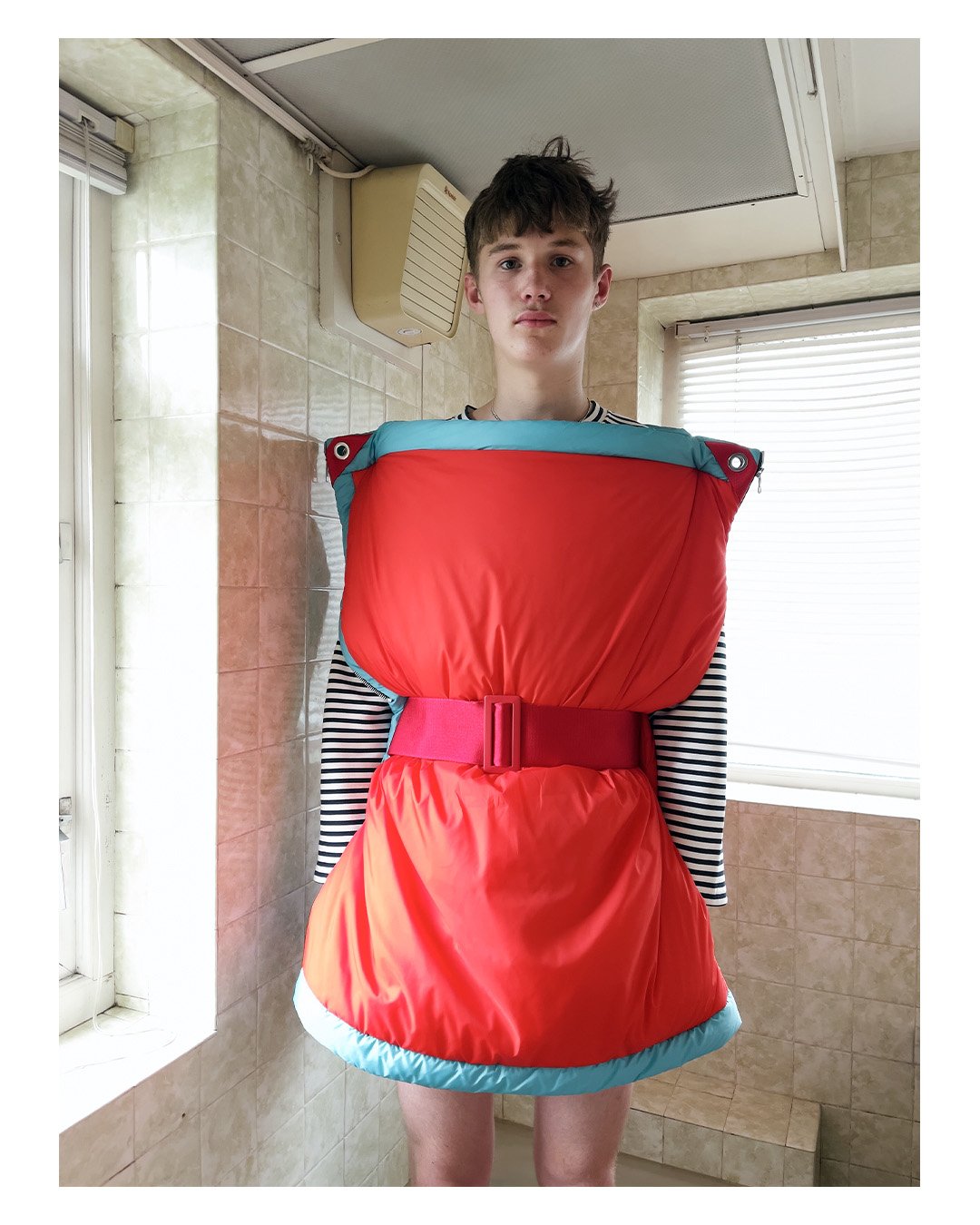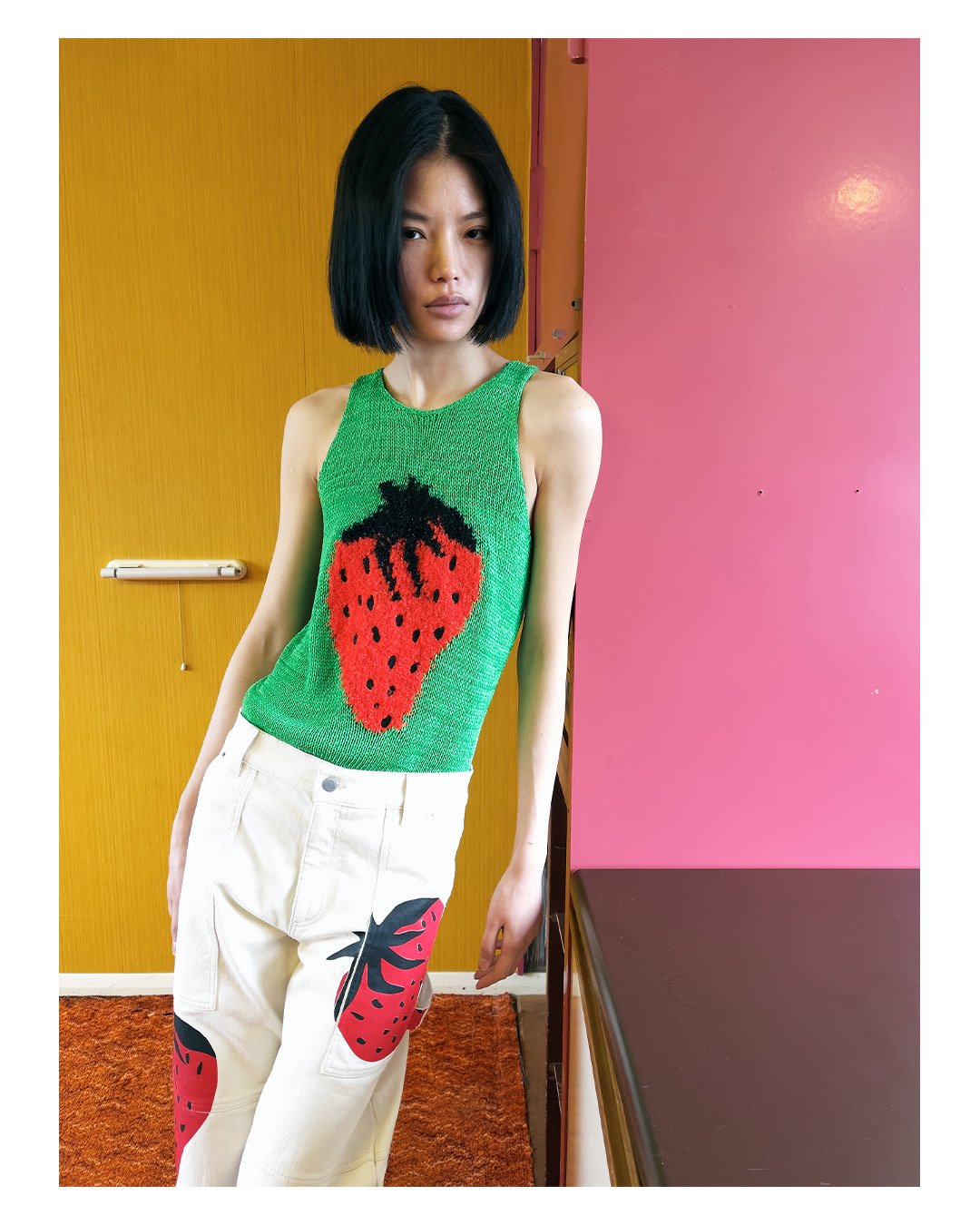 Inspired by the experimentation and clumsiness of self-discovery, the collection calls to a generation who lost the opportunity to find themselves over the past year. An adolescent taste for edgy irony and rebellion through sardonic sartorial choices provides the foundational atmosphere for this season. Cheeky, but not quite mocking, Anderson explores the tension between sprightly innocence and the rebellious desire to self-identify that comes with adulthood.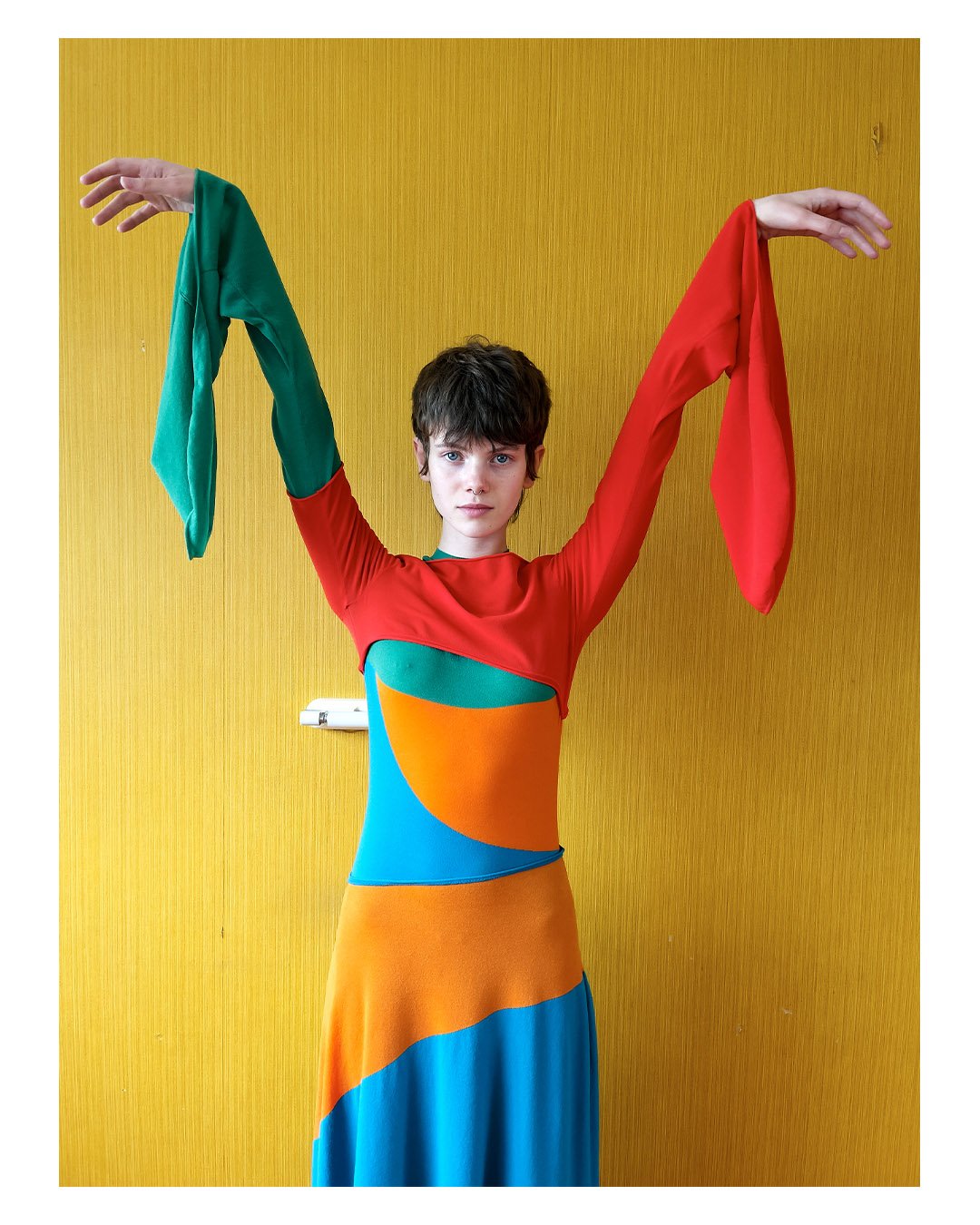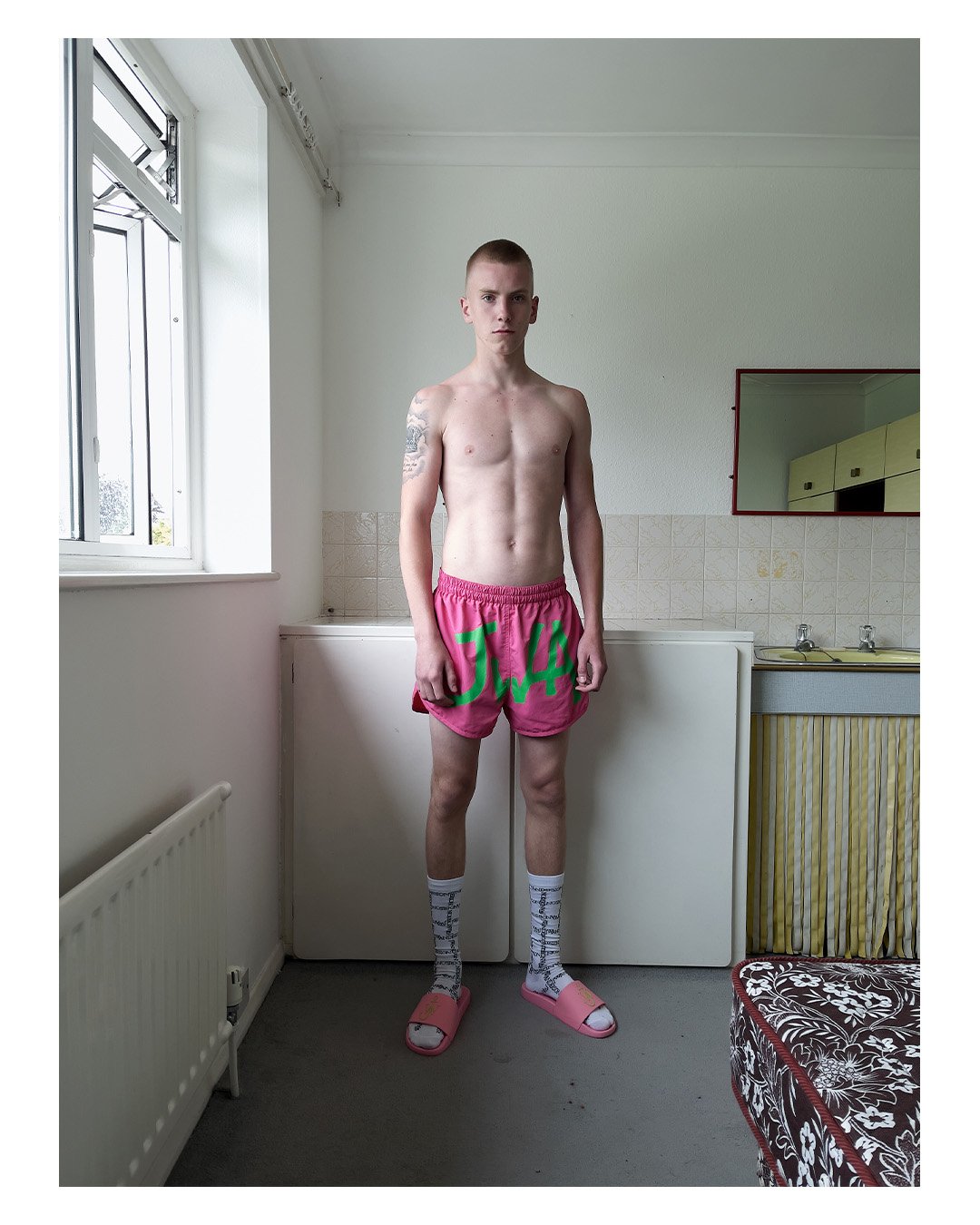 A raspberry pink fisherman's vest with two blue strawberries printed on its oversized pouches, a tromp d'oeil vest printed onto a shag sweater, carnival-striped dresses and gumball-bead dresses are just the beginning of Anderson's playground. His primary-school palette of candy apple red, lemon yellow, bright blue and shamrock green is both lighthearted and bold. The urgency of the vibrant colours speak to the private fantasies of our idealized selves conjured in our childhood dreams that only reach maturity should we be so brave. While today's youth may have missed out on a year of romping through streets, arm-in-arm with friends as a way of learning who they are in the mirror of their peers, the kind of introspective daydreams that happen at home are just as essential to envisioning who we want to become.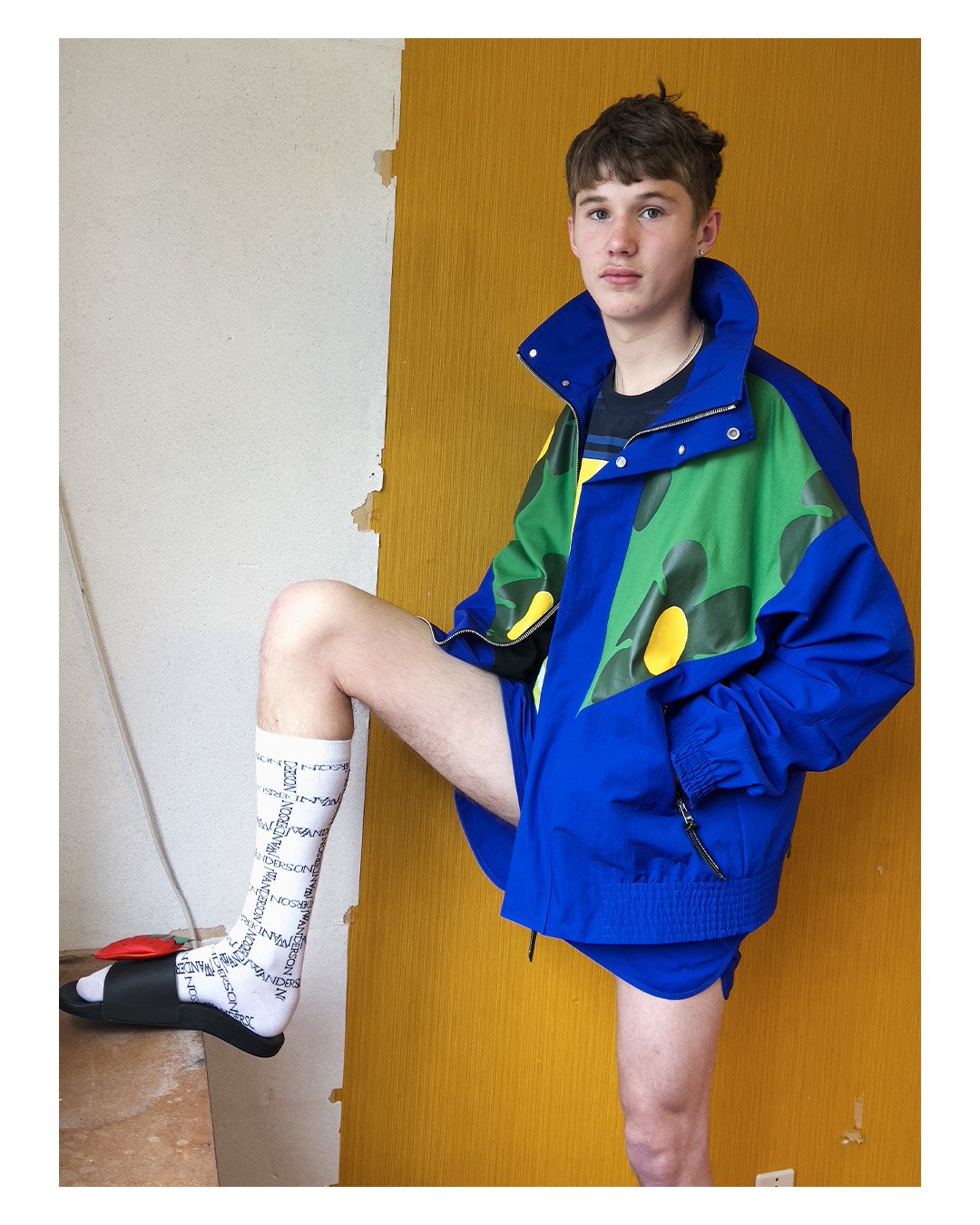 There's an element of playful dress-up in Anderson's world – the kind that happens behind the closed doors of a bedroom, lost in the galaxy of imagination and spontaneity. His version of lockdown is a primary school utopia where you actually want to stay home and play pretend. Oversized fleece tracksuit sets make the premise all the more appealing.
TEXT: DORA BORAS
IMAGES: COURTESY OF JW Anderson
PUBLISHED: JUNE 24TH, 2021