At Hermès, Classic Cool Merges with New-Era Utility
Quarter zips and floral knits take the SS22 season by storm. Utilitarian pockets and pouches enter the legacy house into the gorpcore ring.
By Dora Boras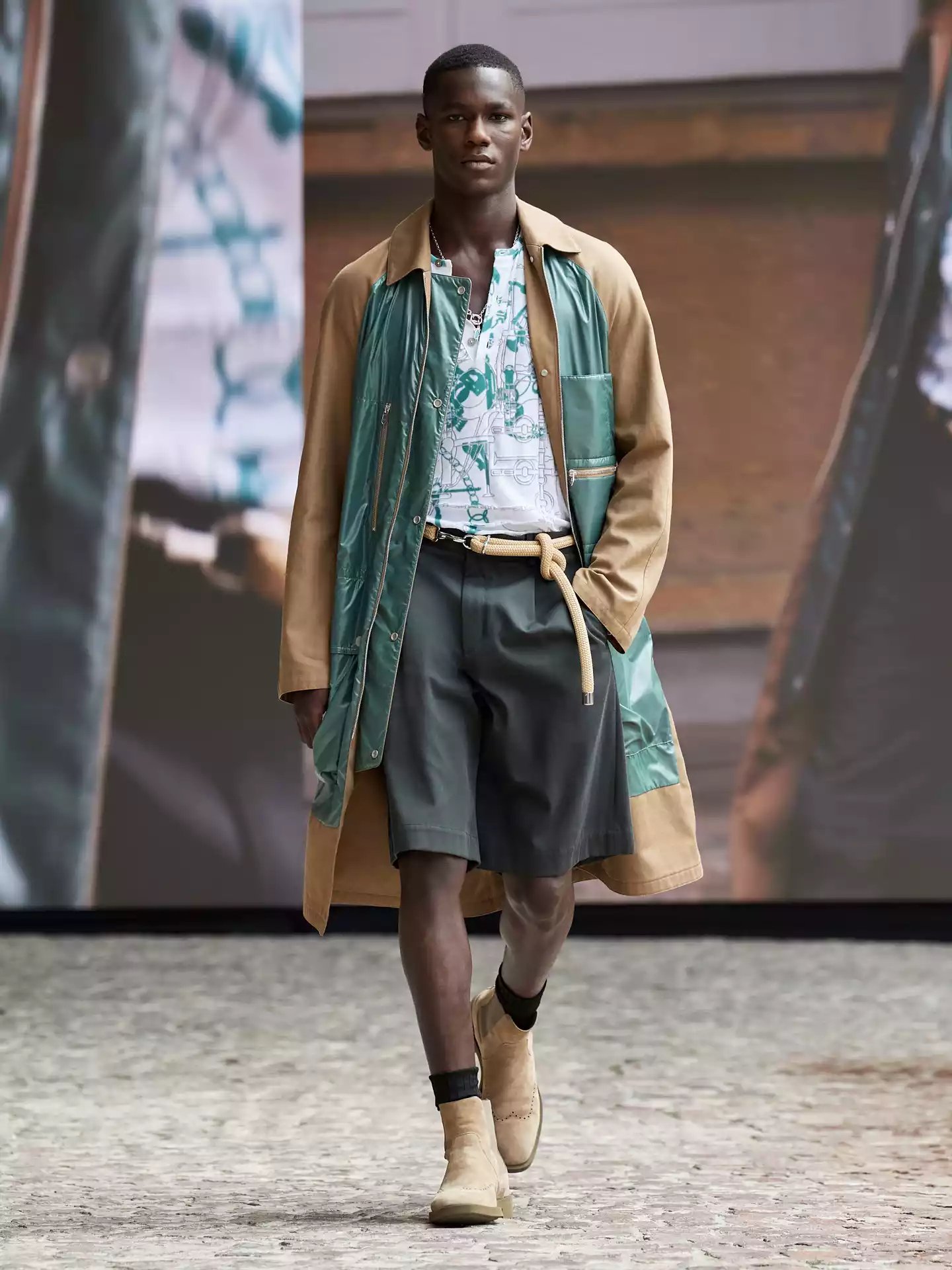 Artistic director Véronique Nichanian led the Spring Summer 2022 collection with a film – a collaboration with theatre director Cyril Teste. Smooth, contemplative pans followed models down the runway as they bounded forward, mimicking the watchful pace of the in-person fashion show. Titled "Double-Jeu," the collection appears predictable or tame at first, the magnificent details revealing themselves only to watchful, attentive eyes and time.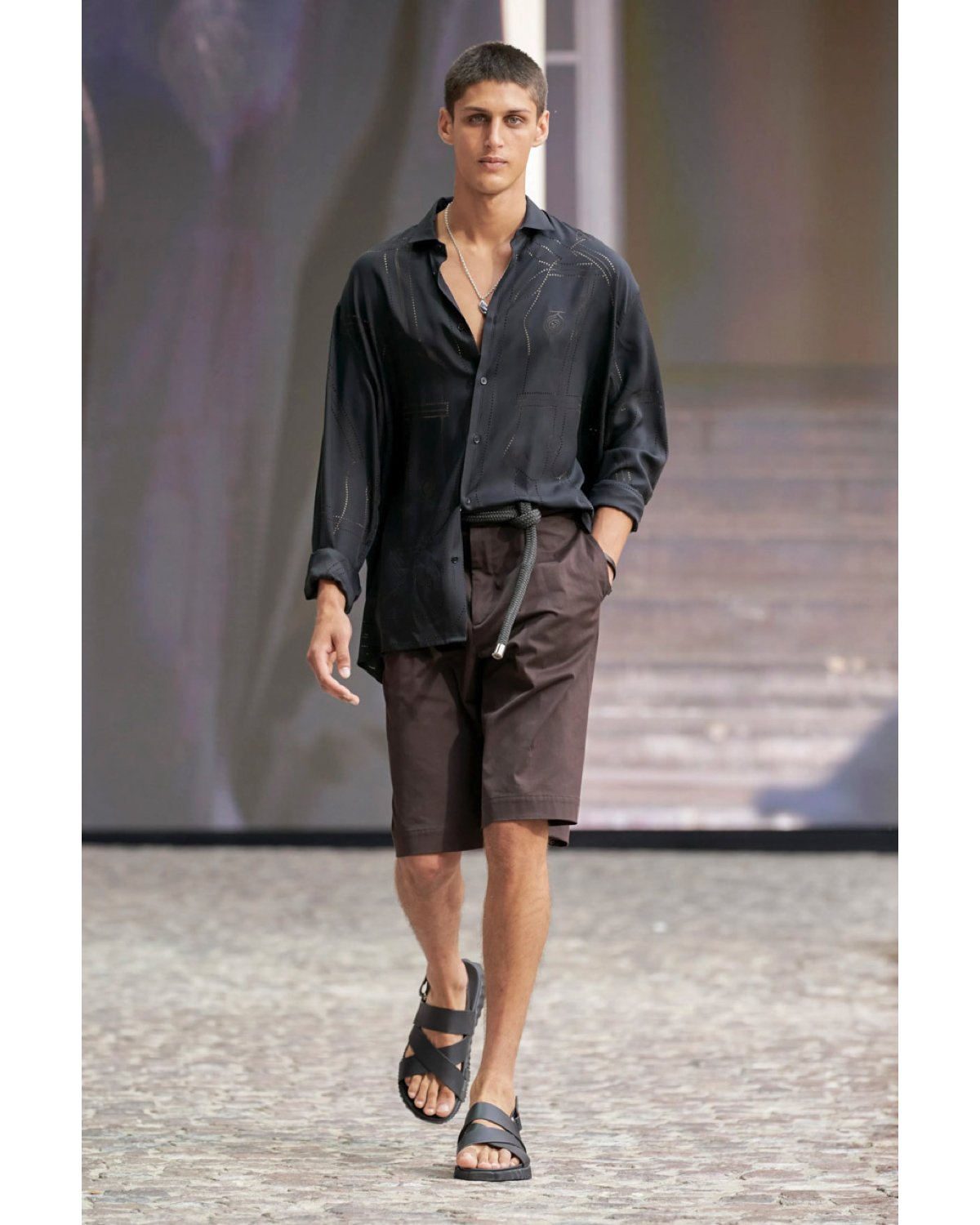 This season, Nichanian placed her attention on paneling and soft hues. Nichanian's Hermès explores a cool, earth-toned palette of cocoa brown, khaki, beige, camel, olive, dusky pink, robin's egg blue, and grey. Breezy blousons catch the breeze in various textures, fastened with zippers and oversized breast pockets. Knit separates, and sport coats appear in a verdant dandelion yellow. A translucent white collared shirt and matching raincoat float down the runway in a calculating grid print. Trousers are relaxed, paired with quarter-zip dress shirts and polo knits. Rope belts cinch the hips for a subtle nudge towards summertime sailing. Nylon sport coats and anoraks layer matching pants, while crocodile-stamped trucker jackets add a youthful hint to cool-guy calm.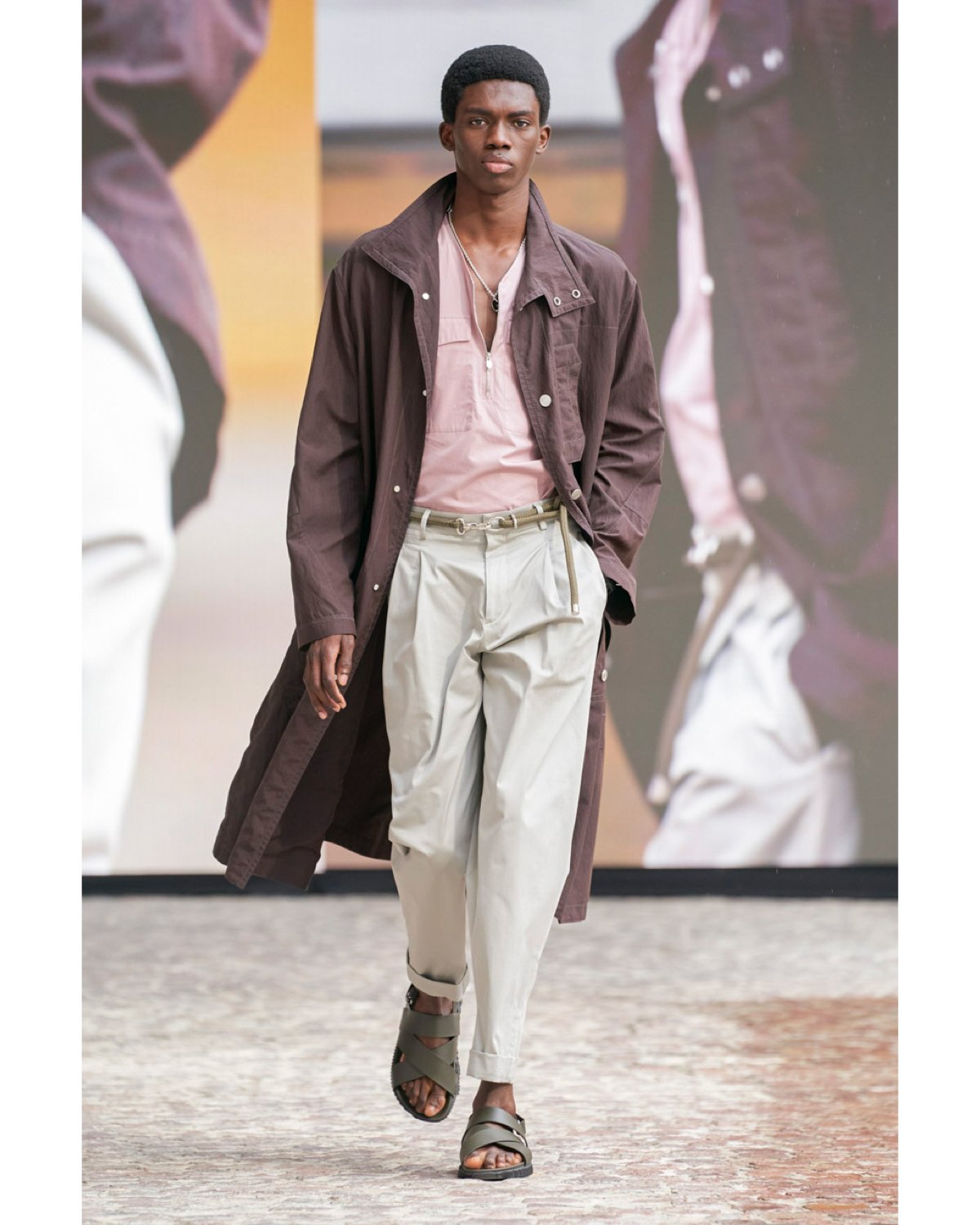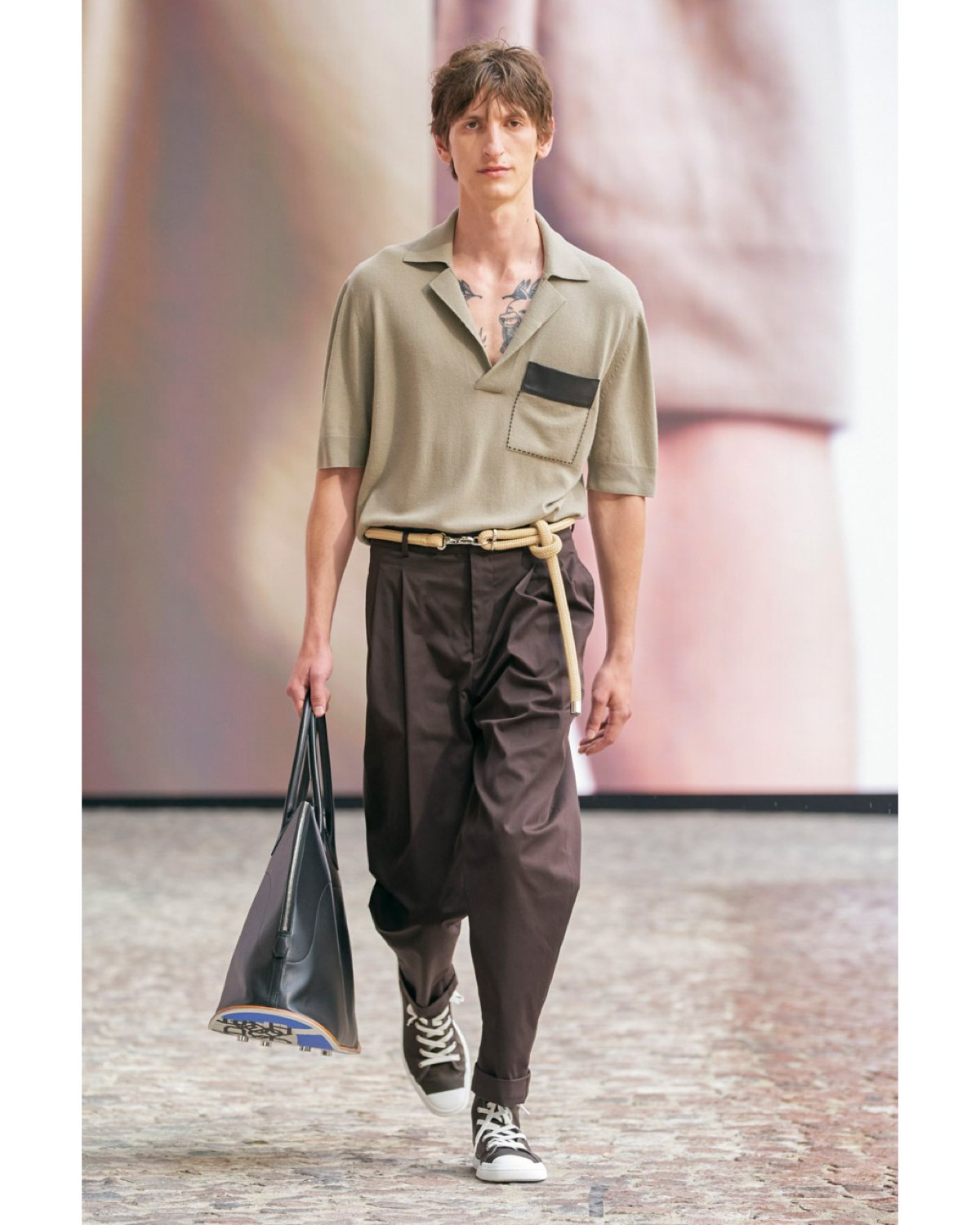 A selection of items are reversible, suggesting that this was Hermès' take on the ever-popular "gorpcore," focusing on functional without sacrificing luxury. Nichanian's use of canvas and nylon-like materials continues this theme, freshened up by its chilled color scheme, like morning dew settling on summer forest flora in full bloom. Smoky greys mimic mountain ranges and charcoal. Pops of azure and fuchsia anchored gradient sweaters, bursting with rays of orange.


Outfits were styled with casual sneakers, classic Chelsea boots in perforated black or walnut leather, and fawn suede. In addition, Nichian debuted a strappy flat sandal, fastening the foot in mossy green and black with a bohemian ambiance.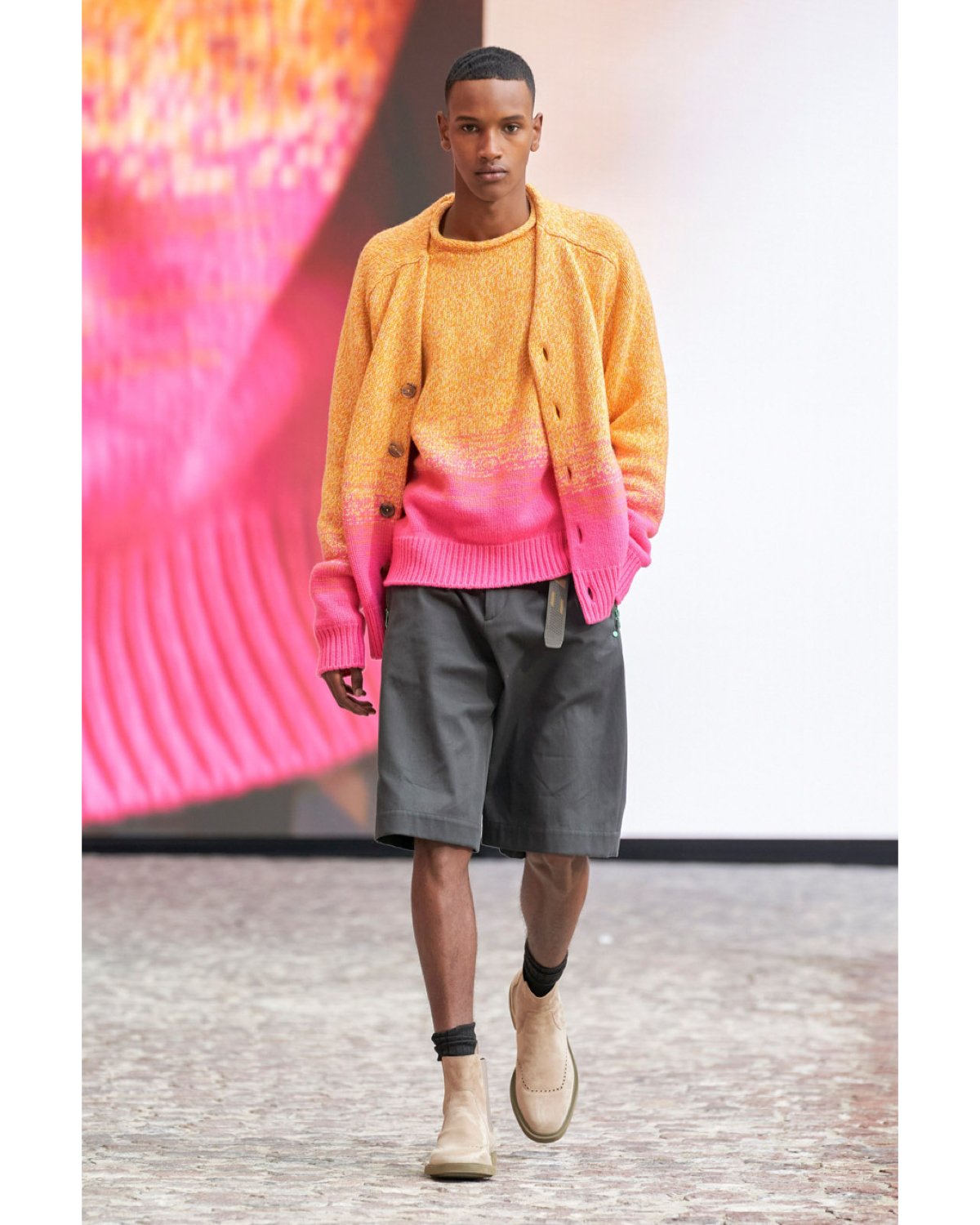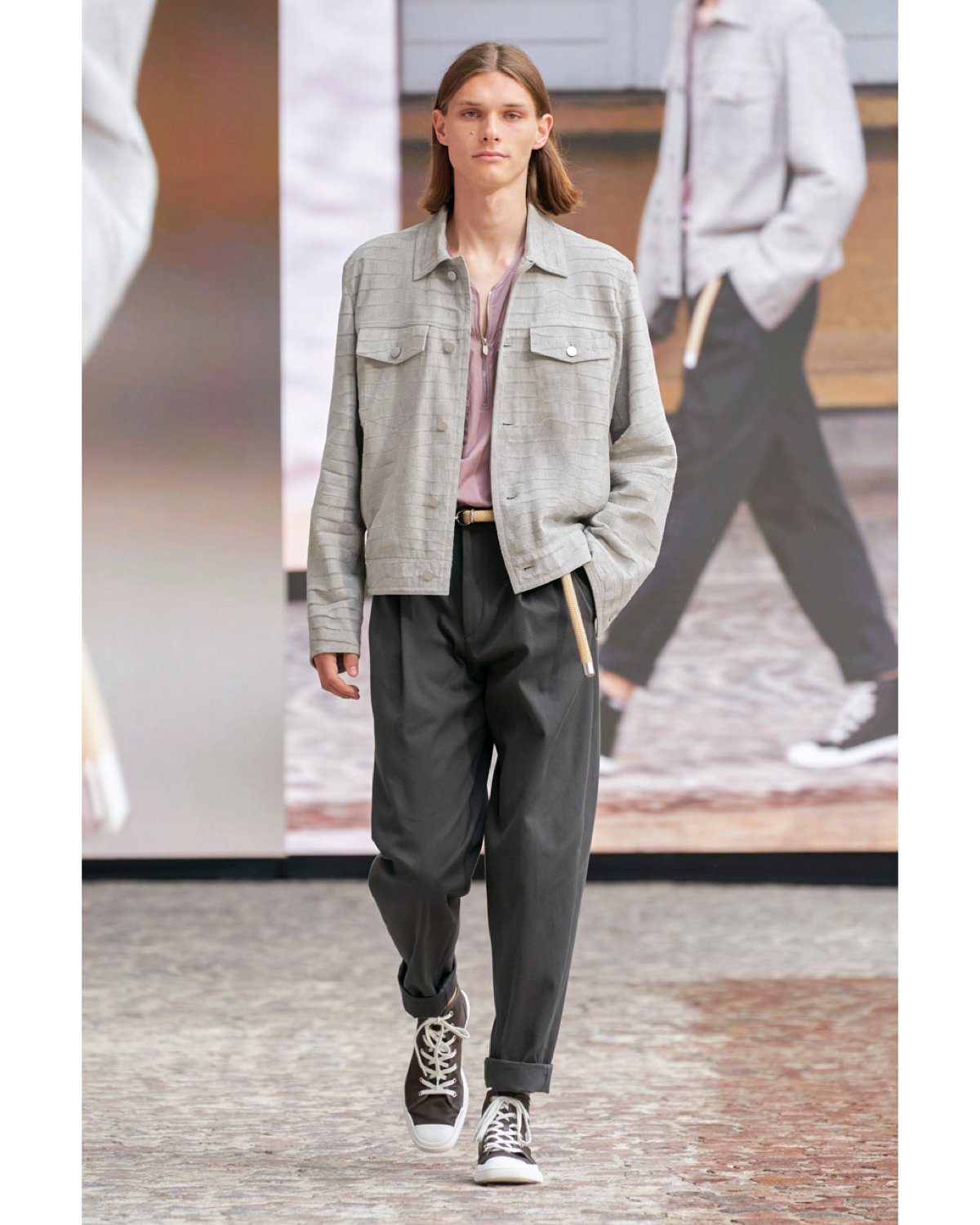 Nichanian's climate for the Spring Summer season is cool, adventurous, and functional. As menswear clientele search for comfortable silhouettes with volume, layering, and breathable core garments, Nichanian is reading the room – or the campsite. With an emphasis on styling sneakers and boots with socks that peer just above the ankle under Bermuda shorts, Hermès captures the spirit of gorpcore's beloved staples without losing sight of its own character. All that was missing was perhaps a handful of granola.
TEXT: DORA BORAS
IMAGES: COURTESY OF Hermès
PUBLISHED: JUNE 29TH, 2021