Dior Men Designs the Houston Sunset for SS22
A powerhouse collaboration between Kim Jones and Travis Scott creates one of the most hyped collections of the year and the first of its kind. This season, hip hop takes agency over its influence.
By Dora Boras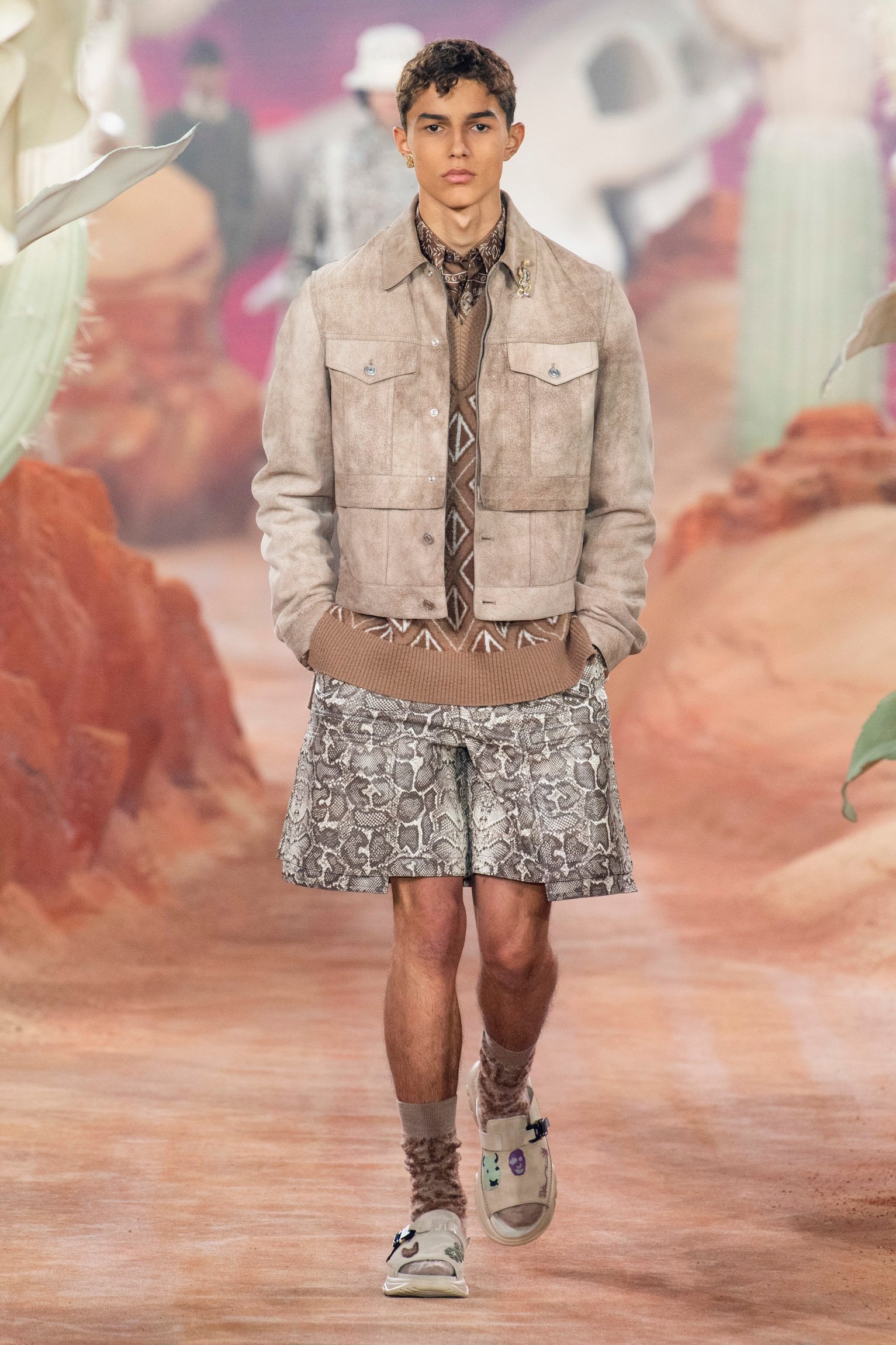 Dior Men's Spring Summer 2022 collection is a collaboration with rap and style superstar Travis Scott. Under his Cactus Jack moniker, the artist contributed graphics, concepts, and references to the runway.


The color palette is designed to replicate the warm hues of the Texan summer. Grape, blushing pinks, sleek blacks, rich chocolate browns, olive, robin's egg blue, and pale blonde evokes the desert landscape that raised Scott.
The Saddle bag reappears in a sultry snakeskin in sunset orange. Dior premieres a broad skate shoe, a nod to Scott's wardrobe staple, the Nike Dunk, which the rapper had a heavy hand in bringing back into trend. A graphic sweater vest featuring a Dior motif matched with a string of pearls and an iced-out cactus takes on the season's latest trends with a hint of classic rapper bravado.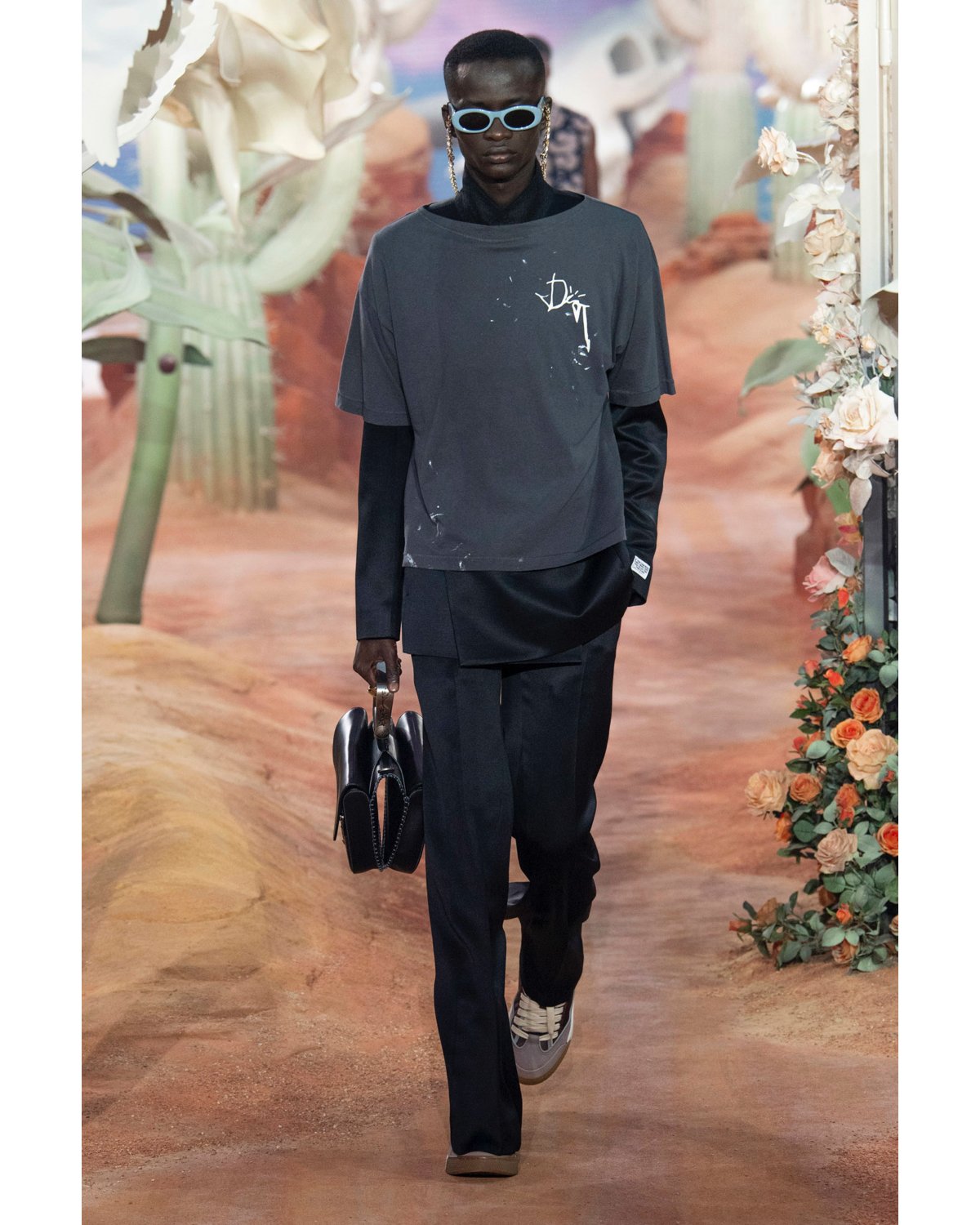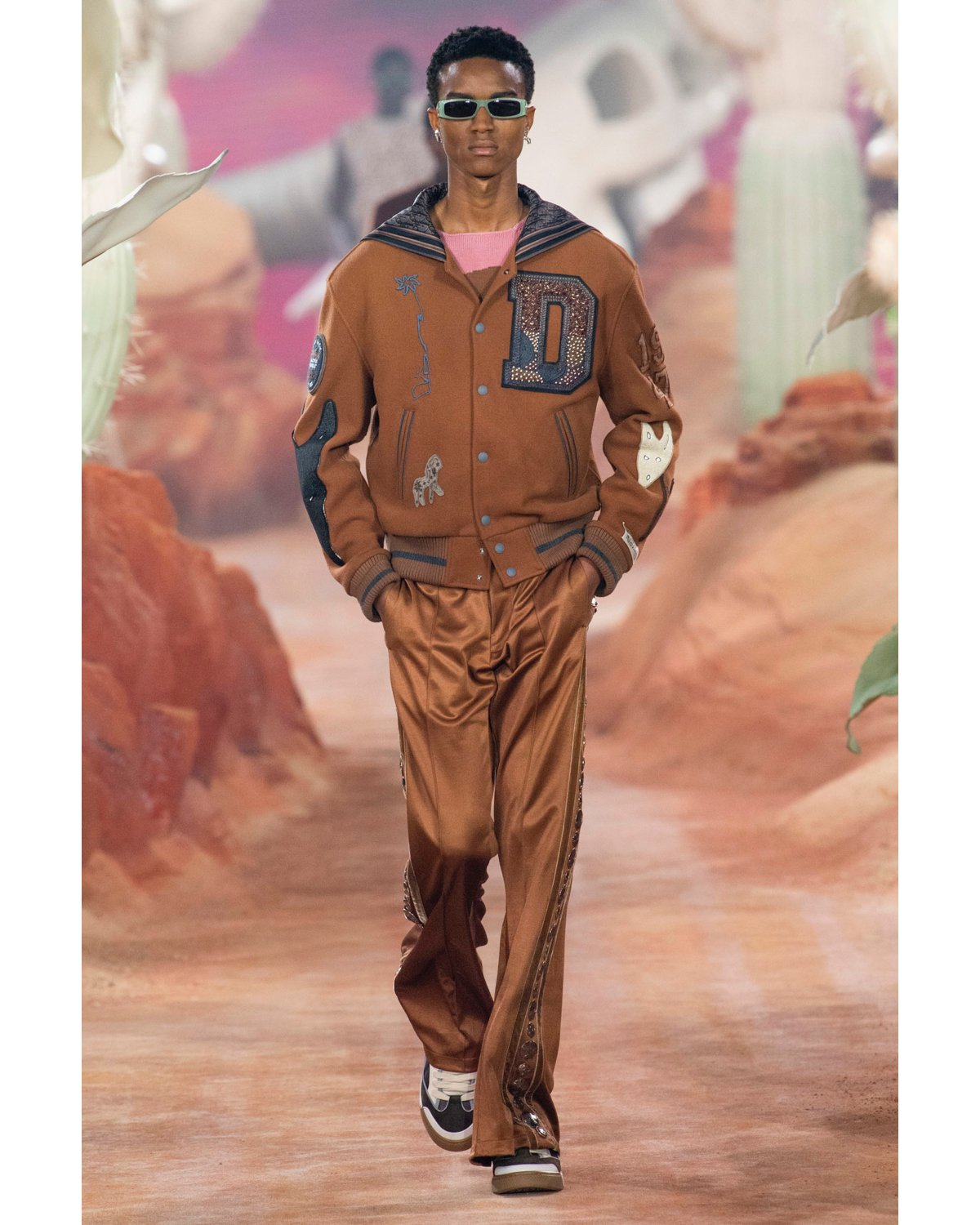 Suiting takes on its own category in this collection, introducing each new section of its color palette. Sleek, fitted, and button-less with a high neck, designer Kim Jones remixes the oversized blazer craze for a polished, tailored style. Flowing dress shirts sketched with blue and aqua streaks combine high-end classics with the biting rebellion of the graffiti writer's underpass. Shorts are layered with cargo pockets in silky fabrics.


Bundles of small leather pouches swing in hand in various shapes: round slices of neon and beige leather or pill bottle compartments. Knitwear bunches around wrists and hips printed with custom graphics designed by Scott in his signature raw style.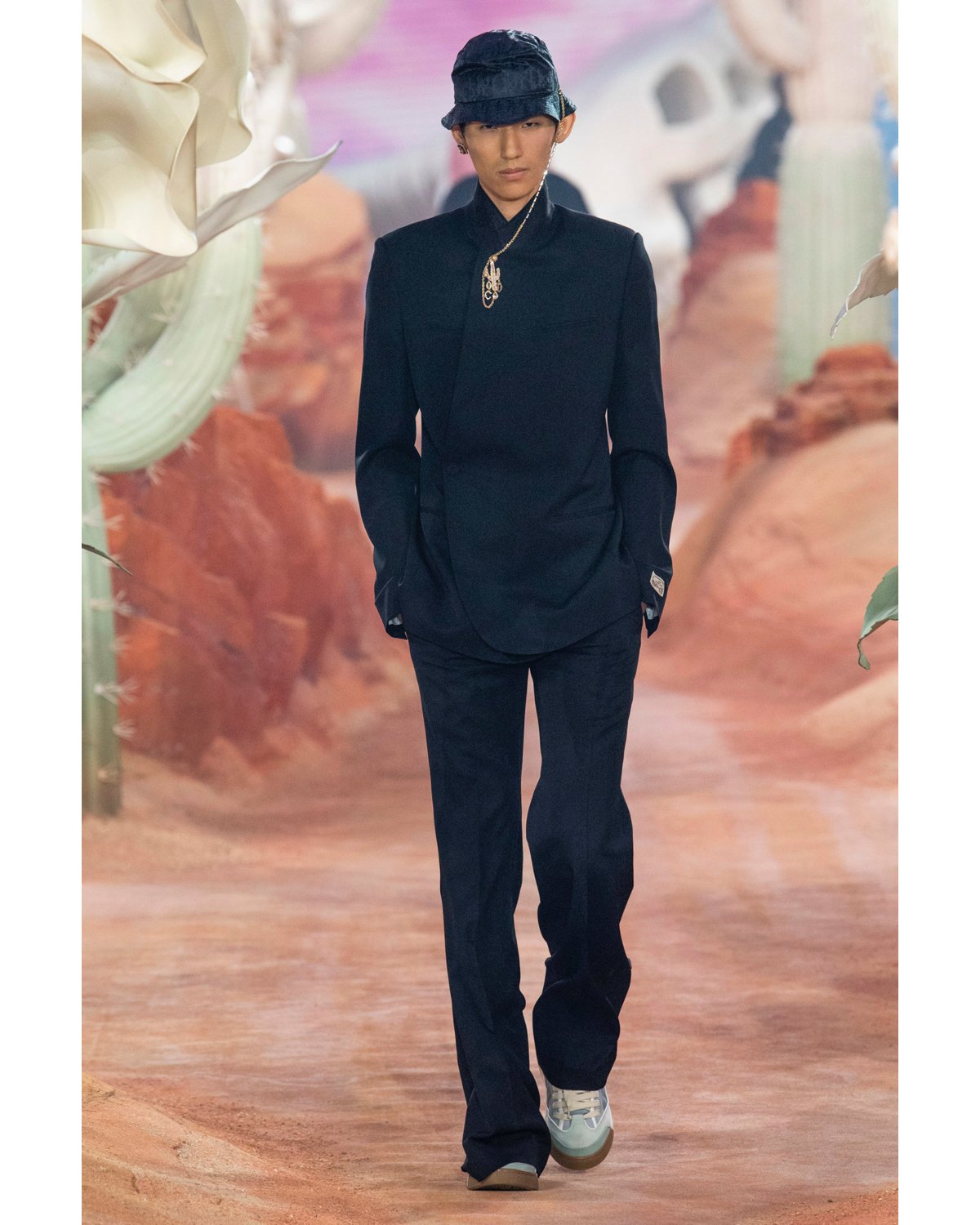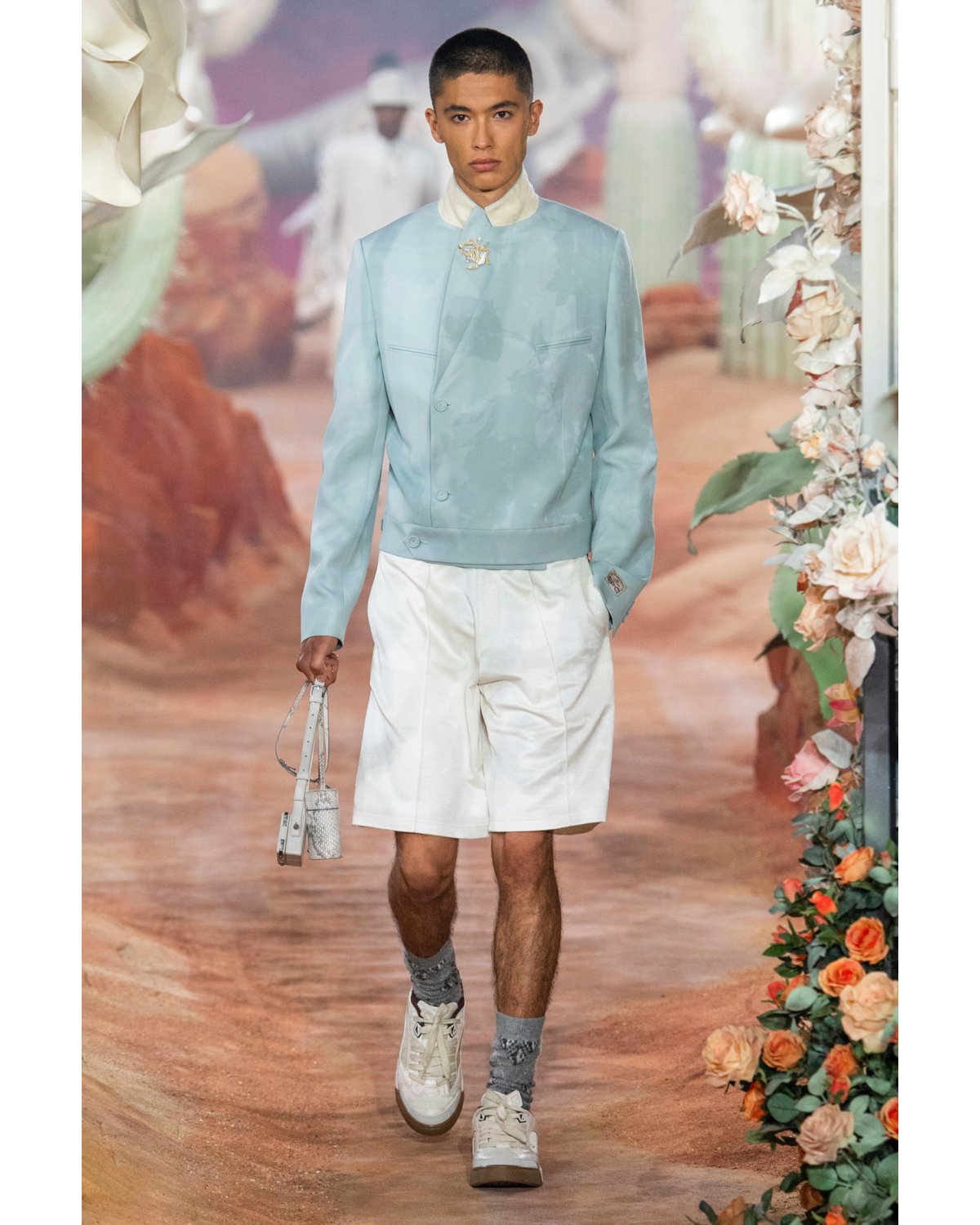 Jones introduces new patterns alongside classic Dior tiling: lace-like snakeskin sweaters in hazelnut and tangerine stir intrigue, appearing in calm beiges and rusty gold hues. A lime green floral pattern laid over beige and coconut brown take on Scott's desert inspiration with an industrial flair. Padded motorcycle pants in dusty rose call to evening bike street races in warm Texas air. Sheepskin-trim buckled sandals and slouchy printed socks infuse a street style caught-by-paparazzi ease to trousers and tailored shorts. A cream raffia sweater paired with belted pouches printed with a geometric pattern takes Dior Men to the resort.
Scott, always eager to test and express the bounds of his imagination with style, finds an enthusiastic partner in veteran menswear designer Jones. Both artists no stranger to hype; the collaboration is the acknowledgment of hip hop's influence in fashion and offers an active opportunity instead of passive gratitude.
TEXT: DORA BORAS
IMAGES: COURTESY OF Dior Men
PUBLISHED: JUNE 26TH, 2021