GmbH's Political Playground
The Berlin-based label reroutes their concept onto a cultural appropriation of whiteness for Paris fashion week – hop on.
By Luis Skitini
GmbH Men's Spring Summer 2022 collection is a playful political symphony. With the smoke machine all fired up, and the set arranged like an eighties Bonnie Tyler music video, the Berlin-based brand takes us on a safari in 'White Noise.' And rather than exploring their own heritage, they doubled up creating a reappropriation of post-colonial fashion.


The brand initially started as a collective by Serhat Isik and Benjamin Alexander Huseby in 2016. Since then, the Berlin-based duo explored their own heritages and cultures in menswear with a modern twist. However, in this collection, the pair rustle up a fantasy that plays on feminine masculinity and racial politics through archetypes particularly found in the white diaspora.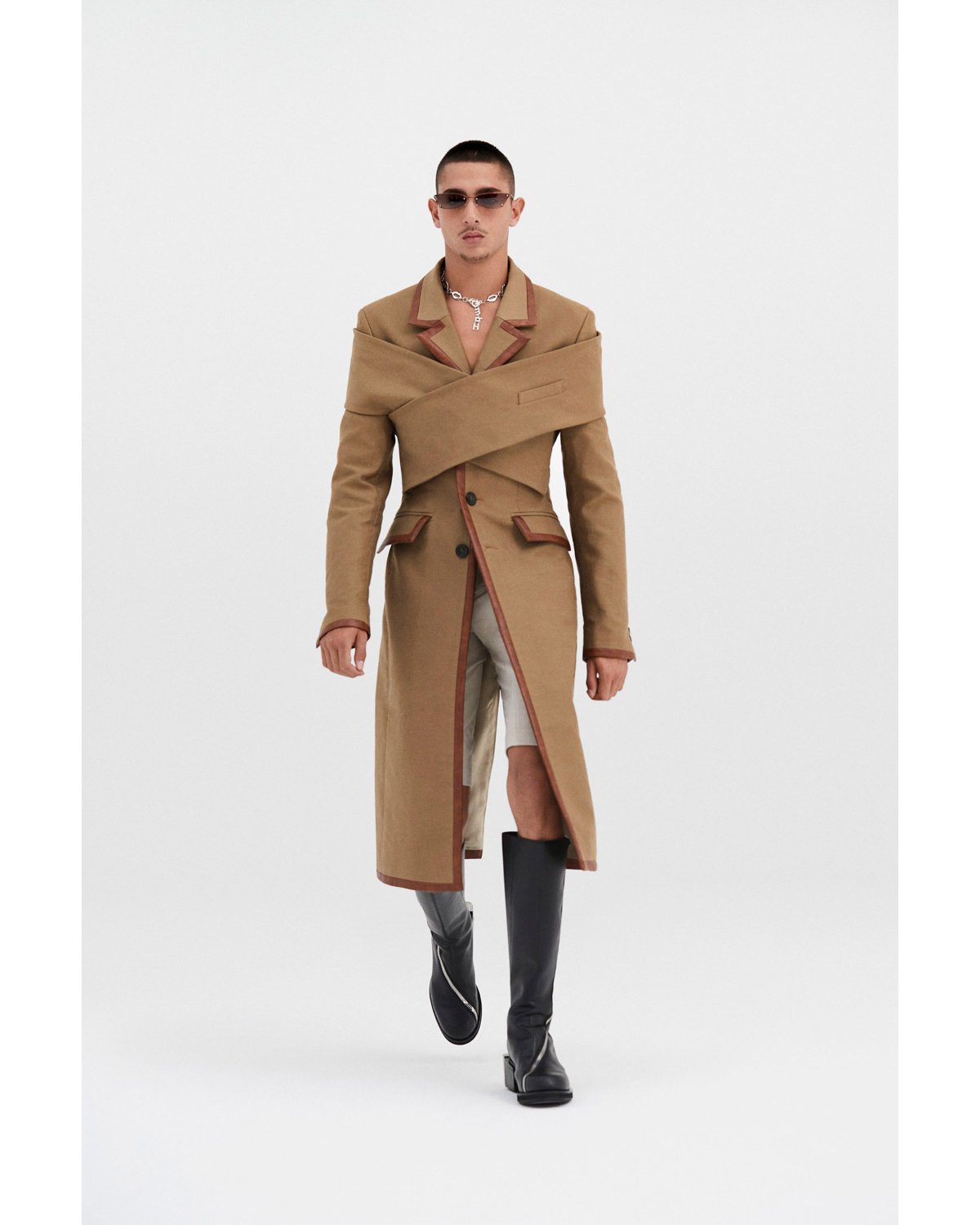 Through a mystical haze of smoke, tall, muscular hunks lead our political safari exploration. A remix of a country club's horse riding jacket opens the show as a trench coat covered with GmbH's staple swooping Princess Diana-inspired shoulder lapels. The safari-toned coat is paired with white shorts and knee-high leather riding boots with an asymmetric zipper.
The collection is a love letter to cultural appropriation. So many designers are usually "inspired by" a trip or vacation from a non-white diasporic culture. But for GmbH, 'White Noise' is an appropriation of whiteness. Neutral tones such as beige and creams dominate the collection mixed with pops of blue hues, reds, and pinks. By using sweater-vests plastered with crests, safari shirts, riding trousers, and boots, they have reincarnated whiteness – the GmbH way.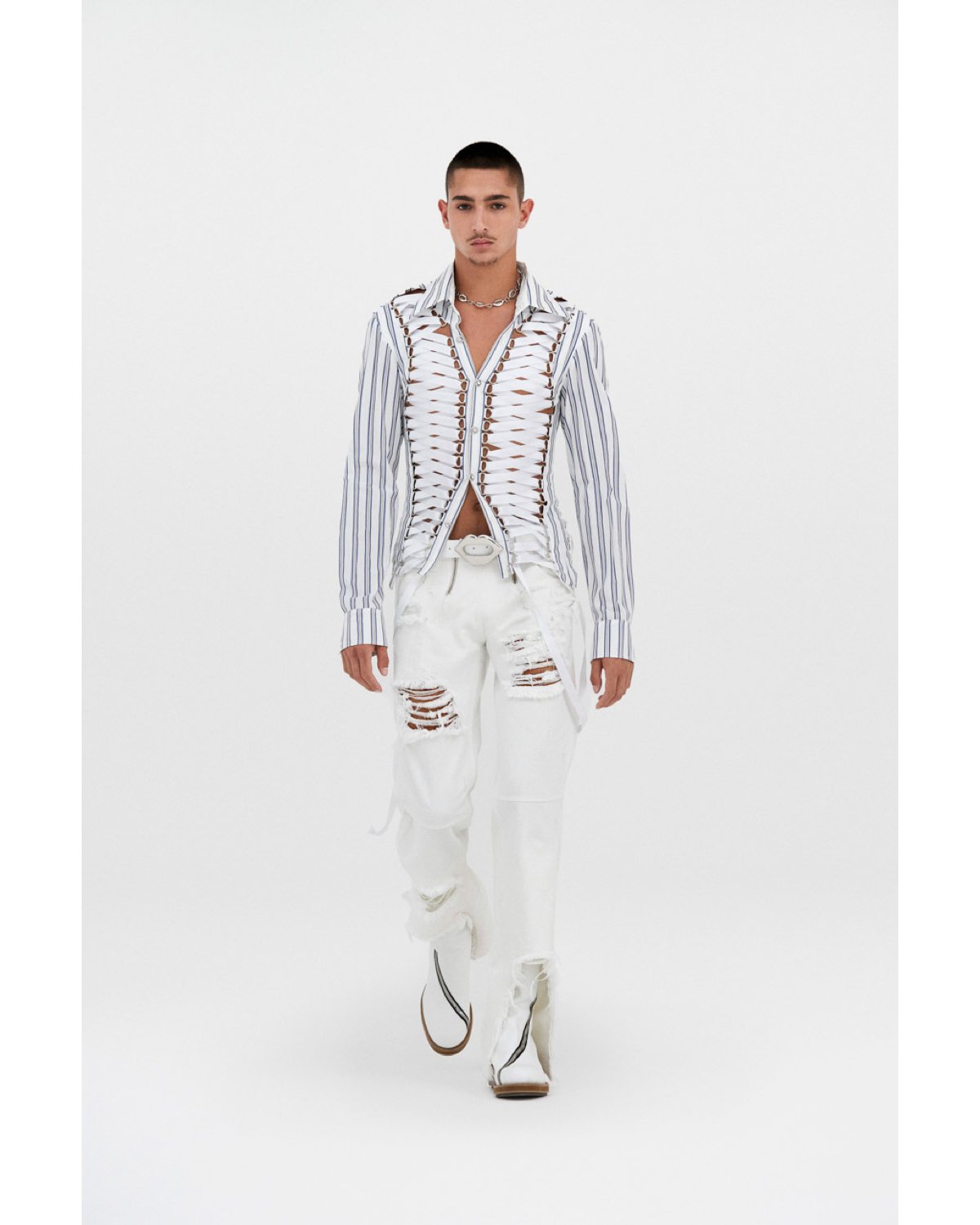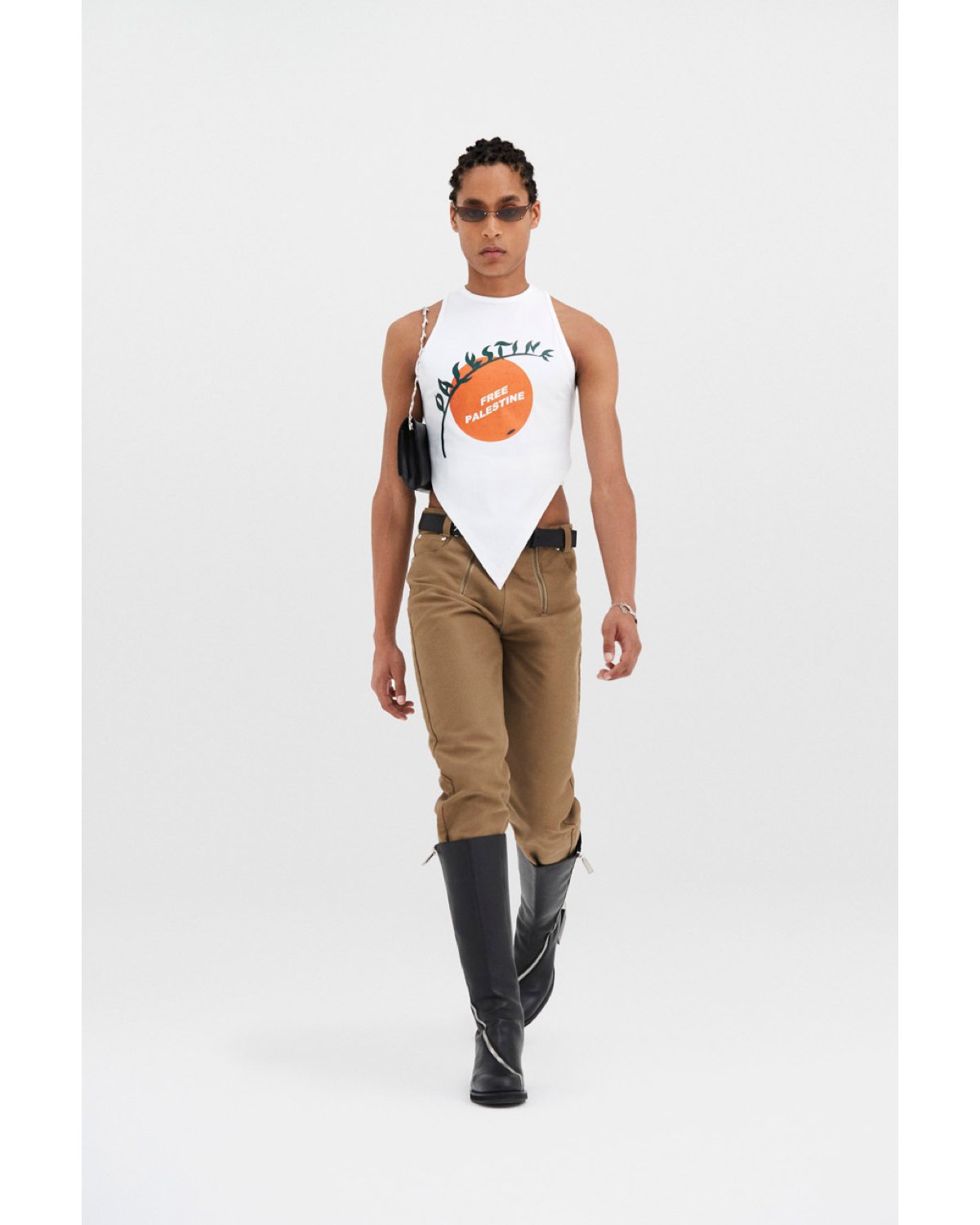 A more political scream is seen through a backless shirt with a graphic that says, "free Palestine," encrusted with diamonds. And as we end our safari tour and leave our yuppies at the country club, we enter denim heaven. Double denim is usually a no-no, but for GmbH, it's an absolute – yes-yes. Corset-lined denim coats with the same off-the-shoulder accents premiere along with denim jeans distressed at the hem. When Britney is freed, she's only wearing GmbH. Softness arrives in faux fur coats and jackets to close the show in pastel blue, millennial pink, and white.
GmbH's goal to reappropriate whiteness and bring softness to masculinity was a success. Far removed from their earlier collections of Berlin sex party cultures, the duo has achieved the right amount of softness, masculinity, queerness, and culture for Spring Summer 2022 – and we're all excited to see what's next.
TEXT: Luis Skitini
IMAGES: Courtesy of GmbH
PUBLISHED: JULY 4th, 2021