Dries brings Cosy, Sexy, Cool from Antwerp
Dries Van Noten takes you on a genderless tour of Antwerp for Paris Fashion Week.
By Luis Skitini
If you've never been to Antwerp – your loss. From Pieter Paul Rubens masterpieces, pop-up clubbing, Art Nouveau architecture, to food that will make your Instagram pop. It has all the ingredients for 'the perfect city' starter-pack. And Dries Van Noten takes you on a hedonistic tour in their Spring/Summer '22 menswear collection.


Since making his mark in the mid-1980s as part of the Antwerp Six, Dries Van Noten has become a major player in the fashion sphere. 'Antwerp,' the most recent collection from the Belgian designer, becomes a city tour guide to Belgium's fashion capital. Known for his elaborate use of textiles – DVN continues his legacy.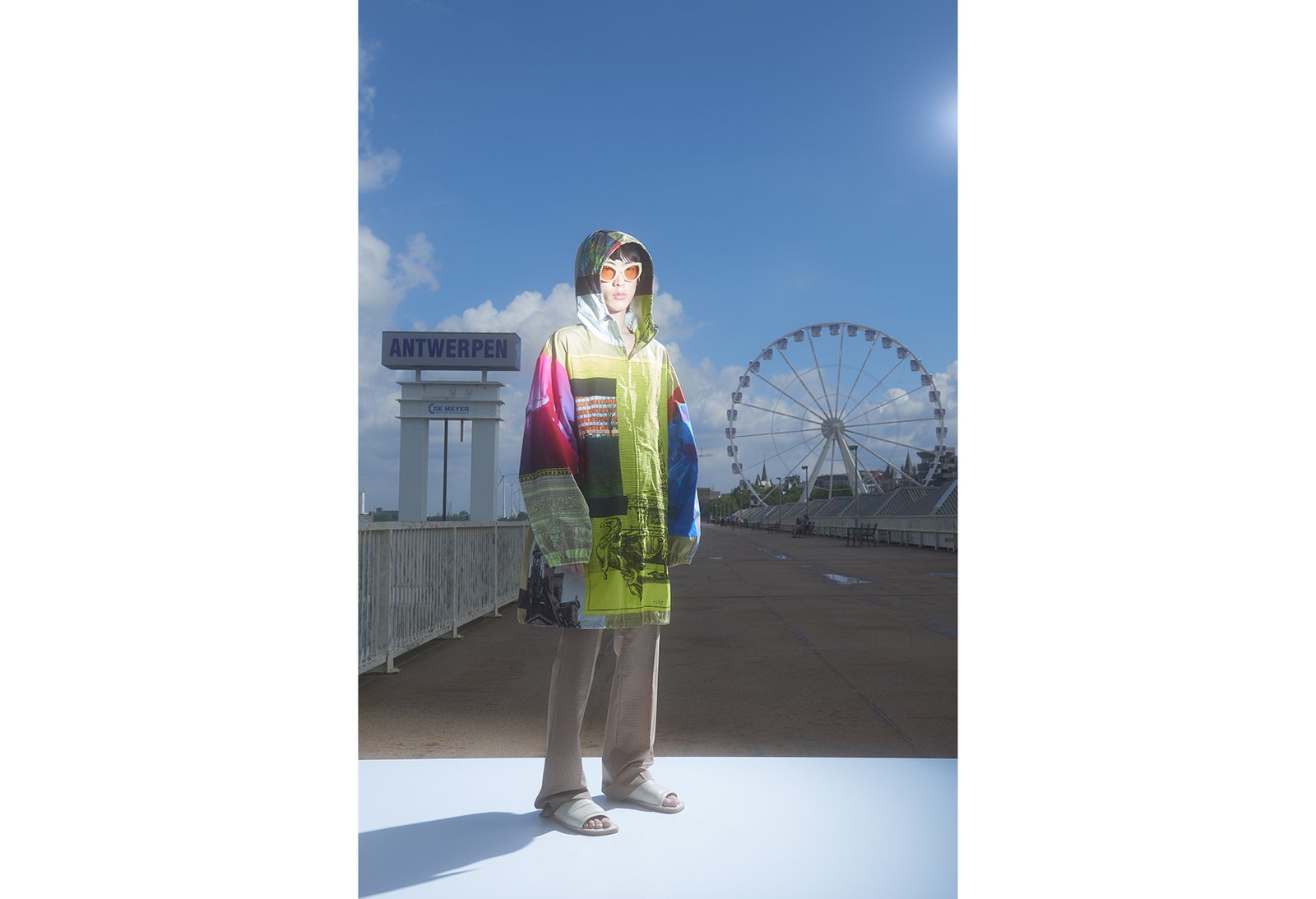 A sample of Primal Scream's Loaded says, "We wanna be free to do what we wanna do," as we fly over the river Scheldt – and the fashion tour begins. Van Noten begins with his staple print innovations. Lightweight outwear paneled and collaged with luminous printed images of Antwerp's construction and architectural sites juxtaposed against an ever-changing location of the city's landmarks.
The feel is loud and vibrant. Splashes of color run through the collection in monochromatic cozy two-piece looks, outerwear, and tailoring. Fluid and bold, asymmetrical patterns and a lime green two-piece moment give us a genderless feel. DVN has undoubtedly created a collection to be worn by anyone who "wants to get loaded."
As we start to come to a close of our tour, the backdrop fades from day to night. The looks also begin to adapt to the city's evening aroma, and the feeling of going out and doing what you want begins to ignite. Color begins to fade but is brought back suddenly with a monogram 'A' on a trench coat which can only stand for one thing. With clubs and bars as a backdrop now, a more sexy and cool tone is evoked. Black uniform suits with the same light and fluid fabric touch dance a little more with pops of the bold colors seen earlier in the collection.
'Greetings from Antwerp! Love Dries x' signs us off at the end of our tour and completes Van Noten's love letter to the city that gave him his illustrious career. Leaving anyone who wants to have fun an invitation to visit and explore fluid and free.
TEXT: Luis Skitini
IMAGES: Courtesy of Dries Van Noten
PUBLISHED: JULY 1ST, 2021