Architecture meets community with Lauren Halsey
The fourth-generation Angeleno multidisciplinary artist dives into how she one day hopes to create neighborhood architecture and start a community-land trust.
This story originally appears in Justsmile Issue 2, Together in the Fold.
Photography Shane J. Smith
Text Amarie Gipson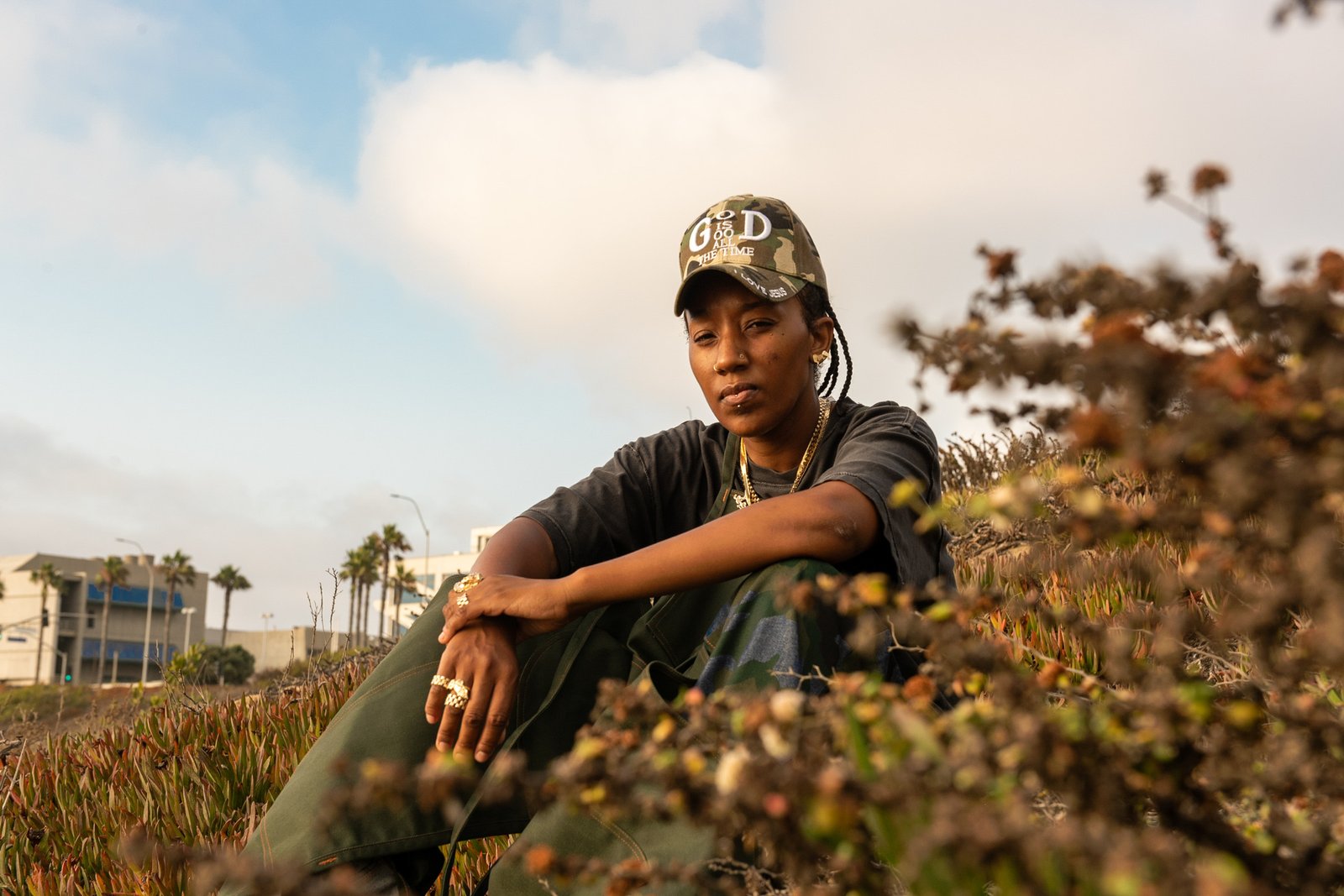 Lauren Halsey is a multidisciplinary artist, whose practice resides at the intersection of architecture and community engagement. As a fourth-generation Angeleno, born and bred in South Central, Halsey possesses a great deal of neighborhood pride. Her work fuses the imaginative potential of visual art with the structural possibilities of architecture to critique issues of class, gentrification and disenfranchisement in American society. Deeply influenced by ancient Egyptian iconography, Funk music and Afrofuturism, Halsey's sculptural installations create a living archive of Black L.A. While these immersive environments and structures tell the stories of her community – her artist-powered neighborhood center, Summereverthang, responds to its needs in real-time. Whether it be through the distribution of fresh food, educational support or artistic enrichment, Halsey is dedicated to empowering the community that made her.
Amarie Gipson: I first encountered your work in the home of a Los Angeles collector and I've been a fan ever since. I'm inspired by the way the city is so integral to your work and life. What was it like navigating Los Angeles growing up?


Lauren Halsey: Both sides of my family migrated to South Central [South Los Angeles] from Louisiana in the 1920s and 30s, and I've inherited so much cultural pride because of that. From parades to being a backseat passenger riding with my cousins, I was deeply ingrained in my neighborhood. Because I went to school outside my neighborhood, I experienced class in a really legible way as a kid. I was able to dissect boundaries between places. I just started driving this year, so I was a passenger for the longest time. I realized I was actually seeing the city as a bus rider, traveling up and down the same boulevards and avenues and taking it so seriously. It became practice for me to pay attention.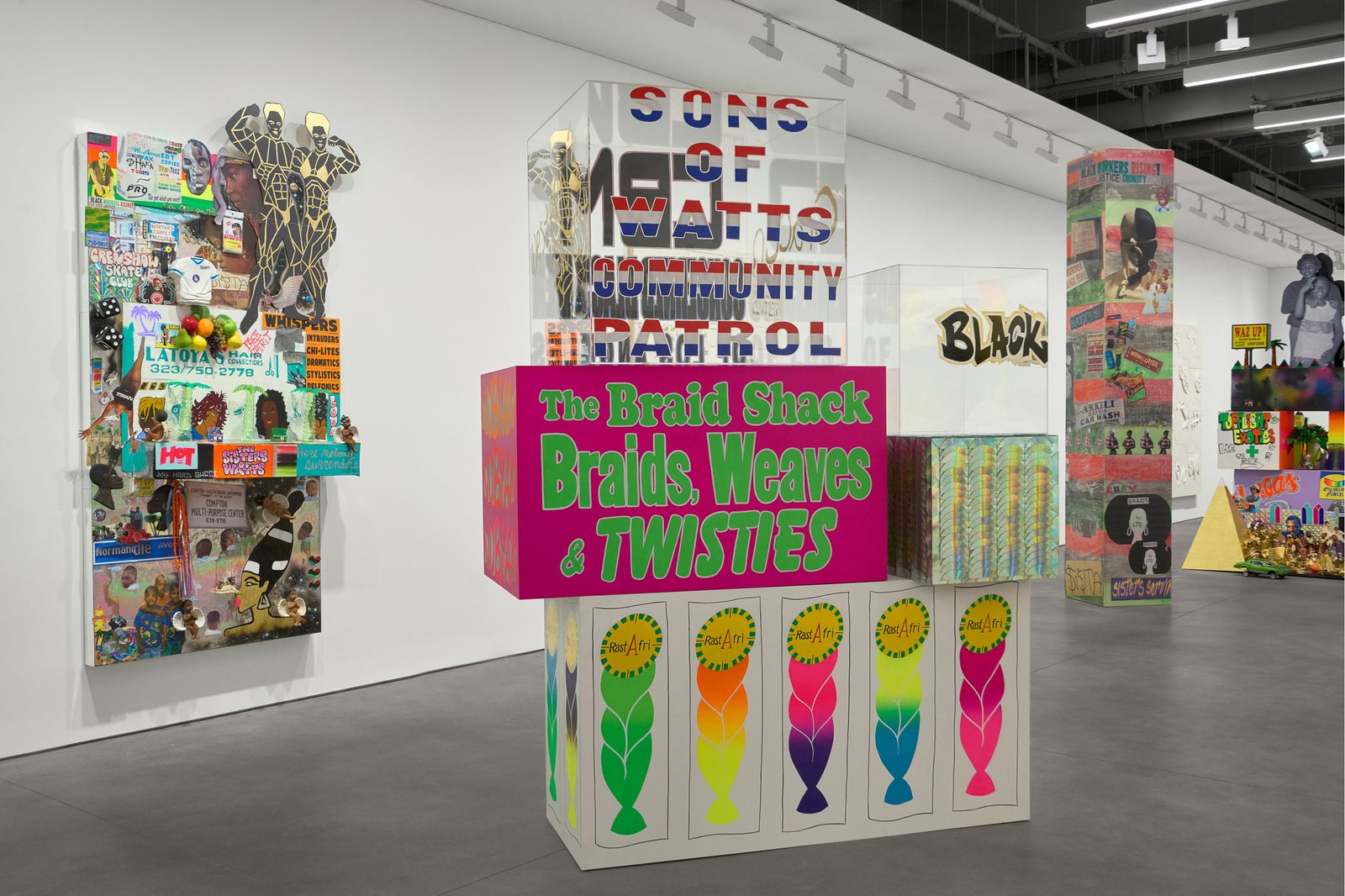 AG: How did you find your way to visual art and architecture?


LH: I always wanted to be a basketball player but that didn't happen, so I was left to academics.


I had a carving assignment in art class and that paved the way to what I do in my practice today. My mom was and is still a preschool teacher and my aunt was a writer, who would take me to Leimert and other creative Black spaces in Los Angeles. I would make sets for the church plays during Black History Month and Kwanzaa. From that, I took architecture classes at El Camino College for almost several years. I started making blueprints of my neighborhood based on archives, documents, ephemera and things I was gathering on my walks. I was also a hardcore funkateer and I listened to Parliament every day. It was my escape and a way to empower my imagination. I started taking art classes to appropriate the processes we were learning in architecture, in order to describe the places Parliament was conjuring in my head.


It slowly started to come together, when I transferred to architecture school at CalArts. I would take 2-3 hour bus rides, from Watts to Valencia, to present these very speculative and fantastical blueprints I was making – to people who couldn't be farther from where I'm from and could not care less. The critique was that art and architecture should remain separate. The assignments were devoid of any considerations of class, race. It turned me completely off. I knew then that I was training to imagine and dream up space for neighborhoods that weren't mine.


I dropped out and went back to El Camino for another couple semesters. I've been remixing architecture and its processes to describe places I want to see and build. The critique and the rules are different in art and I've been on that road ever since. The sculptures I've made in an architectural spirit have been dependent on other architecture. With all the experimentation that we've been doing in the studio, I hope that we'll crack the code on how to build with architectural materials that last. It's so slow but I'm doing it with the people that I love.
AG: I'm curious about how your time living in New York influenced your sense of space and world building in your practice? What were some of your biggest takeaways?


LH: I had a huge breakthrough when I was in Harlem. My studio was right on 125th Street, and I started seeing a lot of people who were also remixing Egypt through their shirts and knick-knacks. I started to invite them to my studio, which influenced my shift to the hieroglyph. That changed everything for me, it gave me the audacity to want to think about an archive or document via this very recognizable trope in Egypt, that everyone in the world goes to see. Prior to that moment, my only engagement with these remixes of Egypt were via my father who would always theorize on our bloodline. There was also a very imaginative engagement with Egypt through listening to Parliament.


I also got to know Franco the Great, an amazing painter and living example of someone who navigated all these different worlds and was still so deep in his community. It made me realize that I can be a part of multiple contexts at once. As beautiful and poetic as New York was, I knew it couldn't last forever. I would have to be a gazillionaire to have a studio space that accommodated the scale of my work. When I moved back to Los Angeles, my grandmother let me turn her garage and backyard into my studio and we built museum shows there. I started carving with the intention of eventually building architectural structures. One day, I want to have an open-air studio where I can invite Black and brown people from communities, to carve and contribute to the archive, whether orally or literally, their ephemera and photos. The hope is to one day create neighborhood architecture.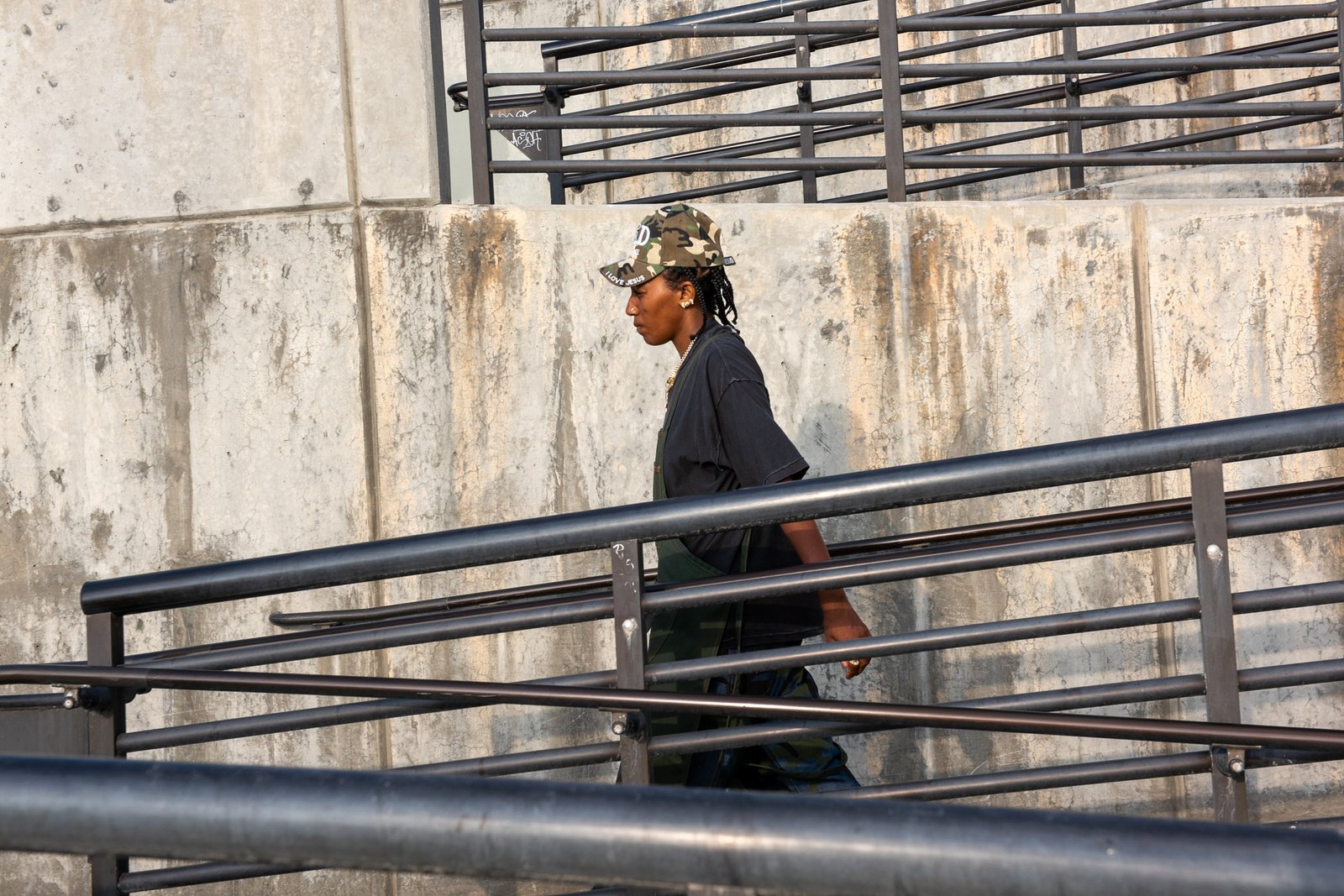 AG: What are your ideas on the relationship between architecture and community, especially as it relates to your desire to build and maintain a community center?


LH: The architecture I experience in my environment is anti-community. It's really weird being in South Central as it's being rebranded in real time, it's gross and aggressive. I'm seeing entire blocks being totally redesigned at the same time. I don't want to imply that everything is a mom-and-pop shop, but there's an energy shift. The placemaking is different. I decided last year that I don't want to count on another architecture to hold or liberate mine. None of it is for us. What I'm trying to figure out is finding mission-aligned and value-aligned collaborators to potentially start a community-land trust, where we acquire a plot of land, redesign and build it ourselves. I never want to be a seed for gentrification, so I'm heavy on context.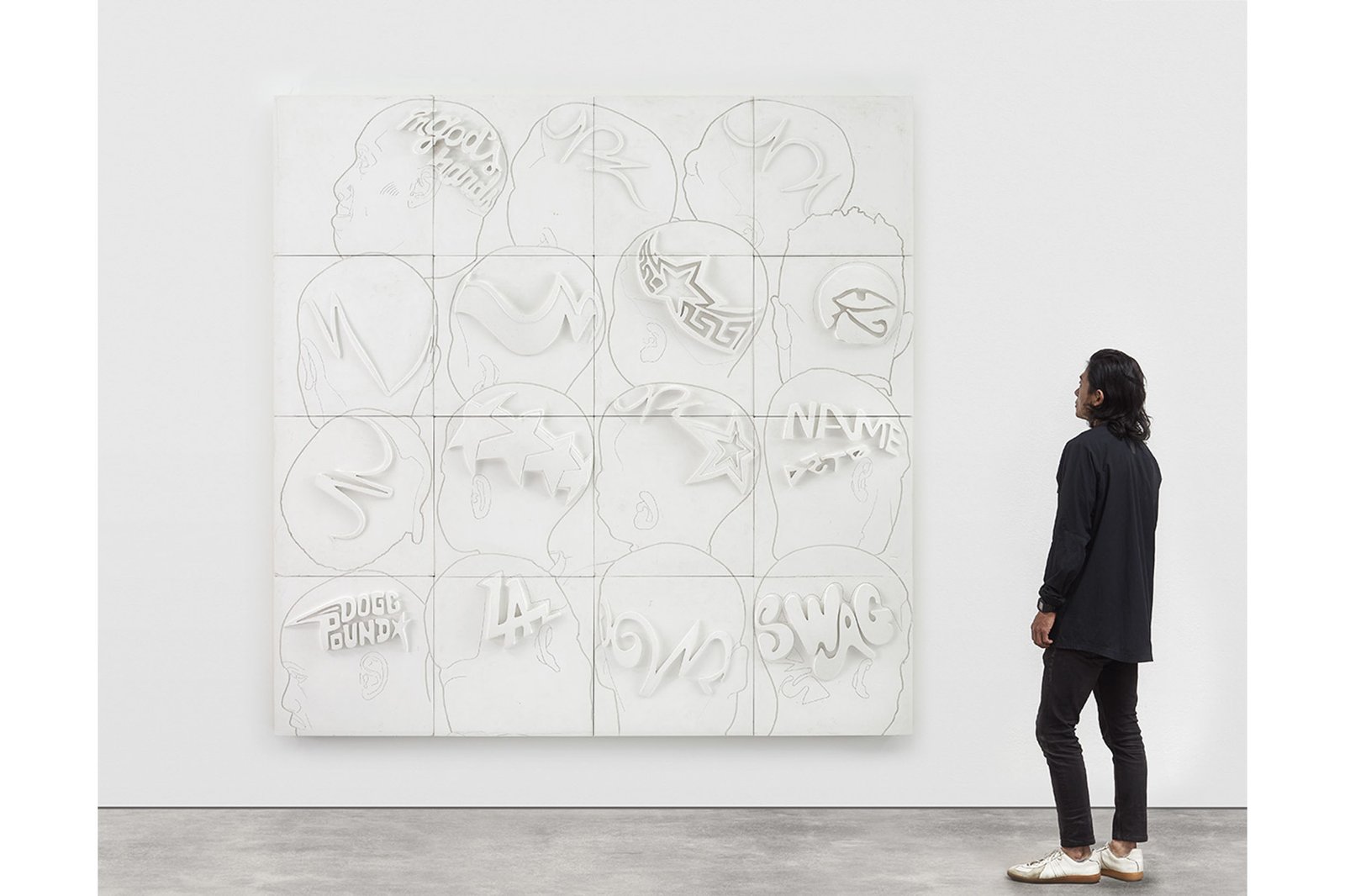 AG: Could you talk about your overall vision for Summaeverythang and your 'see a need, meet a need' philosophy?


LH: Growing up, I had the privilege of being able to see the differences in where people lived and dwelled. I also had very early examples of philanthropy, really early on, from going to church to my father starting a tutoring program at the park. The idea of Summaeverythang came to me when my girlfriend and I were helping my little cousins with their homework after school. The school was failing them and we stepped in. I'd been saving for a space and when COVID-19 hit, it was only right that I did something with the resources. It turned into a food program and we've done it every week since May 2020. I never could have imagined it being this big.


The bigger goal is to find a way to subvert the produce supply chain here, and hold the produce and meat buyers accountable for servicing the community. I want to act as a liaison between the farms and the stores, to make sure the produce remains fresh and affordable. I also want to build a garden and harvest for enough people, to eventually function as a sculpture garden, a joyous space. I have a permanent space being built out now, and the goal is to just pick up the slack, whether it be food, sports, art, music, math. Whatever it needs to be.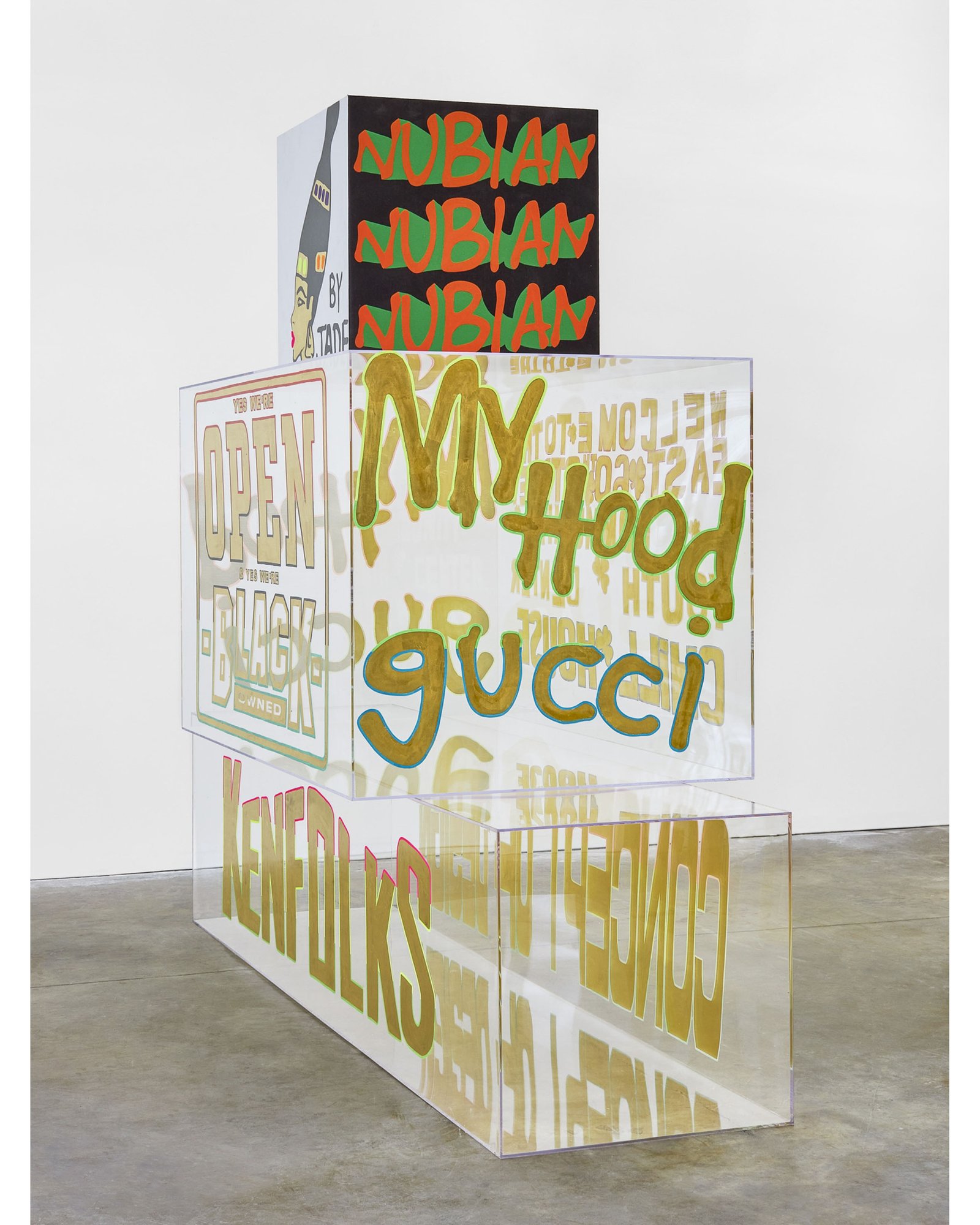 AG: Do you ever see yourself leaving Los Angeles?


LH: No. I'm an L.A. kid. I have too much work to do here and I'm not going to accomplish it all before I die. So, I just get up and get to it.
Photography Shane J. Smith
Text Amarie Gipson
Artwork images courtesy of David Kordansky Gallery.
PUBLISHED: July 8th, 2022