Aleali May on collaborative ethic, matrilineal influences, and making futures for women
Aleali May is an unstoppable force intersecting the worlds of sneakers, streetwear, and luxury. The South Central L.A.-born sneaker-designer and fashion consultant has been collaborating and designing with the Jordan brand since 2016. With the continued attention of so many in the fashion industries, May wants to shift the conversation to further young women's careers in design.
Made in partnership with Burberry. This story originally appears in Justsmile Issue 2, Together in the Fold.
Photography Barrington Darius
Styling Tamia Mathis
Text Dora Boras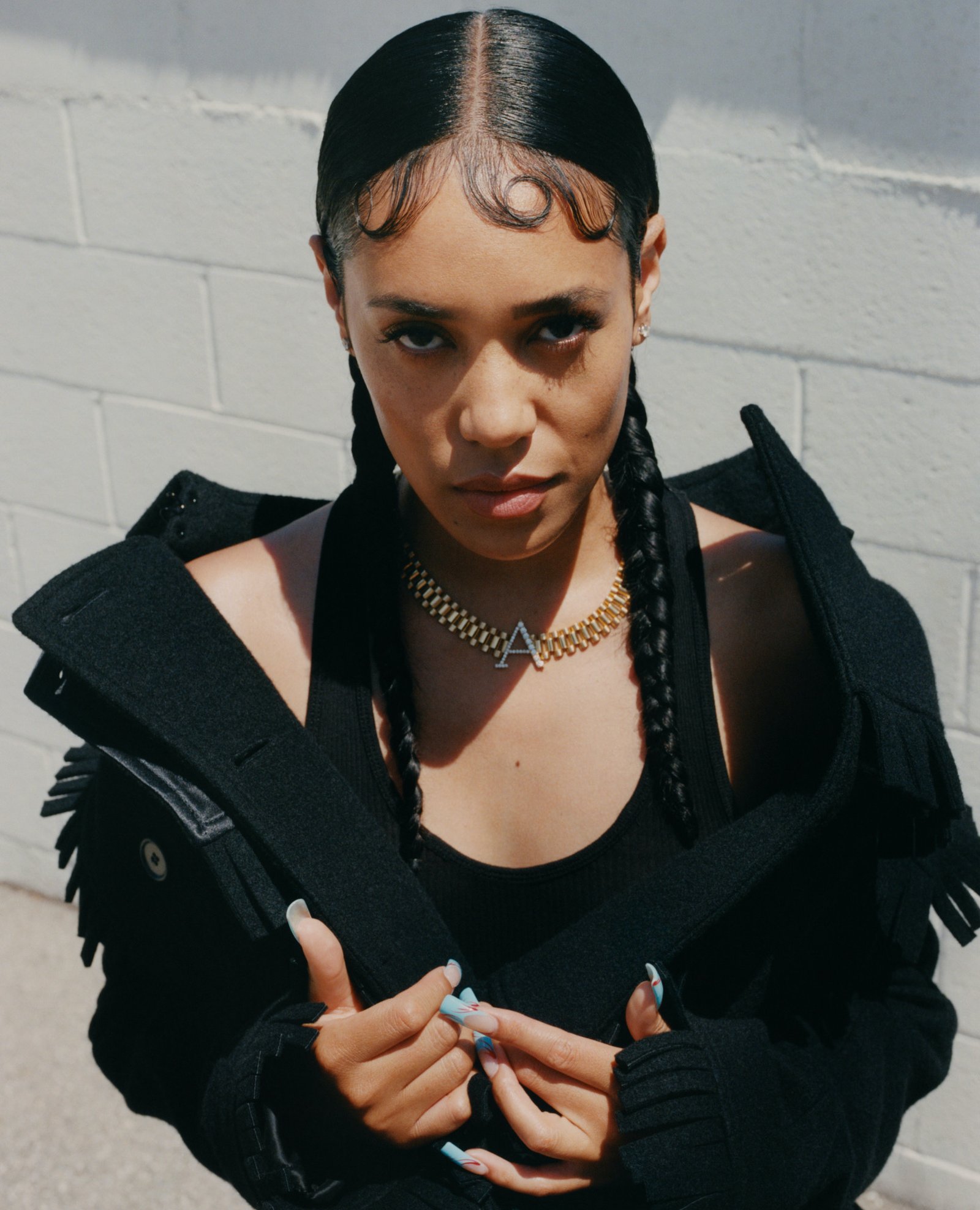 As the second of two women to ever design for Air Jordan, Aleali May, stylist, model and fashion consultant, is like no other in her generation. With Jordan collaborations that are now taking just minutes to sell out, it may come as a surprise that when I catch up with the 'queen of sneakers' she is very real and down-to-earth. Talking from her home, in an oversized vintage Janet Jackson t-shirt and patched denim bucket hat, she speaks with Justsmile about her collaborative ethic, her commitment to storytelling and her matrilineal influences.
Born in South Central Los Angeles, May got her start after she moved to Chicago, to study marketing at Columbia College and began working at the Louis Vuitton flagship part-time. Her time at LV led to a position at the foundational RSVP Gallery – a retail and art space created by Virgil Abloh and Don C, which was the incubator of modern streetwear. Her role at RSVP allowed her a view into the world of streetwear in the early 2010s, which in turn inspired the start of her fashion career. 'It was crazy for me to watch the process,' she says. 'And I think it really instilled in me to just keep going. Where this thing is going to steer you, you don't know.'


May stresses the importance of community, when building a career in the creative industries. Despite streetwear's reputation for being a highly male-dominated space, May reveals that it was in many instances, the support and solidarity of her male peers that created space for her success. Her early male influences continue to inspire her work today and can be seen in her signature style. The importance of using our privilege to empower peers, who face barriers to inclusion, has been clear to May throughout the emergent period of her career. 'I was very grateful that a lot of these men [whom she met in her early career], introduced me to somebody who I ended up working for at Jordan, or introduced me to somebody that started inviting me to Margiela shows.'
To May, collaboration and community are the key for anyone setting forth in a creative career, yet she advises that finding the language to confidently share your aspirations is also core to the process. 'Find your tribe and work together. I think a lot of [my collaborators] are kind of like my older brothers and they're like, "we're trying to help our little sister out. She wants to be in fashion. Here you go." But [what's also important is] voicing your dreams and goals. The universe will work with you – all you got to do is really say it with your chest.'


Making space for women in streetwear comes with a very personal project for May. Her latest campaign for Jordan is inspired by the matriarchs of her family, and her upbringing in South Central L.A. For her latest sneaker project, the Air Jordan 14 Low 'Fortune,' she taps into the good fortune and heritage of jade heirloom jewelry, creating a sneaker outfitted with jade and gold detailing.


The shoe itself is designed to create a new visual language for women's luxury in the streetwear space. The silhouette, inspired by a Ferrari model, is detailed and shapely, invoking expertly designed aerodynamic shapes and lush fixtures. May balances this with jewelry as a symbol of good fortune and women's luxury. 'I thought, what is luxury for women? For guys, a lot of times, it's fast cars. For women, I always thought jewelry.'


Inspired by a piece of jade gifted to her by her grandmother, May brings the significance of her Filipina heritage to her Jordan design. The campaign shoot is imbued with a sense of pride and heritage. 'It's good fortune, positive vibes, very much clearing out the space and inviting good things in. I thought it was perfect. Because it ... add[s] a woman's touch, which I feel I do a lot with the Jordan brand. That's why I had both my grandmother and my grandmother's older sister, my aunt, take this [campaign] photo with me.'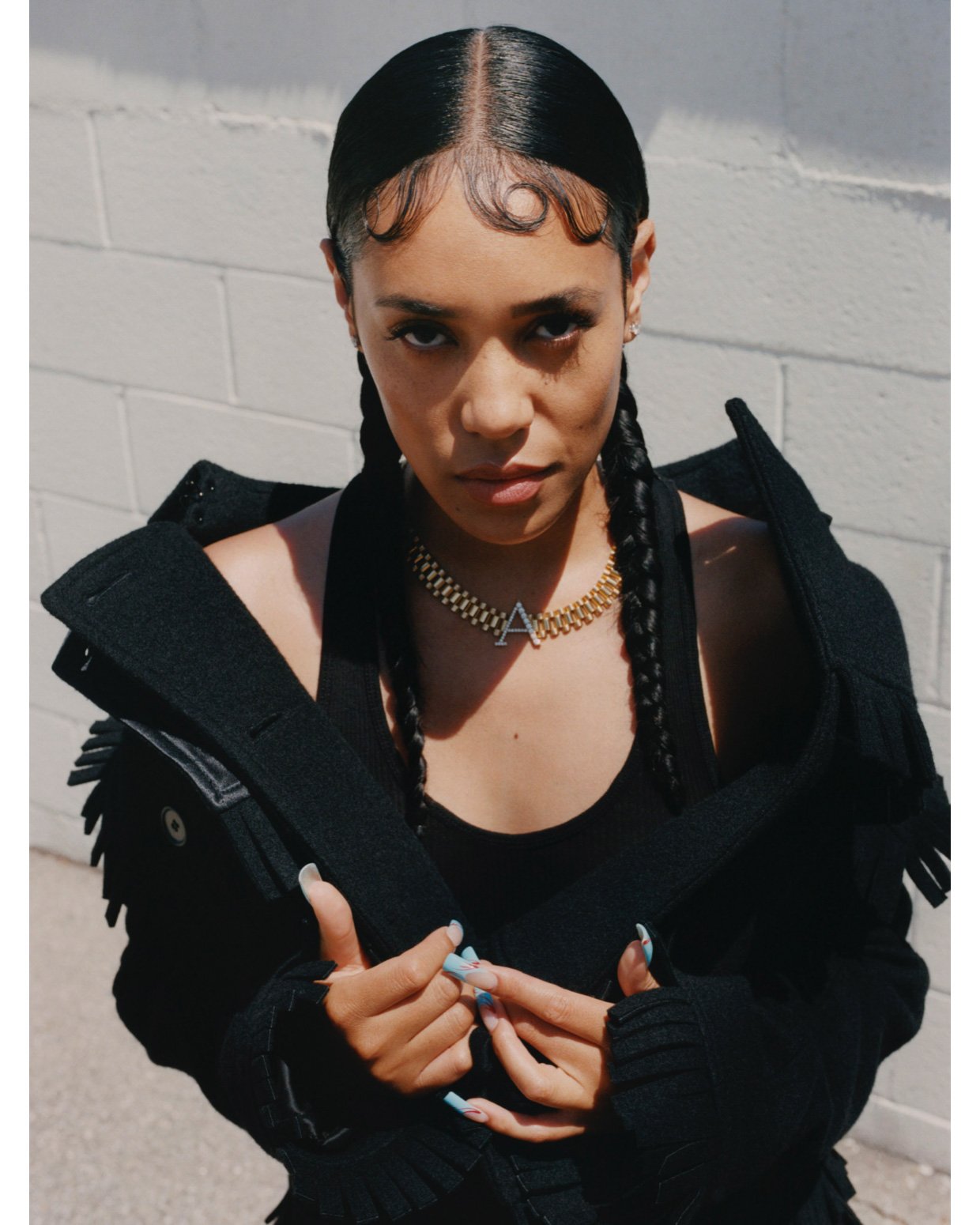 May reminisces about growing up under her grandmother's care, and how her carefully composed and glamorous classic style still resonates. 'Going back to my grandmother, she was very classy, it's vintage now, but back then it was the fur and the Chanel No.5 – but she's from South Central.'


South Central L.A.'s energetic mix of culture and attitude comes to the forefront of May's work. For Jordan, May re-imagines the grit of beloved 1990s rap groups and the women that love them. 'In South Central, you had groups like NWA and Snoop Dogg – it was very much [about] this strong masculine Tupac black leather vest, until he started wearing Versace. There's so much men's inspiration coming from this area, that we do need to highlight more voices of women that are coming from the area too ... You know, you had the bamboo hoops, you had the baby hairs, [which are] really popular now.'
"When you don't have a lot of resources, you create with what you have. And that's where streetwear really starts with for me – this idea of community making something for ourselves to have and celebrate."
While her upbringing provides a rich mood board for her creative work, it also taught her an irreplaceable resourcefulness and creativity. 'When you don't have a lot of resources, you create with what you have. And that's where streetwear really starts with for me – this idea of community making something for ourselves to have and celebrate.' It's this clever brand of imagination and hunger that shapes the best of streetwear throughout scenes, eras, socioeconomic circumstances and locations. 'Like with Raf [Simons] and anti-fashion, it's a lot of those same people with the mindset of, "I'm creating something from the ground, something that inspires myself but is also an interpretation of community,"' she explains. 'It's an interesting mix of juice; we got Kool Aid over here,' she smiles.
May is enthusiastic about streetwear's growing popularity in pop culture, and especially on the runway: 'For me, it was always about bridging the gap.' The form's historically Black origins and influences open up the opportunity for conversations on diversity in fashion. '[With] people like Virgil [Abloh] being appointed at Louis Vuitton ... I feel like it makes a lot of women sit there and say, wait, I can do this. So, it's all about representation. And I feel like we're being represented right now.'


Despite its fast commercialization, May believes streetwear's spirit long pre-dates and will outlast the voracious trend cycle. 'I always saw girls wearing sneakers and Chanel bags, and Gucci purses, sunglasses, belts, this is something that's always been and will always be.'
"We need more conversations about what we can do to really help further young women's careers in design."
Aleali May's mission is a hopeful one, that seeks to create new futures for women in the sneaker industry and in streetwear at large. She aims to extend the kindness granted to her, that elevated her career and gave her creativity the opportunity to reach the platform it deserves. 'We really need to tell more women stories. There are so many women that have very similar stories. That's why I go so hard with attaching a story to any of my collaborations: really just to show young girls and young designers and fashion girls and guys that there's a process to it, but also to never give up on your dream,' she says. 'We need more conversations about what we can do to really help further young women's careers in design.'
Hair Tiago Goya at Forward Artists
Make-up Sara Tagaloa
Photography assistance Nick Rufo
Styling assistance Emma Spencer and Bre Townsend
Hair assistance Christopher Miles
Make-up assistance Anna Kato
Production Jennifer Pio
Production assistance Gage Crismond
Post-Production Ink
Text Dora Boras
PUBLISHED: NOVEMBER 8TH, 2021