South Korea's rising designers and their global influences
Here are some of South Korea's most promising men's and women's brands to know.
Photography Guno Lee
Styling and text Elaine YJ Lee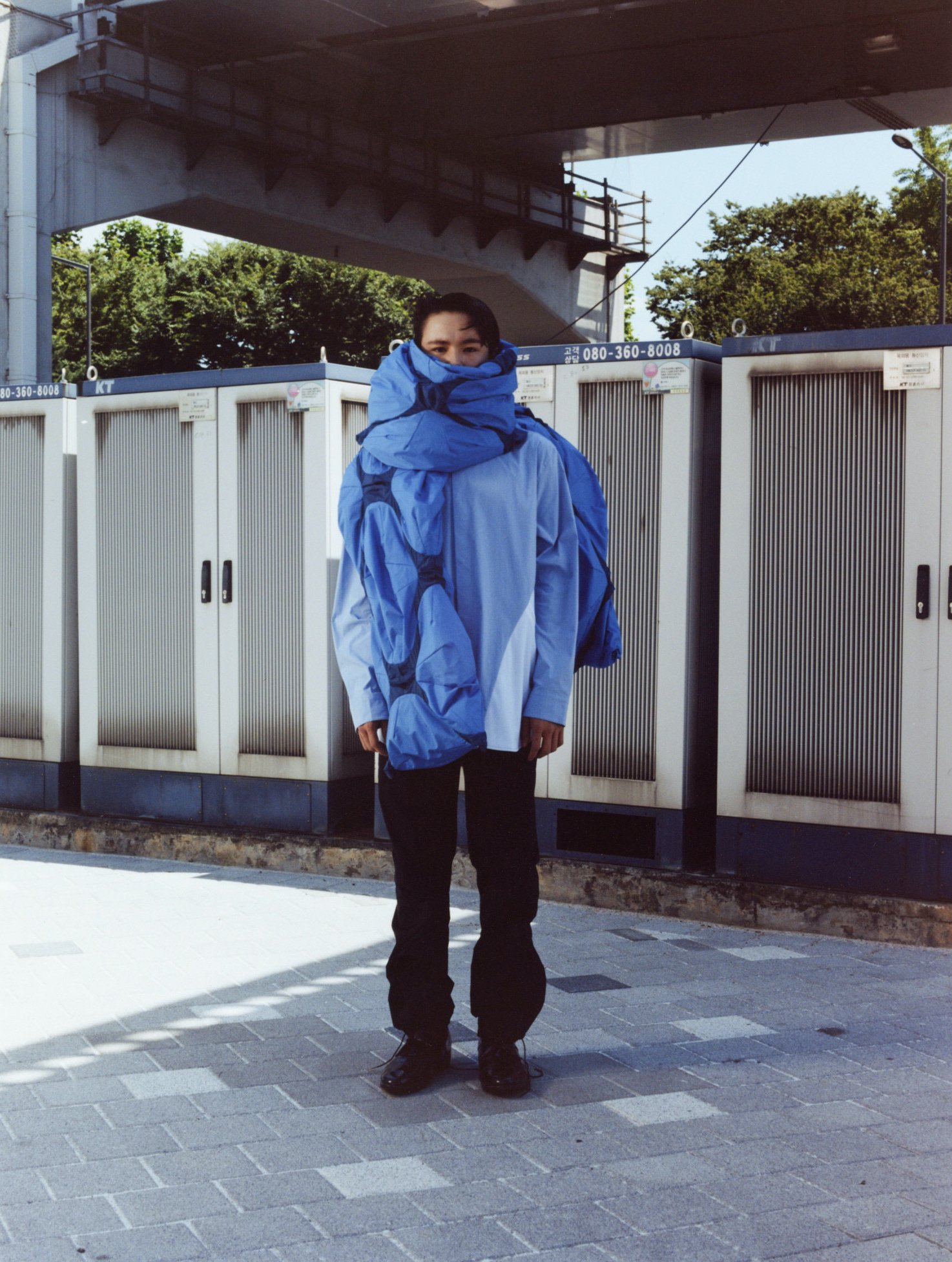 After studying architecture, Sung Ju Lee launched his own label in 2020 to more freely exhibit his personal interests and experiences. His most recent "Collection 2: RELATION" takes everyday objects as instruments of self-representation, one of them being the Korean melon, or chamoe. It's a nostalgic fruit from his childhood because he was teased for having the same name as the popular melon brand, Sung Ju. Lee's academic background in architecture makes him a master in voluminous constructions, giving life to new and daring silhouettes for men.
Han Kim got his fashion training in London, first as an undergraduate at Central Saint Martins, then as a graduate student at the Royal College of Art. He respectively majored in Fashion Print and Womenswear Design at the two institutions, and launched his eponymous brand, HANKIM, in the spring of 2020. Vivid colors and digital prints are repeating motifs throughout his collections, as means to most effectively highlight the female form. Kim, who shows at Paris and Shanghai Fashion Weeks, also runs printbyhankim, a capsule collection of more approachable, casual clothing.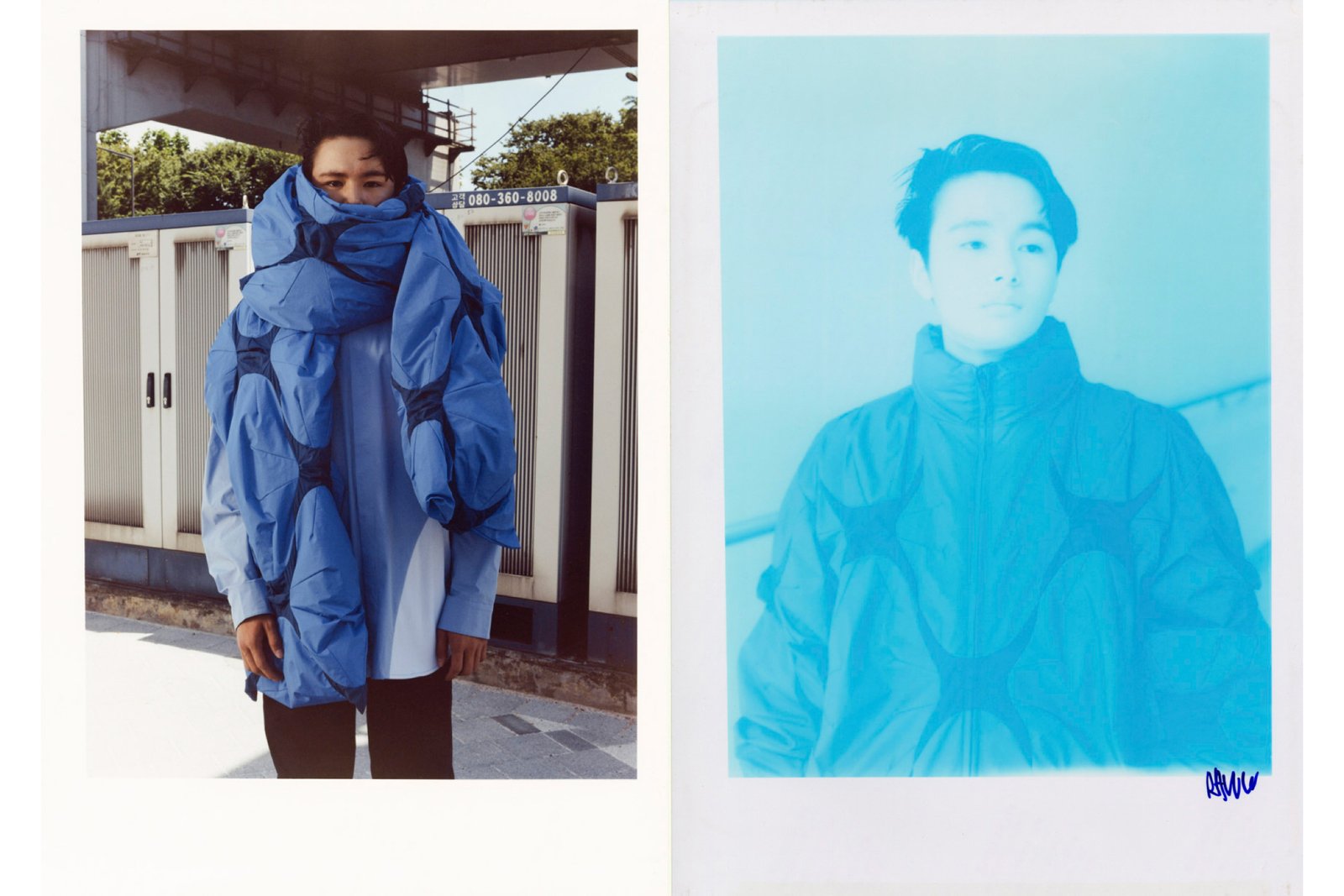 Post Archive Faction (PAF) seeks to produce clothes worthy of becoming cultural archives for future generations. Taking from the concept of political factions, the brand divides itself into three lines—Right (the commercial "fundamental model"), Left (the avant-garde, "radical model"), and Center (the connecting "bridging model"). Maintaining a cohesive balance among these three lines is a key focus of the brand, like the checks and balances system of political parties. Since launching in 2018, PAF has won regular praise from the likes of the late Virgil Abloh, for its industrial, scientific and constructional approach to garment design.
For Inte Kim, fashion design was child's play, learning to sew clothes for his Barbie dolls from his grandmother as a kid. The Studio Berçot graduate worked closely under Nicolas Ghesquiere for two years, designing collections at Balenciaga's Paris headquarters, before launching his own brand in 2014. Maison Kimhekim joined La Fédération de Haute Couture et de la Mode in 2019 as the youngest Korean designer ever to walk Paris Fashion Week. Kim's signature giant ribbons, oversized pearls and sheer organza push for a new and courageous definition of femininity, dramatic details that continue throughout his avant-garde collections.
Hyoungkee Kim grew his desire to found his own brand after years of working in New York, first as a producer at MTV, then as an art director for Prada campaigns. Recently moving his base from the Big Apple to Seoul, the amateur boxer and Yale-trained graphic designer set up his studio for Keenkee, a brand that explores offbeat, gender-fluid menswear.
The exploration of disparity and contrast informs LEJE, co-founded by Yangmo Je and Juhyeong Kang who respectively studied at Studio Berçot and ESMOD Paris. After cutting their teeth at the likes of Balmain, Lanvin and Alaïa, they returned to their home ground of Seoul in 2018 and launched LEJE, meaning "The I" in French. LEJE expresses the differences and harmony of dualistic concepts like masculinity/femininity, fluidity/rigidity, and the high and low-ends of fashion. The founders' strong belief in environmental sustainability pushes the brand to work with recycled materials and minimize chemical processing during production.
Co-founders Hansol Kim and Taehan Roh started conceptualizing Lynder as students at Oxford and CalArts, out of the desire to create their own world based on common interests. Lynder, established in 2019, is their fictional universe where clothing is merely a means to externalize their animated protagonists. They appear episodically rather than seasonally, going against the traditional fashion calendar. Lynder manifests the founders' ideal definition of masculinity through experimentation in tailoring and layering. Their most recent and fourth collection, "SUNSET WAVES," was particularly inspired by the vast sea of the Icelandic coast of Reynisdrangar, and Japanese Sci-Fi horror writer Hideyuki Kikuchi. 
Photography Guno Lee
Models Soma Kim and Seong Woo Han
Styling and Text Elaine YJ Lee
Fashion Assistant Jiwon Kang
Hair and Make-up Haein Jang
Hair and Make-up Assistance Boreum Park
PUBLISHED: DECEMBER 23RD, 2021