The thigh is the limit for Prada Menswear SS22
The pair present the new Prada man as one not afraid of showing some leg as we head into a new summer, with a determination to bring all the positivity and freedom of the seaside to the wearer today.
By Will Lennox
Miuccia Prada and Raf Simons SS22 Menswear show opens with models walking the imposing red corridors of Fondazione Prada before coming to a rewarding crescendo, opening quite literally onto the bright azure waters and mountainous beaches of Sardinia. For many, these upcoming summers will mark the return to normalcy as much like these models, beachgoers also rush back to their favorite spots by the ocean.


A global yearning for a more carefree and less indoors summer has been answered by Prada and Simons; there is almost no look that doesn't feature the glaring bareness of the male thigh. From short shorts to rolled-up rompers, any chance has been taken to get beach-ready. All feature prints that vary from nautical tattoo-like motifs to bold 50s style stripes and patterns.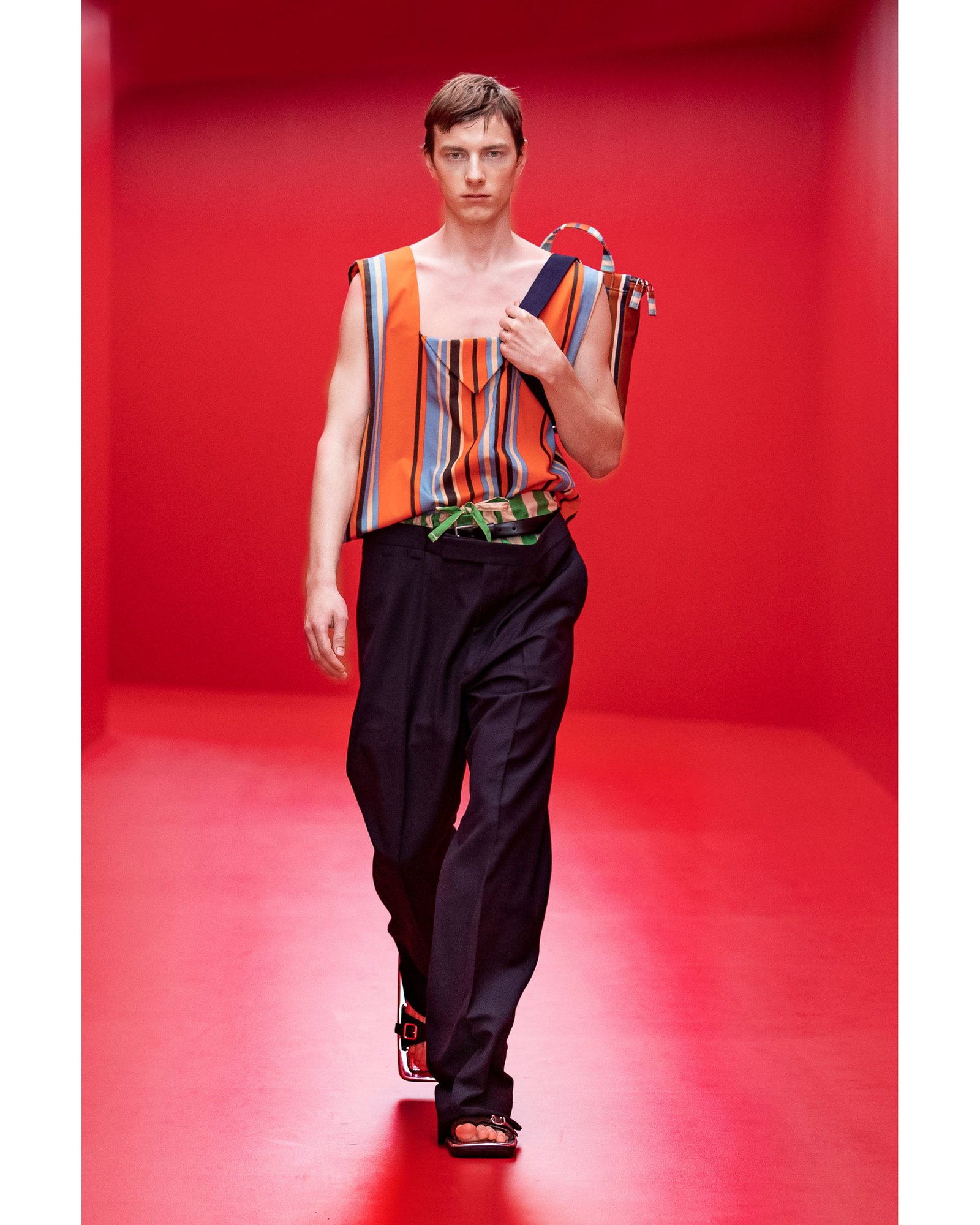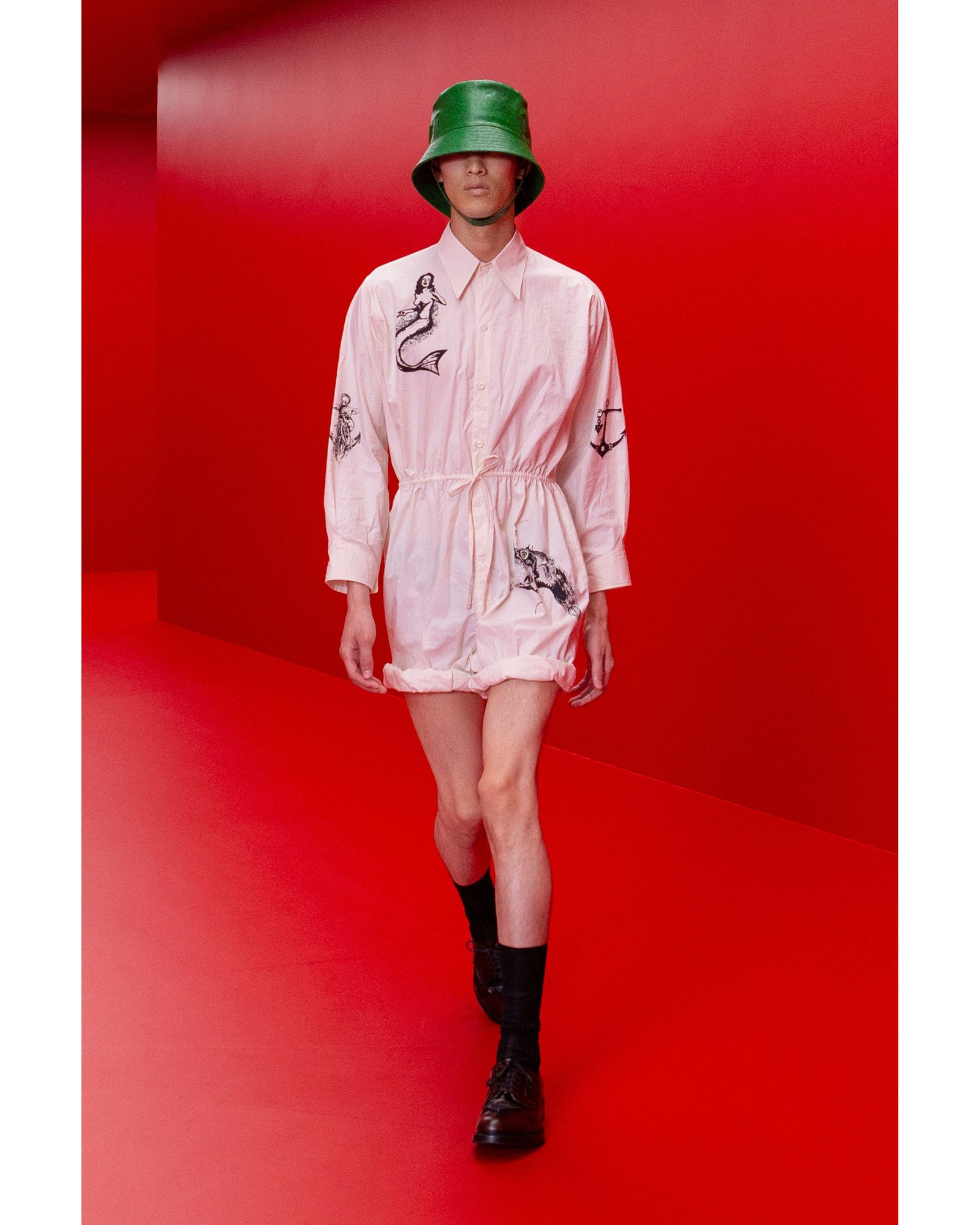 Both Ms. Prada and Simons have a history of transmogrifying seemingly mundane accessories into elevated symbols of style. Prada's staple bucket hat seeing multiple reinventions, from the sou'wester cut tweak to the rear brim and the addition of a small slit for sunglasses, a feature only amplifying its subtle coolness and practicality.
Interesting to note that the show's inclusion of the young Prada boys jumping straight into the ocean in their stunning floral applique derbies and high socks, only stands to encapsulate the sentiment of the freedom in going to the beach. There is a relinquishing of past inhibitors and an enjoyment of the pleasures of the sea without constraint. There were still more ocean-friendly looks in the collection, with the bright prints playing their part in highlighting humbly fitted outerwear. French terry hoodies and retro bathers with their convenient modesty skirt attached.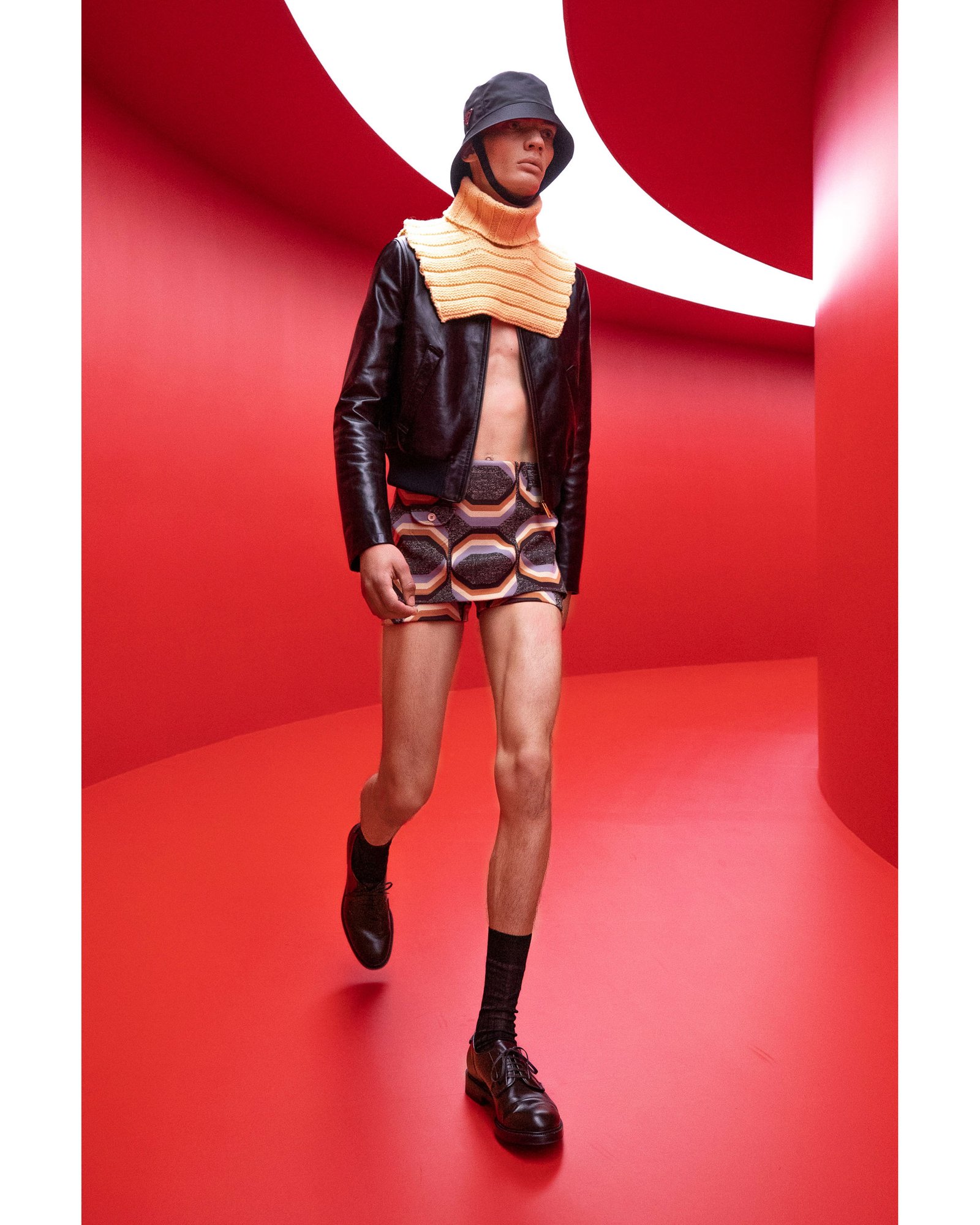 Simons' signature deft tailoring is evident throughout the show, from the way the shorts bunch around the more sensitive areas and the effortlessly casual draping of the terry outerwear. Loosely cut woolen sweaters are given a maritime twist, with rigging style supports tying the shoulders together like sails on a boat. There is deliberate reticence in many of the looks contrasting with an unabashed revelation of an amount of leg no viewer was prepared for.
Overall the show highlights the pairs' natural talent for balance. From the location, juxtaposing the idyllic Sardinian coastline with the bold futuristic scarlet corridors. Brightly colored overcoats, immaculately draped over dark short shorts. Textural leather jackets with the sterility of their glossy backdrop. It all plays to the impeccable pairing that we are witnessing between Prada and Simons.
Text: Will Lennox
Images: Courtesy of Prada
Published: June 23rd, 2021